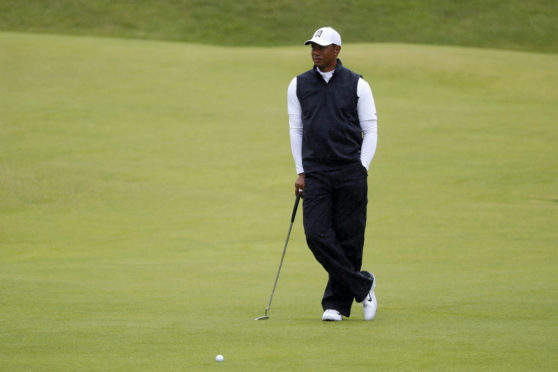 Tiger Woods promised much on the second day of the 148th Open Championship but in the end delivered only a one-under-par 70 in only his 12th round since his Masters victory.
He then promised to take some more time off.
"I just want to get away from it," he said after finishing on six-over. "I had a long trip to Thailand and then trying to get ready for this event.
"To play this event, it's been a lot of travel, a lot of time in the air, a lot of moving around and different hotels and everything. I just want to go home."
Still, that's 12 rounds of golf in 16 weeks; the trip to Thailand was a family holiday and he didn't pick up a club.
After Thursday Tiger seemed to be suggesting he was on borrowed time and he had to pace himself to play at all. Yesterday it was different; rather than downbeat and almost depressed, he was the old confident, even boastful Tiger.
"I've gotten so much stronger over the past year working with my physios and trying to get my body organized so that I can play at a high level," he said. "It panned out; I won a major championship this year.
"It's just a matter of being consistent. One of the hardest things to accept as an older athlete is that you're not going to be as consistent as you were at 23.
"I'm going to have my hot weeks. I'm going to be there in contention with a chance to win, and I will win tournaments.
"But there are times when I'm just not going to be there."
And Portrush this week this was clearly one of those.
Tiger will not play the WGC event at Memphis, keeping his powder dry for the FedEx Cup play-offs, and one of only two times he looked halfway engaged speaking was when he talked about Justin Rose having to scramble to stop him taking the $10m first prize last year.
The other was referencing what Ben Hogan did to cope with his similarly battered body in the 1950s. Tiger has clearly been watching a bit of vintage film.
"I torqued my setup differently (today), just tried to make some minor changes swing-wise. I don't have the flexibility I used to have, and never will. So I'm going to have to make those adaptations.
"If you look at what Hogan did with his setup (after his near-fatal road accident in  1949), it looked not square at all but he was able to flush it. So I have to make certain adaptations on certain things, and with the cooler temperatures here I was able to do that."
Hogan won six majors in four years after his accident. No wonder Woods is examining how he did it.