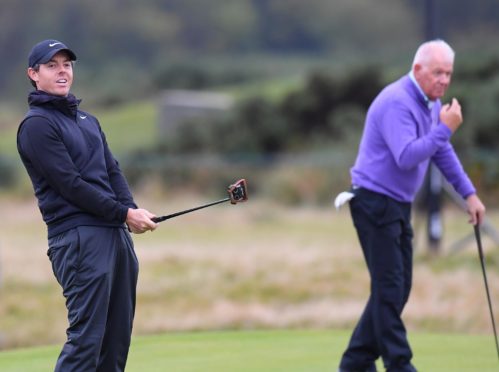 He didn't even have to think about it.
The words came out of Rory McIlroy's mouth quicker than a fist-pump after a holed six-footer to win a point in the Ryder Cup.
Question – "If you could choose between finishing runner-up in the tournament or winning the pro-am with your dad, which would you choose?"
Answer – "Winning the pro-am with my dad."
There is a lot of money up for grabs in the Alfred Dunhill Links Championship this week and all the associated World Ranking and Race to Dubai points that go with it.
But making sure dad Gerry celebrates his 60th birthday in style is McIlroy's chief aim over the next four days.
He said: "I guess the history that I've had at this tournament from getting my tour card back in 2007 to having a few chances to win, and not quite getting the job done, it obviously would be really nice to win at St Andrews at some point.
"But I think I probably, you know, at this point in my career I'm still trying to play well individually but I'm taking the team part of it almost just as serious as the individual part.
"It's my dad's 60th birthday next week, and I said to him: 'What do you want for your birthday?' And he said: 'I'd love to play the Dunhill one more time.
"This is his birthday present. His last hurrah, I think. Hopefully we have a good week and make it to Sunday.
"Any time I've played well here, I haven't taken it too seriously because it is so different, and the play is sort of slow and all that sort of stuff.
"I think if you take it too seriously, you can get frustrated with it. But if you try to keep it light-hearted, I think that's when I've been able to play my best.
"I was reminded by someone outside that I've never won in Scotland before, so I'll try to change that this week."
As McIlroy pointed out, professional footballers couldn't share a pitch with their parents in a competitive game. The Dunhill Links format provides a unique opportunity for elite golfers to give something back to the people who have ensured their children fulfilled their dreams.
"If I'm over a four-foot par putt over the next three days and I know that my dad is out of the hole, I think that creates extra pressure because you're trying to do it for you, but you're trying to not let the team lose the shot either," said the Northern Irishman.
"If anything, there's a little extra pressure there, but it's good. It's special that it's in the arena, it's in the environment – the fact that me and my dad can go out and play on the oldest golf course in the world together in a big event.
"My dad went through a period of playing a lot of golf and then when I really started to play, you know, junior golf and amateur golf, he didn't play any golf at all, and then once I turned 18 and turned pro, and he didn't have to look after me anymore, he started to play a lot more golf again.
"He's been through the cycle, and I think he's probably enjoying golf more than he ever has. It's great to see. It's his favourite week of the year and he loves it and embraces it. He knows a lot of the other amateurs that are playing. He obviously knows a lot of the other pros. He's in heaven this week, which is great."
McIlroy's memories of golfing with his dad go back to when he was a four or five-year-old pestering Gerry to play 18 holes for the first time and then needing help to carry his bag for the last nine.
"I remember the 10th hole at Holywood is a par three straight up the hill, and I'd get halfway up and he would carry the two bags up the hill," he recalled.
"I think I do remember the first time I beat him, and it was a bit of a weird feeling. Almost like a guilty feeling. Like I don't really want to beat him.
"We'll be encouraging each other this week. I'll be trying to tell him where to play to and read his putts a little bit and try to just help him out. As much as I'm trying to just focus on my game, sort of trying to get him around, as well."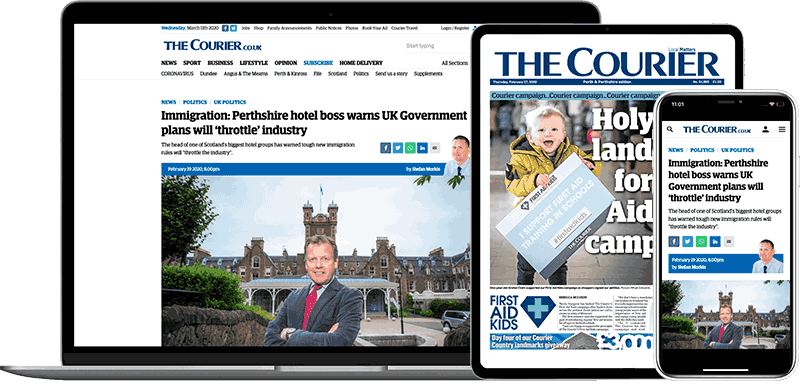 Help support quality local journalism … become a digital subscriber to The Courier
For as little as £5.99 a month you can access all of our content, including Premium articles.
Subscribe