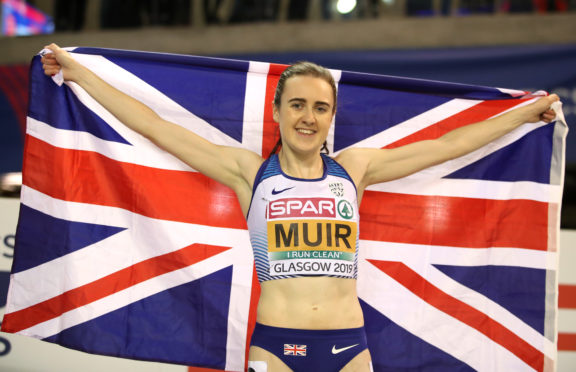 Dundee Hawkhill Harrier Laura Muir believes the decision to push the Olympics back by 12 months due to coronavirus has cut her odds of landing gold in Tokyo next summer.
More than 165 days after her previous outing – an attempt in Glasgow on the indoor world record over 1000 metres that came up short – the European champion returns to the track tomorrow night over 800m in the Italian city of Trieste as a revised countdown begins.
A torn calf last winter left the 27-year-old behind schedule in the wake of a previous miraculous fight back from injury to finish fifth at the world championships in Doha.
Now, she is itching to underline her credentials once again.
But there will no rush to make up for lost time without the pressure of chasing gold hanging over her head.
"It's pretty unprecedented times," Milnathort runner Muir said.
"Nobody would have predicted what would have happened. But everyone is in the same boat.
"You have to be patient and look at the pros and cons.
"I wasn't where I wanted to be, coming out of the winter heading towards an Olympic Games.
"I probably was a little behind at the start of the year.
"So having that postponement might be a blessing in disguise.
"You never know. But you have to take what it is and make the best of the situation."
Following a month of training at altitude in the Pyrenees, the Triveneto Meeting offers no gentle easing back into the fray.
Awaiting Muir is the reigning European champion Renelle Lamote and, most intriguing of all, her own training partner Jemma Reekie who will hope to pick up where she left off in February when the 22-year-old Scot broke three British indoor records in barely eight days.
Muir remains her mentor and friend. But Reekie is now very much a foe to be respected.
"Jemma is a very high-quality athlete who will definitely be on my radar going into races," she admitted.
Athletics has been forced to adapt to coronavirus. Limited crowds will be allowed in Italy.
Covid protocols must be followed but the sport is already seeking reinvention.
Quietly, World Athletics has unveiled its plan to push for cross-country to return to the Olympic stage in Paris in 2024 with a mixed team event.
Muir, long a fan of running through the mud, is intrigued by the concept.
"It would depend on the course," she acknowledges.
"2.5km is a nice distance. That'd suit me quite well. But if there were hills, it would alter the dynamic.
"Being a Summer Games, I imagine my focus would still be on the track so I don't know where it would fit among the athletics.
"But it would be great to have another event and I'm sure a lot of the cross-country guys will be excited."
She is enthused to the max about re-joining the competitive fray tomorrow evening.
It will not, she trusts, be a wholly wasted summer with a Diamond League outing in Monaco to follow and other stops beyond.
A born racer, taking on all comers is what she relishes.
Muir said: "It does still feel a little bit surreal because my last race in Glasgow was the middle of February.
"I've not actually raced outside of Glasgow this whole year.
"So it's strange. I guess when we put on our race kit, it'll all be fine.
"I've tried not to really think about it but when it comes round, it will be nice to get back into the swing of things."
Laura Muir says breaking one of Kelly Holmes' British records lit spark that made her believe she belongs among elite