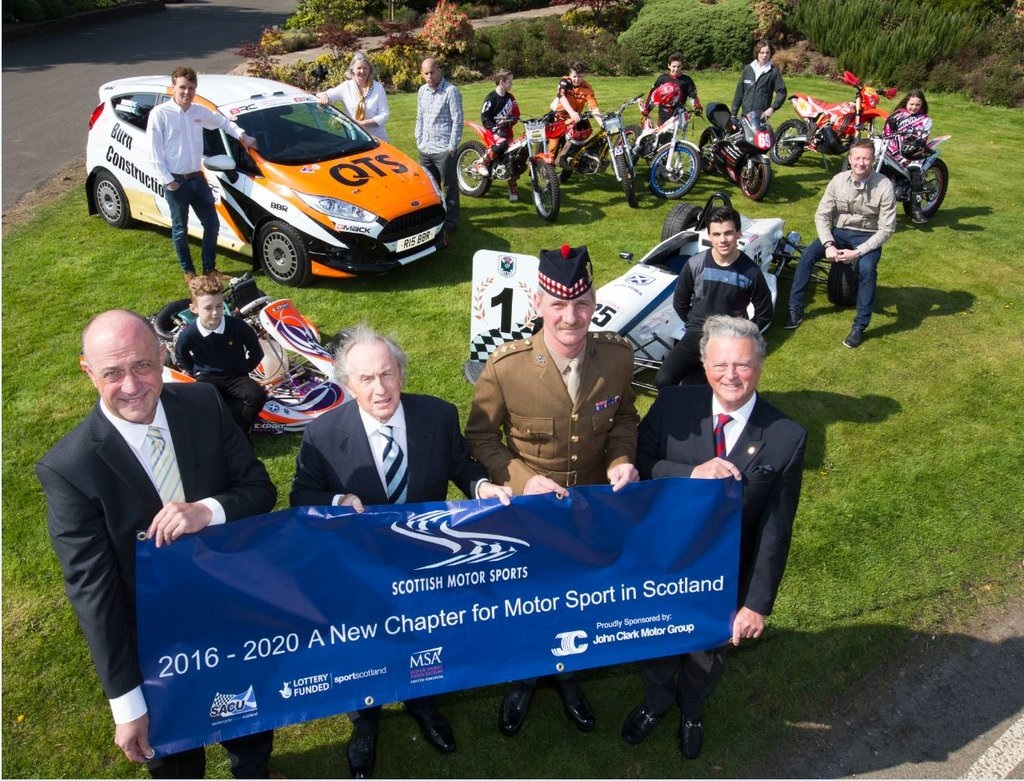 Multiple Formula One World Champion Sir Jackie Stewart has backed a major new initiative to drive forward motorsport in Scotland.
The new agreement will be supported by £360,000 worth of sportscotland investment over the next four years and aims to provide more opportunities for people from all across Scotland to get involved at every level.
Sir Jackie was joined by established names including two-time British Touring Car champion Gordon Shedden and 2001 World Rally Champion co-driver Robert Reid as well as rising stars such as teenage Perth motorcycling sensation Rory Skinner at the Ingliston unveiling of the ambitious programme.
Scotland has produced a procession of champions on two, three, and four wheels from motorcycling legends Jimmy Guthrie and Jock Taylor to Jim Clark, Colin McRae, and Flying Scot Sir Jackie, who won F1 titles in 1969, '71 and '73.
The new four-year agreement has enabled Scottish Motor Sports (SMS), the umbrella body for the sport, to create new national development manager and officer roles to deliver the new strategy, in partnership with the Scottish Auto Cycle Union and Motor Sports Association governing organisations.
Objectives include a membership increase of 10% by working with the clubs to increase the number of qualified coaches, building stronger relationships between clubs and local authorities, and developing greater opportunities for student participation.
Sportscotland chief executive Stewart Harris said: "Scotland's success on the world stage in motorsport is unrivalled and we rightly celebrate the incredible achievements of sporting icons like Sir Jackie Stewart and emerging talent like Rory Skinner.
"But success on the world stage does not happen by chance.  It requires a strong club structure, qualified coaches, an army of volunteers and above all, the opportunity to take part.
"This new partnership is about providing Scottish Motor Sport (SMS) with the resources to capitalise on the popularity of the sport and to give more people the chance to experience the excitement for themselves.
There is a strong club structure in Scotland and we believe that this partnership will enable SMS to harness the potential that offers, and build on Scotland's enviable motorsport legacy."
Sir Jackie said: "Scotland needs more champions in the world of motor sport.
"To be global champions is a very big challenge.  We have to excite more people in Scotland about motor sport in general.  We have also got to encourage more people to come to racing and rally events.
https://www.youtube.com/watch?v=xMYEgCM6WdA
"For a wee country we have done almost better than any country in the world with regards to the number of top motor racing and motor cyclists per head of population.
"It would be very good for Scotland to invest more to develop more talent in motor sport."