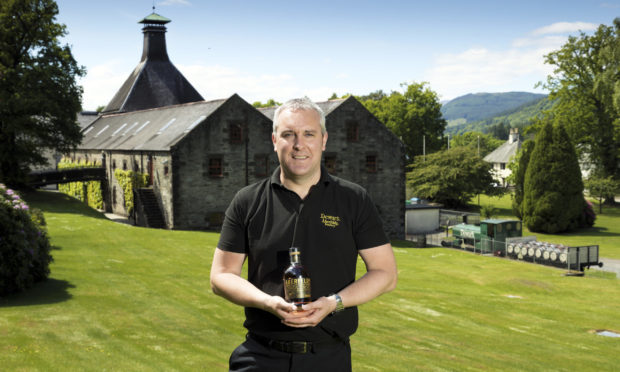 Aberfeldy Distillery has raised a glass to its new manager who said the appointment was his 'dream job'.
John MacKenzie will operate the Perthshire distillery which was built by the sons of Scottish businessman and Scotch whisky pioneer, John Dewar in 1896.
Today, it is part of the Bacardi group of companies and produces more than 70,000 litres of spirit every week.
Mr MacKenzie said: "The distillery's been an important part of the local community for more than 120 years and it's an honour to now play a small part in its story over the coming years.
"As well as creating the fabulous Aberfeldy whisky, a lot of people don't realise that the single malt we make here is at the heart of the Dewar's blend, the best-selling Scotch whisky in America.
"I think that's something we should be really proud of."
As well as managing the day-to-day running of the distillery, a key element of Mr MacKenzie's new role will see him delivering on its sustainability targets.
Already in place is a biomass boiler which drastically reduces its carbon footprint, and this year he will oversee the switch to a boiler fuel with a lower greenhouse gas footprint, to further boost the distillery's green-credentials.
The new manager added: "I really do have the dream job. Not only do I work with an incredible team, in an industry I love, making a whisky I love, but I also get to come to work each day surrounded by the beautiful Aberfeldy scenery.
"Respecting and protecting that local environment by making further improvements to our sustainability is one of the things I'm most excited to get stuck into. It's all about doing the right thing."
In recent months, the team has also been turning its hand to the production of much-needed hand sanitiser to help combat the spread of Covid-19.
In total, alongside its sister distilleries and Glasgow operations centre, Aberfeldy Distillery has produced more than 15,000 litres of hand sanitiser over the past month, which has been donated to frontline workers including the Scottish Ambulance Association, Scottish Fire and Rescue, Scottish SPCA, local care homes and hospitals.
Aberfeldy is one of 14 Bacardi production sites worldwide which have produced over 1.5 million litres for donation to local communities.
Niall Mitchell, UK operations director for Bacardi, said: "Bacardi is a family-owned business and that sense of family is incredibly strong in our Scottish distilleries, where we quite literally have family members working together to produce our spirits.
"As he takes on his new role, John will be nurturing the skills and craftsmanship of generations, while ensuring the highest standards of quality and sustainability are upheld in the creation of the Aberfeldy spirit."