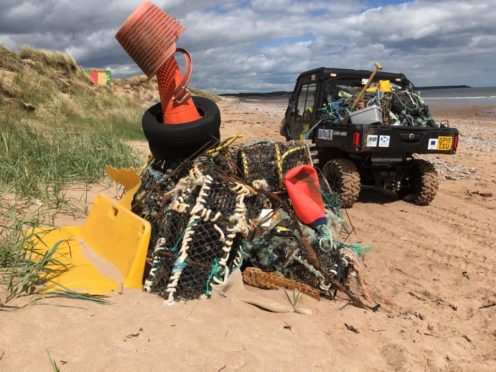 Organisers of the Great Angus Beach Clean have urged people to do their bit for the local environment after the event had to be cancelled.
The clean-up, which was due to take place in April on the coastline from Arbroath to Carnoustie, has been postponed until September after new  emergency government rules stated people should not gather in groups of more than two.
The organisers have urged local residents to collect up to three items of rubbish if they are out for a walk, while reminding them to do so while observing the social distancing guidelines.
Wendy Murray of East Haven Together said: "It is a great pity that we are unable to hold the Great Angus Beach Clean.
"However, there are things people can do if they follow government guidelines and take precautions.
"We have tonnes of waste currently littering Scotland's roadsides which will eventually find its way onto our beaches if it is not removed.
"If people can lift even three items when they are out for a walk it will make a big difference."
The next clean-up is scheduled to run from the September 18-20.
Last year the beach clean volunteers removed a total of 4.8 tonnes of waste from Angus beaches including 100 metres of rope, creels, 15 tyres, oil drums full of oil, bicycles and buoys.
All recycling centres have now been closed until further notice, sparking concerns about a potential increase in fly-tipping.
The latest government guidelines state that people are allowed outside for one walk or other form of exercise per day.
Beach clean organiser Jani Morton said: "Now more than ever we need to look after ourselves but also our planet that supports us.
"Keep a safe distance from one another, next time you go for your daily walk around your town, along the road, into the woods or at the beach, bring a bag and some gloves and do your bit for yourself and your local and global environment.
"The positive impact you make in your own community has far reaching effects across the whole world as litter and plastics can last for hundreds if not thousands of years."