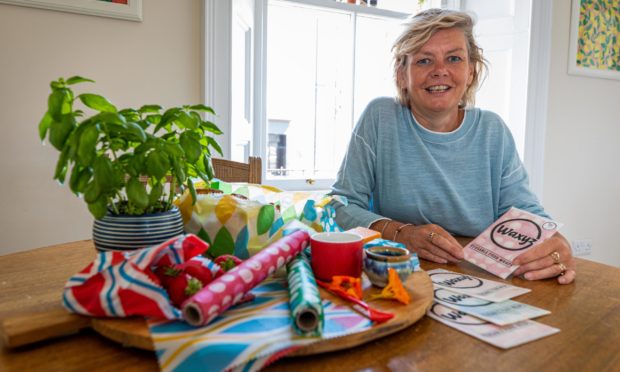 A Fife entrepreneur is aiming to reduce the need for single-use plastics after developing an eco-friendly alternative to cling film.
Crail-based Catriona Mann was inspired to create a reusable food wrap after seeing similar products on a trip to New Zealand in 2018 and founded her company, Bplasticfree to manufacture the wraps when she returned to the UK.
The wraps, called Waxyz, are made from organic Indian cotton, which is printed with unique designs in Bradford and coated with vegan-friendly wax by Dundee waxed fabric manufacturer Halley Stevensons.
With grants and support from Business Gateway and Scottish Enterprise, the first wraps hit the market last year.
Ms Mann said: "It has been so rewarding to work with Halley Stevensons. It's a historic business that's been trading for more than 150 years and partnering with them to create Waxyz has been an experience of innovation in action – the Scottish tradition of creating waxed cotton being put to a modern use in creating an eco-friendly product to fight plastic pollution."
Ms Mann, who spent 21 years in the retail sector, said: "I'm not an eco-warrior, but like many people I'm really concerned about plastic pollution and its effect on the ocean.
"The wax is evenly impregnated through the cotton and is dry to the touch, but when it is pressed on to something, it sticks.
"It can be used either to wrap food directly, or to cover bowls or jars for example."
Once used, the wrap can be washed in water and once dried, it can be used again.
The wraps also allow food to breathe which extends the shelf life of products such as cheese and bread, but they can also be used to cover non-food items including soap.
With careful use, each wrap can last at least a year and at the end of their useful life, they can be added to compost or make ideal firelighters for a BBQ.
Ms Mann said the response to Waxyz has been "hugely positive" and the company is currently working on a new project with Glasgow University.
The wraps are available on their website, and in a growing number of outlets, including the V&A in Dundee.
New designs are under development and the firm also offer Waxyz for the bespoke market.
"With a minimum roll of just 20 metres, companies can easily have wraps with their own branding on them," added Ms Mann.
Bplasticfree is a family firm with Ms Mann's brother and two sisters carrying out various roles in design and accountancy.
jimillar@thecourier.co.uk