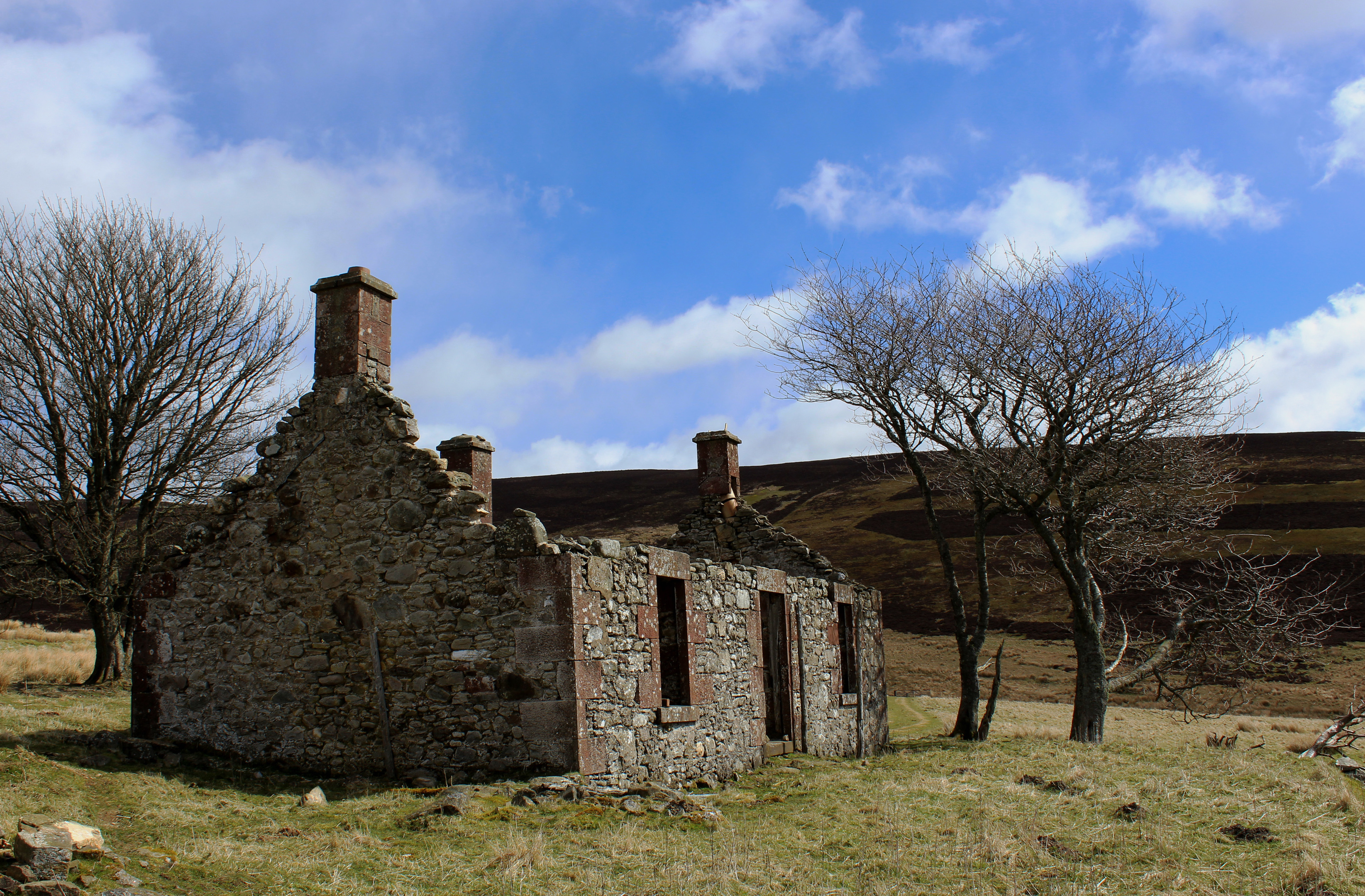 Delving into the history of mountain and hill landmarks can sometimes throw up more questions than answers. One curiosity that piqued my interest is the conspicuous cairn atop St Arnold's Seat, a hill in the Braes of Angus.
This mighty pile of rock dwarfs the summit and can be seen from miles around. My attempts, however, to find out why it was constructed have so far fallen on stony ground.
Deciding instead to simply appreciate it for what it is, I mounted a wee expedition to this intriguing protuberance. The hill can be tackled from various angles and I decided to approach from the end of the Glen Moy road, where there is space enough to leave the car.
A good track climbs through grazing land to Hillside Cottage before crossing the southern shoulder of Donald's Hill, where the distinctive calls of oystercatchers and lapwings breathed life into an otherwise still valley.
Passing the ruins of a steading, lines of stone echoing the emptiness, I dipped to cross a stream before rising on to grouse moor above.
The slopes here lie in shooting country and the track up to the col between Craig Hill and the wonderfully named pimple on the ridge that is Naked Tam serves various lines of butts used during the grouse season (August 12 to December 10).
It is a fair haul up the glen without aid of a Land Rover but the gravel road absorbs much of the route's ascent in a fairly well-graded manner and the next leg, along the broad crest towards Naked Tam and St Arnold's Seat beyond, is less arduous, albeit rougher underfoot.
A slim and, in places, indistinct trail cuts a fine line through the heather and, while there are some marshy spots to negotiate, the terrain does improve, a shallow, peaty trenching rising in the right direction.
On Naked Tam, the route joins an estate track, crossing an unnamed top before dropping by an enclosure surrounded by sturdy embankments – a high level parking area used by grouse shooters and their beaters.
As it descends, the track begins to curve left, away from St Arnold's Seat towards Glen Ogil below, so I hopped off, passing through a wooden gate, and took a direct line to the cairn, picking up vehicle tracks for the final approach.
Constructed from local stone, it measures 15 metres in diameter and is around three metres high. Thought to date from the mid-18th century, there are signs the cairn was well built but over the years has eroded, chunks falling away as visitors clamber to the top to better enjoy a monumental view stretching over Angus to the North Sea.
As for St Arnold, beer drinkers celebrate this holy Frenchman as the patron saint of brewing, but there is no evidence to suggest he ever set foot, or indeed sat, here.
With a refreshing pint in mind, I back-tracked along the fence line, following the vehicle tracks across the top of the valley to join a grassy trail leading down to a steading at Baikies.
The lower section of the estate track I climbed earlier in the day pushes north through the glen to another, more remote outpost at Buckies. Unlike its neighbour, however, this homestead lies in ruin, another relic of stone that doubtless has a tale or two to tell.
Route
Cross bridge and follow road 140m south. Turn left and ascend track to Hillside Cottage.
Swing right by cottage and ascend track over southern shoulder of Donald's Hill, descending to cross stream. Ascend through metal gate to junction.
Turn left and ascend track to col below Craig Hill.
Where track swings left, go right, following narrow trail south along ridge.
Join track and follow it south over 507m top.
Branch right through wooden gate and follow fence, latterly picking up track, to cairn.
Retrace steps along track, veering left away from fence and crossing valley to meet grassy track.
Turn left and descend grassy track, crossing drainage channel. Continue down to junction beyond stream crossing and go right to Baikies.
At track junction below Baikies, turn right. At next junction, bear right and follow track north to Buckies. Continue to point three and retrace steps to Glen Moy.
Information
Distance: 11km/6¾ miles
Ascent: 370m/1220ft
Time: 3-4 hours
Grading:  Moderately challenging hill walk mostly on tracks with some fairly strenuous ascent. Go equipped for all weather conditions and keep dogs on lead at request of estate
Start/finish: Road-end parking area by bridge over Burn of Glenmoye, 6km north of Cortachy on minor road signed 'Glen Moy' (Grid ref: NO 402646)
Map: Ordnance Survey 1:50,000 Landranger sheet 44; Ordnance Survey 1:25,000 Explorer sheet 389
Tourist Information: Gateway to the Glens Museum, 32 High Street, Kirriemuir DD8 4BB (Tel 01575 575479)
Public transport: None