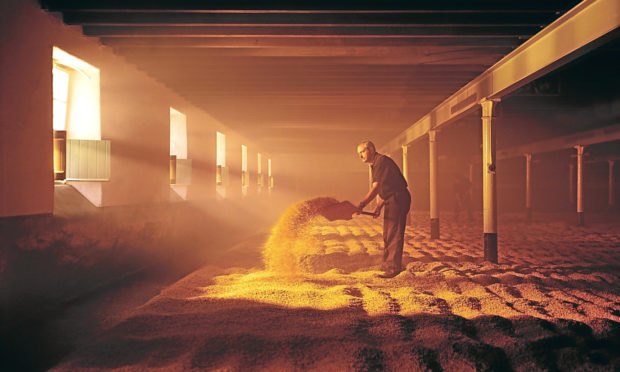 Sir, – I have been an arable farmer for 50 years and I hear rumbles from maltsters that there could be a shortage of malting barley.
Well, well, if they had paid us slightly better, farmers would not be using 18 thousands acres to grow crops for aerobic digester plants and looking for an alternative rather than growing malting barley.
With the vast profits the whisky and food industries are making, surely they can pay us more than 10p for the barley that goes into a bottle of whisky.
The seed boys are also moaning because of the lack of barley seed being used so please, if you want a viable business, you had better pay us slightly better.
Also, I am led to believe that Hollywood actor George Clooney sold his drinks empire to Diageo a few weeks back for £1 billion.
If such a big drinks company can afford to pay this amount out to Mr Clooney, then surely the home growers deserve a better price.
Alexander Livingston.
East Whitefield Farm,
Burrelton.

Farm payments should be easy
Sir, – Can anyone enlighten me as to why the IT system for farm payments has cost £178 million to create and maintain?
I would have thought a straightforward relational database with one or two people working full time to process payments would have been sufficient. We do not have millions of farmers.
Is there something I am missing or is it a case of smoke and mirrors when computer systems and money are combined?
Ignorance is an opportunity perhaps for IT firms.
This ignorance has not be confined purely to the Scottish Government.
I have read of similar extravagance south of the border.
Scot MacKenzie.
20d Abbotsford Street,
Dundee.

Future of EU under threat
Sir, – There are 28 countries in the EU but only 10 pay towards the out-of-control EU budget. The remaining 18 are subsidised.
Germany pays the most (14 billion euros) closely followed by the UK with a net contribution of 9.5 billion euros.
The third highest payment comes from France, contributing 5.5 billion euros.
The Netherlands, Italy, Sweden, Belgium, Austria, Denmark and Finland combined are not paying as much as the UK.
The UK has been supporting the EU budget for years yet is now being threatened by the EU.
The remaining countries will have to pay more.
Already proposals are on the EU table to charge countries environmental taxes, a tourist tax and revenue from the financial transaction tax and even more taxes to increase the EU budget instead of reducing it.
Denmark has already said it will not pay more and countries dependent on the tourist industry will rebel as will the bankers in Frankfurt and the German car manufacturers.
The end is nigh?
Clark Cross.
138 Springfield Road,
Linlithgow.

Will Ms Sturgeon be president?
Sir, – In many discussions on the future of Scotland within the United Kingdom, the argument is made that a union which has lasted for 300 years with genuine success, should not be torn asunder for one that has lasted for around 40 years.
But I have yet to see anyone making the point that in fact, the United Kingdom has actually lasted for more than 400 years.
The two crowns were united in 1603 when Scottish King James VI also became King of England as James I after the death of Queen Elizabeth.
So we became then a genuinely united kingdom.
This makes me think of another point. The SNP have been singularly silent on what their plans are for an independent Scotland.
Indeed, one wonders if they have any plan at all of any sort.
There has been not a word on that.
So what do the SNP intend doing about the monarchy? How will they unpack that connection?
Does Nicola Sturgeon aim to be the first president of an independent Scotland?
Mona Clark.
9 Millbay Terrace,
Dundee.

Complications of emissions
Sir, – Recent concerns with increasing vehicle exhaust fume pollution would appear to herald the death of the diesel engined car.
This is some turnaround from the days of extolling the virtues of diesel fuel by the Government.
It is not just this abhorrence of diesel that concerns me, as I currently use diesel, it is the figures bandied about regarding deaths from respiratory failure due to these emissions.
However, I feel there is one element missing from the equation that produces the fatality figures.
How many of those who have been fatally affected were smokers?
It is widely accepted that many people in the most affected cities and streets are smokers. Surely this has to be a big factor in vulner-ability?
Smokers who work with carcinogenic substances are more likely to develop cancer than their work colleagues who don't smoke.
The same principle surely applies to vehicle fumes.
Geoff Bray.
Heather Croft,
Letham (Angus).

Stand up for Scotland
Sir, – Your columnist Alex Bell (June 29) managed an entire article on Brexit and a possible second independence referendum without addressing the elephant in the room.
That is 62% of Scots backed Remain in the EU referendum last year.
So while the Scottish Government acknowledges the minority and will seek consensus moving forward, it must represent that clear majority.
Unfortunately, Westminster refuses to do so and we now have the ridiculous situation that 10 members of the DUP have more say on Brexit than not only 35 SNP MPs but the 13 Scottish Tory MPs, if the funding deal secured by the DUP is anything to go by.
Not only does Scotland need independence to correct that democratic deficit but it also requires unionists to stand up for Scotland when other areas of these islands are so blatantly bought off to our detriment.
Councillor Kevin Cordell.
The City Chambers,
Dundee.