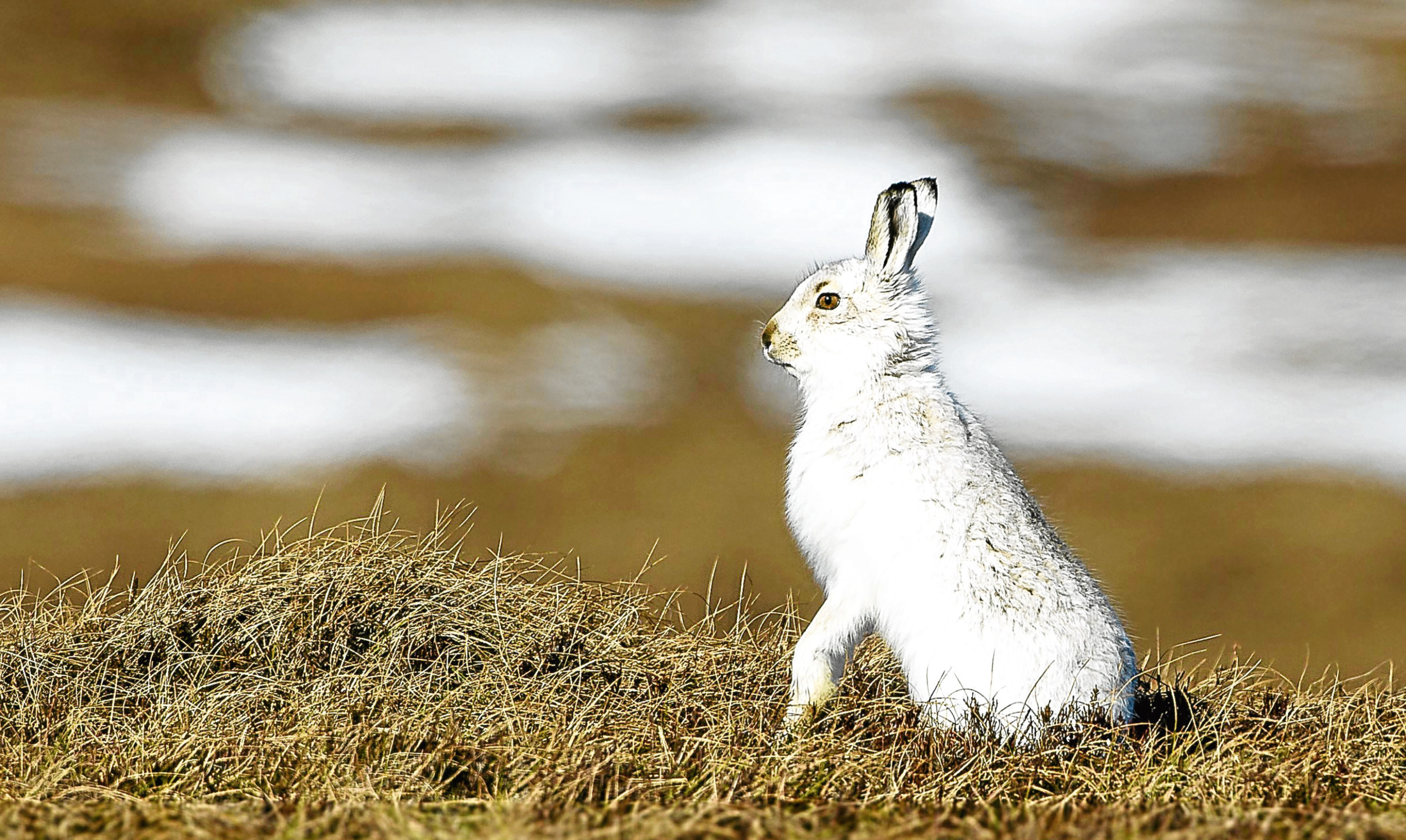 Sir , – Yet again the grouse shooting industry has been found out with recent footage of our iconic mountain hares being systematically shot by a brigade of "guardians of the uplands" and the resultant public outrage.
It may come as a surprise to many people that this practice is commonplace on estates throughout Scotland, even in our national parks.
This is not an exercise in population control, this is eradication on an epic scale.
What is more breathtaking is that one of the reasons put forward by the grouse estates propagandists is that they overgraze the uplands.
Really! Do they munch more of the vegetation than the herds of deer or the countless sheep sharing the same hillside?
Also it is no surprise to many of us who are aware of the dubious practices of these estates that by ridding your hills of mountain hares you are deliberately removing the main food source of another Scottish icon – the golden eagle.
Angus estates expert highlights tick danger in escalating debate over killing of mountain hares
The Scottish First Minister voiced her disgust on this matter and there was a groundswell of support for action from MSPs.
It is hoped that this will spur the environment minister to introduce strong, effective legislation to put an end to this unnecessary carnage.
In recent years some Angus glens have become devoid of red deer, mountain hares cling on in some, and on a good day you might spot a bird of prey.
Hardly the rich biodiversity that Scotland and its people deserve.
David Mitchell.
6 Henry Street,
Kirriemuir.
Refining Madras College site plan
Sir, – Councillor Brian Thomson would serve his constituents better by addressing only the substance of St Andrews Environmental Protection Association's (Stepal's) suggested refinements to the Madras College planning application, without falsely and unfairly accusing Stepal of "negativity, fighting the battles of yesterday" ("Issues 'must be addressed' before new Madras is built", The Courier, March 29).
Stepal strongly approved and positively welcomed the Langlands plan as "immeasurably better" than Fife Council's previous Pipeland proposal.
Clearly, Mr Thomson himself cannot forget yesterday's battles, maybe unsurprisingly as the Court robustly quashed as "unlawful" the Pipeland decision (which he fervently advocated) ruling "the whole matter remitted for reconsideration".
Moreover, such a public comment on a live application suggests "pre-determination", contravening the Standards Commission protocol.
Will he therefore absent himself from the vote?
Fife councillors and ex-Pipeland advocates might now show some gratitude to Stepal's numerous supporters, whose commitment to establishing Madras in the best location for St. Andrews and for all its catchment pupils throughout its third century has:
(a) saved them the further embarrassment and expense (beyond the £3million already wasted) of implementing their "unlawful" plan; and
(b) impelled the council to agree this university site, now ironically praised by ex-Pipeland zealots for the same educational, environmental and other reasons credibly argued by Stepal on adjacent land over five long years ago.
John Birkett.
12 Horseleys Park,
St Andrews.
Bring back the Milk Board
Sir, – Now that British fishermen are apparently to have their fishing grounds returned to them from the EU Common Fisheries Policy after the two-year Brexit transition period, perhaps it is time for the Government to consider reintroducing the Milk Marketing Board.
This would give dairy farmers the opportunity to earn a living wage from milk production.
It would also guarantee the paying public a quality product.
Keith Dale.
126 David Douglas Ave,
Scone.
Devastated by service closure
Sir, – I am writing to share my dismay over the devastating news of the cancellation of services from Food Train and Meals on Wheels which deliver food and, importantly, company to older people in dire need of both.
The Royal Voluntary Service (RVS) reports it has gone from 80 services to just 15 in the space of three years.
Food Train had believed it was going to expand its service and garnered the support of thousands when it found out the future was uncertain.
At a time when tackling social isolation and managing the care of our ageing population has been high on the political agenda, the closure of these much-loved and vital services is a devastating, and ironic, blow.
While there is no suggestion people will be left without alternatives, what Food Train and the RVS supplied went a lot further than simply a home delivery service.
Support and companionship make up the cup of kindness that goes along with a nourishing meal.
Many of our guests benefit from services such as these and welcoming a friendly face into their home has been a lifesaver.
We organise free monthly Sunday afternoon tea parties which offer a vital lifeline of friendship to older people who live alone.
Our guests tell us each and every party just how much the company means to them as many can spend days alone with no one to talk to and nowhere to go.
It is terribly sad and the withdrawal of these community links will only serve to increase social isolation among some of our most vulnerable communities.
Morna O' May.
Head of Service – Scotland,
Contact the Elderly.
We're not the highest taxed
Sir, – With council tax and water charge letters dropping through doors in Scotland and England, it is intriguing to note Tory-controlled England is indeed our high taxed neighbour.
While average Band D council tax in Scotland is £1,197 (property valuation of between £45,001 and up to £58,000), in England this is £1,671, so more than £470 higher.
It should however be noted that a Band D property in England is valued at between £68,001 and £88,000, but property values are of course higher in England than Scotland.
Even if we are to look at similar property value banding between Scotland and England, an average Band B council tax in England which is on a valuation of between £40,001 to £52,000 is £1300, so over £100 more than a Band D equivalent in Scotland.
The average council tax over the past year has risen by 5.1% in England compared with 3 % in Scotland.
To add insult to injury, while the average water charge in Scotland is £363, in England and Wales it is £405.
So, when individuals complain about Scotland being the highest taxed part of the UK, remember one should not only look solely at income tax, but also at the basket of other taxes that are paid.
Alex Orr.
Flat 2,
77 Leamington Tce,
Edinburgh.
A reliable bus service to envy
Sir – I was born in Scotland and moved to Canada 37 years ago. I now come back to Perth each year to see family.
I am always amazed at your Stagecoach bus service. I use it all the time and I find the buses always on time – the drivers are very courteous, the buses are always clean. It's so reliable. I know locals moan about the frequency of the buses but I come from an area in Canada where we have no bus service at all, or train service, and I am only two hours away from our major city of Toronto.
I wish we had a service like yours every day, you are very blessed!
Joyce Thomson.
c/o 124 Cedar Drive,
Perth.