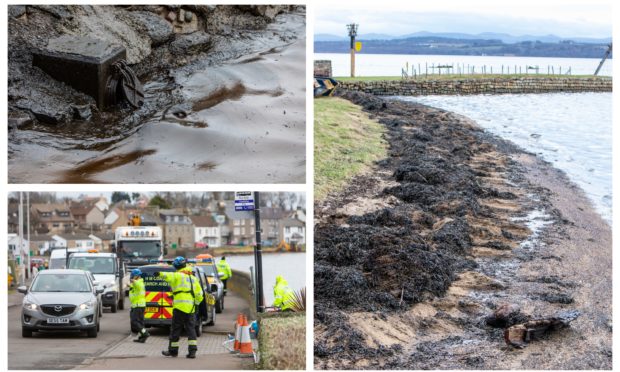 Beaches in Fife which have been blighted by an oil spill in recent days will remain closed over the weekend as work to identify the source continued.
Mystery still surrounds what caused contamination on the region's coastline at Limekilns and Charlestown, where around 500 tonnes of material was coated in an oil-based substance.
The Scottish Environment Protection Agency (SEPA) is conducting testing of samples, but investigations into the source of the pollution are likely to continue into next week.
Fife Council has said that the affected beaches and car park will stay closed to the public on Saturday and Sunday, indeed "until further notice", to ensure public safety and to protect the environment.
A joint statement by the council and SEPA on Friday afternoon said: "Fife Council continues to co-ordinate the hard work being undertaken to clean-up the Fife coastline at Limekilns and Charlestown following an oil-based spill.
"The clean-up plan of action is being successfully implemented, with the most contaminated areas being remedied first.
"A specialist firm is in the process of removing and disposing of approximately 500 tonnes of contaminated material – mainly sand and seaweed – from the area. Further processes to remove the remaining oil from the sand will be ongoing.
"We thank residents and visitors for their patience as the clean-up work continues.
"The Fife Coastal Path is being diverted, at the affected area, along adjacent streets. Walkers can pick up the main path again once beyond the affected area.
"Thankfully, there has been minimum impact on birds and wildlife."