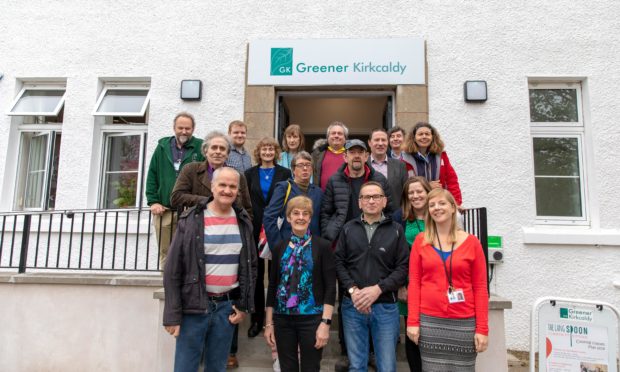 Greener Kirkcaldy has opened a new chapter as it unveils its new base in a former library HQ.
The charity has opened a community kitchen, garden and events space in the building, in Kirkcaldy's East Fergus Place.
The food hub will provide a new distribution point for Kirkcaldy Foodbank and will include a community fridge.
The centre will also serve as a base for other activities, such as an energy advice team and a free bike borrowing scheme.
A programme of events will include cookery classes, gardening and upcycling workshops.
People will be encouraged to take part in growing workshops and volunteer at the Ravenscraig Walled Garden.
The purchase of the premises was made possible thanks to a grant from the Scottish Land Fund, while the refurbishment was paid for with the support of the Big Lottery Fund.
Greener Kirkcaldy's chief executive Suzy Goodsir said the launch of the food hub followed a consultation five years ago.
She said she hoped it would help to tackle food insecurity and food poverty in the area.
"The resource is for the whole community, not just people in need," she added.
Pete Ritchie, from campaign group Nourish Scotland, said Greener Kirkcaldy was using food as a way of building a community.
"It is a wonderful place," he said.
"It all fits together with making Kirkcaldy a better place to live."
Labour councillor Neil Crooks, chairman of the Kirkcaldy area committee, said the scheme showed how partnership working was helping to improve the town.
"As a single person, there is no way I could do anything to make a change, to make society more level. Neither could I do it with councillors or just Fife Council, but a lot of people operating in Kirkcaldy, doing good things, making positive impacts on inequality is almost a perfect storm," he said.
"There are always more people doing good in society than doing bad.
"This today is another part of the jigsaw."
The organisation has launched a competition, which will give people a chance to cook with MasterChef winner Jamie Scott.
The head chef and patron of The Newport restaurant will be a guest at its community open day on Wednesday May 1.
He will be running an exclusive workshop for four prize-winners from 5pm to 6pm at the event.
To be in with a chance of winning, email your name and a contact phone number by 4pm on Friday April 26 to info@greenerkirkcaldy.org.uk.