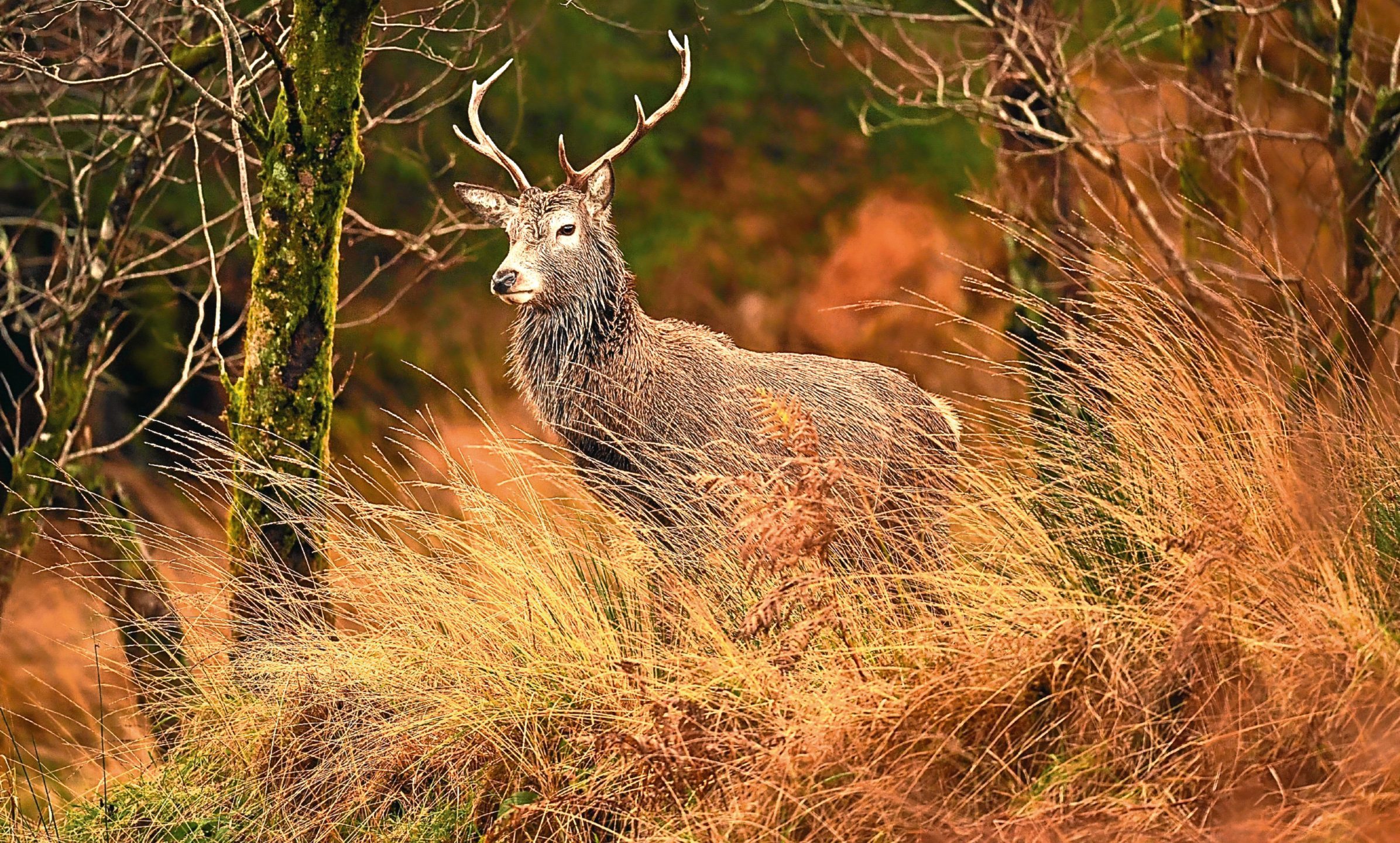 Madam, – It was with interest that I read in The Courier about the night shooting of deer (September 2).
The Scottish Gamekeepers Association voiced concerns over red deer welfare and safety as their habits have changed due to, apparently, human traffic on our uplands.
As red deer are forest dwellers and as their natural habitat was felled years ago it should come as no surprise that they are attracted to forestry land.
If they are "constantly harassed" by the presence of walkers and "targeted at night" to protect forestry interests then night shooting will only exacerbate an already difficult situation.
Disturbing the deer at slumber when they are, literally, a sitting target flies in the face of the SGA's concern over welfare and safety.
Not long ago there was public outcry when a foreign "trophy" hunter killed a goat in this country yet we encourage others to come here and kill our red deer. Is this trophy hunting by another name?
Stalker Lea McNally offered alternative answers to the issue without using the gun as a first resort.
Many of us cherish our indigenous wildlife and take pride in our "monarch of the glen", our majestic golden eagles and lovable mountain hares.
The Scottish Government's record on wildlife protection is laughable and shows an almost ingrained unwillingness to fully protect our natural heritage.
Other European countries ban night shooting and have strong wildlife protection laws.
Our government needs to embrace modern environmental and conservation ideology to bring better social and economic benefits through eco-wildlife tourism that is more sustainable and morally acceptable than present abuse of upland wildlife.
David Mitchell.
6 Henry Street,
Kirriemuir.
Scotland the 'true successor'
Madam, – Allan A MacDougall (Letters, The Courier, September 3) makes a number of telling points regarding the union with our larger neighbour.
To those we can add the constant misrepresentation of Scotland's position within this union.
We are not part of the UK, we are the UK.
The UK is officially recognised by the UN as a union of two countries, Scotland and England.
Mr MacDougall is correct in his assertion that Brexit is an English problem.
The UK did not vote for Brexit as Mr MacDougall rightly states, one half did, the other half didn't.
In 2014 Scots were encouraged to continue with Westminster's broad shouldered stable governance of our country, with continued EU membership guaranteed. A deceit.
London, with no supporting evidence, threatened to apply for continued EU membership after Scottish independence as the successor state, with Scots expelled for no other reason than exercising their democratic rights. Another deceit.
There are no mechanisms for expelling an EU member under those circumstances.
Dissolution of the union results in the UK ceasing to exist, with both parties in the same position.
However, circumstances have changed. England has voted to leave, which is its right.
Scotland, voting to remain, can therefore be legitimately placed as the true successor state.
As a long standing member we already fulfil all of the EU's requirements. As the old saying goes, "Sauce for the goose is sauce for the gander".
Ken Clark.
c/o 15 Thorter Way,
Dundee.
UK parliament in 'lap of Gods'
Madam, – The world and its mother must be convulsed with laughter over this debacle that is Brexit.
"The mother of all parliaments" has been reduced to basement level and many of our politicians exposed as self serving, non representative individuals, who have scant regard towards the democratic decision of the electorate.
It is a true saying that we reap what we sow and this now has become patently obvious to some, in that, a faction apparently will be deselected from their constituencies, such is the fury of the latter.
How this fiasco will pan out in the end is anyone's guess and therefore in the lap of the gods.
One thing is certain, faith in Parliament has been severely shaken and it will take possibly decades for faith in democracy and in our elected members of parliament to be salvaged and restored.
David L Thomson.
24 Laurence Park,
Kinglassie.
SNP like a 'jaded rugby team'
Madam, – Watching the SNP ministerial team recently, at their conference as well as in Holyrood, and recalling the youth and vigour of their salad days, one cannot miss how tired and jaded they look.
No government lasts forever and a dozen years is about the modern limit whether it's Tony Blair's New Labour or Margaret Thatcher's radical Tories. The party looks like a rugby team at the end of a long tour with players injured and key men missing, fielding too many reserves.
At the moment no other party is capable of challenging the nationalists but creating an impression of incompetence in key areas such as education, health and transport is hardly in their long-term interests.
Now in Brexit's impenetrable fog Nicola Sturgeon wants a section 30 order for IndyRef2. That's a reckless, opportunistic move.
She would better serve the nation by doing the boring stuff which might improve the "best little country in the world" and a lot less virtue waving with her hugely expensive climate change extravaganzas.
Rev Dr John Cameron.
10 Howard Place,
St Andrews.
Put 'human emergency' first
Madam, – The First Minister told about her programme for the coming year (The Courier, September 4) – talking about taking action due to the "environmental emergency" and spending £500 million for green public transport.
An easy score anyway, as the "environmental emergency" is a world wide hot item right now.
As well as of course chasing this nightmare of Indyref.
Where does this money come from anyway, knowing that there is a £12.7 billion deficit?
Why do I not hear her speak about helping to alleviate the human emergency here in Scotland?
Where is the money for people in dire straits?
Foodbanks are everywhere. It is absolutely outrageous in this day and age that foodbanks are needed in the first place.
Children going without food during holidays, working people barely able to live due to low wages and everything getting more expensive.
OAPs having to choose between food or heating.
Is the human emergency less important? Why not spend £500 million to solve the human emergency first?
Isn't it high time that the FM gets her focus right?
That she puts her focus on people instead of on high flying ideas to show how "good" she is?
What does it take to wake her up?
Mrs Maaike Cook.
Cash Feus,
Strathmiglo.