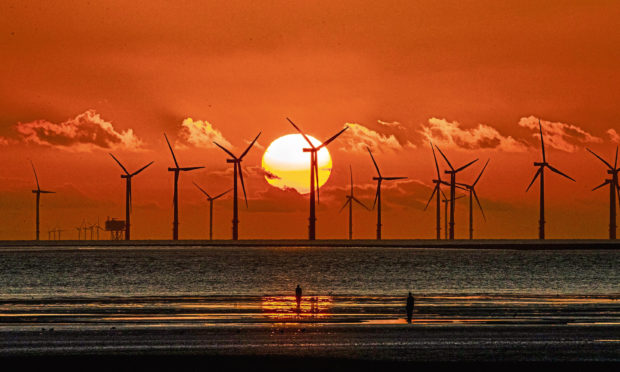 Offshore wind will provide opportunities in Scotland for generations to come, a Dundee meeting of the Forth & Tay Offshore Cluster heard yesterday.
The cluster has been backed by six local authorities on the east coast of Scotland stretching from Angus to the Scottish Borders as well as Scottish Enterprise and the three main offshore wind developers, Red Rock Power, EDF Renewables and SSE.
The steering group aim of positioning the area as one of the UK's key renewable energy hubs.
It looks to attract and retain inward investment within offshore wind sector, develop and promote the regional supply chain and work with further and higher education institutions to increase the area's skills base.
Ross MacKenzie, Invest in Fife manager for Fife Council, said: "Clusters are favoured by UK industrial strategy.
"Both governments see clusters as a way to funnel lots of activity and support for the offshore wind sector.
"It's up to the clusters to promote the area, work with the supply chain and maximise the potential benefits of offshore wind to coastal communities.
"Forth & Tay is one of two clusters agreed in Scotland and we are on the doorstep of one of the largest concentrations of offshore wind in UK."
The cluster has been backed by Angus, Dundee City, Perth and Kinross, Fife, East Lothian and Scottish Borders councils.
Alan Duncan, supply chain engagement lead for EDF, which is behind the Neart Na Gaoithe wind farm project on the Firth of Forth, said the low prices the Government will pay for energy produced for the next round of offshore wind projects meant the sector was now effectively subsidy free.
He told the group's meeting in Dundee yesterday: "5.5GW of offshore wind was awarded in the Contracts for Difference round last week.
"I think what's taken everyone by surprise is the levels of the price between £39 and £41.
"The base price of electricity is £45-£50 per MW. That price is below the price that electricity is traded on so there's basically no subsidies involved."
Mr Duncan said the Forth & Tay Offshore Cluster would be helpful for tier 1 contractors filling out their supply chain.
He said Scotland should aim to contribute 25% of the 30GW of capacity that it to be deployed in the UK by 2030 – but said the potential was far greater.
"I think from a Scottish point of view I think we need to challenge ourselves to hit 25% of the 30GW. If we can attract that to Scotland we'll be doing great.
"There's now talk of 75GW in the UK by 2050 and based on last week's prices, assuming the supply chain can cope with it, for the first time I don't see what that can't happen.
"This is not a here today, gone tomorrow, this is generations worth of opportunities."
rmclaren@thecourier.co.uk