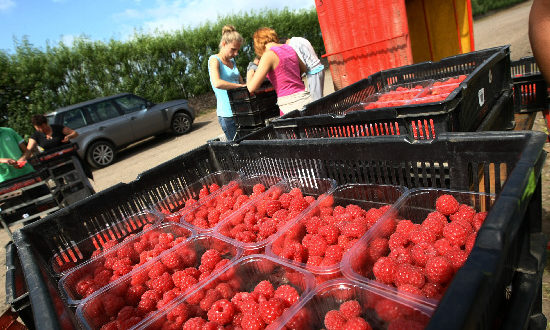 The phones started ringing on fruit farms yesterday morning as soon as local folk read our story highlighting the labour emergency looming in the fields.
The calls and messages came from hospitality sector workers looking for jobs and others who are simply desperate to ensure vegetables and fruit will be produced and picked this summer.
The nation has wakened up to the crucial role this industry plays in keeping us fed, and not only is that acknowledgement long overdue, it also feels quite emotional to see farmers humbly get on with the job without looking for credit after years of being criticised.
Like health service workers, they are giving of their efforts willingly, and agriculture is shining bright at the very heart of this massive effort to cope with the implications of Covid-19.
Tayside and Fife farmers in urgent plea for those laid off due to coronavirus to work for them during harvest
Rural communities – and farmers in particular – tend to be stoical and self-reliant, and farm shops and other rural businesses are already going the extra mile to keep the food supply chain moving as well as supporting the most vulnerable and isolated.
Starting today, we'll be highlighting those companies who are extending their delivery services across Courier Country and letting the wider community know how to find them.
On the farming desk we'll do all we can to help keep growers, livestock producers, contractors and the wider industry connected and up to date through the crisis.
We'll have reports on the political situation, marts, sales, cancellations and rescheduling of events, and we'll promote the efforts of charity RSABI to support the industry.
And when the great chasms in the diary appear around annual social highlights like the summer shows, we'll mark them by diving into the archives and asking you to get in touch with memories of previous years.
Communication has never been more important so don't forget to sign up for free access to our website and don't hesitate to get in touch at the email address below if you need help to spread the word.
Farming doesn't stop through any crisis – and nor will we.