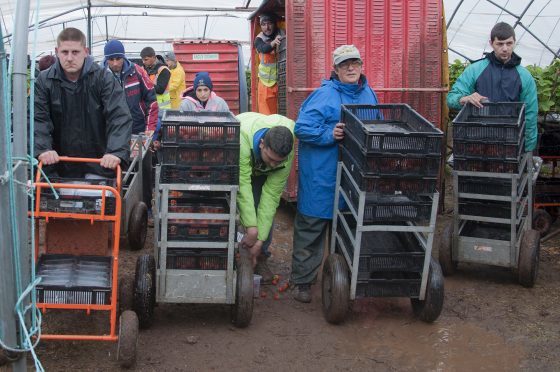 Two Westminster bodies are passing the buck over the creation of a seasonal workers scheme that is vital to the agricultural industry, according to Scotland's farmers' union.
NFU Scotland's (NFUS) chief executive, Scott Walker told a Christmas press briefing in Edinburgh that there was political acceptance that a scheme along the lines of the Seasonal Agricultural Workers Scheme (SAWS) was necessary, but responsibility was being passed between the Home Office and the independent, non-departmental Migration Advisory Committee (MAC).
"We've had several meetings with MAC and the buck is being passed," he said.
"It should be tested next year so that there is a smooth transition."
Mr Walker's comments were echoed by John Sinclair, a fruit, vegetable and livestock  farmer and the owner of Craigies farm shop on the outskirts of Edinburgh, who appealed to the UK Government to act urgently  on the issue.
"We believe that a new seasonal workers scheme should be introduced for next season.  We can't afford to wait until the point that crops are not harvested," he said.
Mr Sinclair employs 15 seasonal workers and said that efforts were under way to find Eastern European staff for next season.
"We've had a few knockbacks because of the uncertainty," he said.
"We are already starting to see the number of EU nationals wanting to work in the industry declining.  If we don't get access to a sizeable and dependable source of workers, then high value fruit and vegetables will be left unharvested.  If not addressed, this will lead to production shifting to other places where the labour supply is more secure and will lead to the country importing more instead of growing what we can here.
"Scotland's Rural College (SRUC) is currently gathering data on migrant workers in Scotland's Fruit and Vegetable Sectors.  Whilst the findings of that work have not yet been published, NFUS expects that it will show that between 5,000 and 15,000 seasonal workers are employed within Scottish agriculture at any one time, with a significant number employed for more than six months at a time.
"If there were no access to migrant labour, few farm businesses in the valuable fruit and vegetable sectors could continue to grow for key markets."
nnicolson@thecourier.co.uk