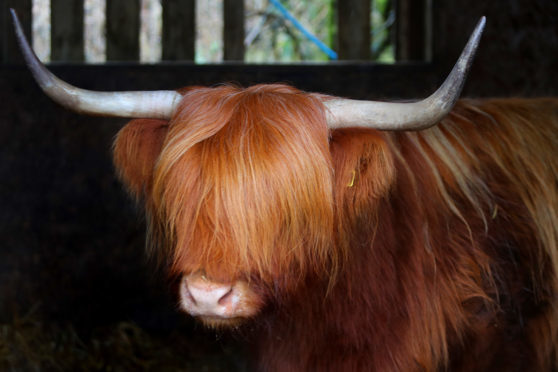 They own just six breeding Highlanders, but when the MacNaughtons swing in to an agricultural show, the judge can rarely see past the Kelty cattle.
Donald MacNaughton has been obsessed with the breed since his early childhood on the island of Kerrera, and his son Bryon clearly inherited the gene because the pair devote all their spare time and resources to the small fold which grazes fields on the edge of the Fife village.
The men are staunch supporters of the summer shows and last year swept to their greatest ever victory with the supreme championship at the national breed event at Perth Show, just one notch ahead of their reserve supreme award at the previous national which was held at the Black Isle in 2015.
The rain was torrential in Perth Show field and the animals had to plough through deep mud, but it was a triumph the small-scale breeders will never
forget.
Highland cattle have been traditionally associated with large estates, but the MacNaughtons don't own a field, far less a farm, and they attribute their widespread show and sale success to the pairing of just one cow and bull. She is Skye 2nd of Rannoch, 11 years old this year, and the late Fergus of Isle of Bute.
At the sales they achieved their best ever price at Oban last February when their reserve champion, Douglas of Rannoch, sold for 6000gns to a German breeder and in 2001 they topped the market with another reserve champion, the black bull Calum Dubh of Rannoch.
Donald's father founded the Earn fold in the 1950s while the family lived on a smallholding at Dunning. When Donald was in his twenties the fold was split up, and he bought just one heifer, Bernice of Earn, as a foundation for his own herd.
"When I started working as a shepherd I took my Highlanders with me wherever I went," he said.
"I had them on Coll and then in Kinloch Rannoch, which is why I chose the Rannoch name for the herd, and finally came to Kelty in the early 1980s," he said.
"I took the grazing at the RSPB's Vane farm and for about six years I had 50-60 head. When we lost access to that land I had to downsize and we now rent land from year-to-year at several locations around Kelty."
Having such a photogenic breed has made finding land to rent considerably easier than it would have been for more mundane livestock.
Donald said: "The hotels like them as they make a great backdrop for
weddings, the tourists love them and in the summer locals come and watch us preparing the stock for the shows. It has helped us get grazing, there's no doubt about that."
Donald pays tribute to his mentors, Donald MacGillivray from Pennygowan on Mull, his sister Connie Lawrie and Mary McLean of Benderloch, and says they have guided him all his life – although he hasn't always been
immediately convinced by their advice.
"We had been looking for a black bull for ages and couldn't find the right one anywhere, then one day a lorry pulled up and Connie chased a black Highlander down the ramp," he said.
"I took one look and wanted to chase it right back up, but it had the best
bloodlines and every calf turned out black. In the end he was a great success."
The family tradition continued when Bryon was given his first bull calf at just 10-years-old.
"He was Struan of Lagg and Dad bought him at Oban. I kept him for a year then took him to the shows and ended up winning the junior interbreed championship at Perth Show," he said.
"When the interbreed was judged it was between my Highland bull and a Charolais, and when the judge – a Charolais man – chose the Highlander the crowd went mental. It was an amazing moment – unbelievable.
"For the next couple of years he won the young Highlander classes throughout the east of Scotland."
A standard summer for the MacNaughtons involves trips to shows in Fife, Central and West Fife, Stirling, Angus, Kirriemuir, Alyth, Braco, Doune and Dunblane, Perth, Kinross, Peebles, Dalmally, the Black Isle, Turriff, Drymen and east, north and west of Scotland club shows.
Donald describes it as "a way of life". One key championship has eluded them – so far.
"We haven't won the Oban bulls show and it won't be this year as we have no animals that are eligible," said Donald.
"In the meantime we'll just keep on trying to improve the breed."
The Highland cattle show and sale takes place at Oban Livestock Centre tomorrow and Monday.
nnicolson@thecourier.co.uk