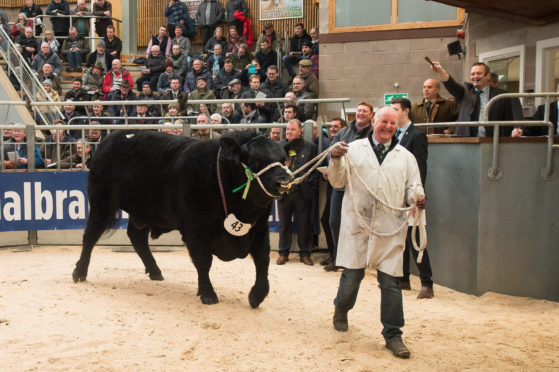 A powerful Aberdeen-Angus bull sporting a third prize rosette broke through the ranks to sell for 25,000gns at a breed sale which picked up momentum after a sticky start to trade.
He was Linton Gilbertines Elgin, shown by John Elliot, a trustee of the Gordon Brooke Estate at Earlston, and bought by Ewan Brewis of the Eastfield herd at Kelso.
This April 2017 sire by Rawburn Enigma, a first prize winner at last year's Royal Highland Show, is a full brother of a bull which sold privately to Ballathie Estate for £30,000 and a stablemate of another sire which sold at the October 2018 sales for 22,000gns.
Mr Elliot said: "Prizes don't matter so much. We knew we had a good bull with mass and breed character."
The Brooke Estate also sold Linton Gilbertines Phoenix for 9,000gns to Holystone Estate, Morpeth.
The breed's second top price was paid right at the end of the sale when the Tilsons from Wedderlie, Gordon, sold Wedderlie Bright Man, a first prize winner, for 17,000gns to Glympton Farms in Oxfordshire.
Aberdeenshire breeder Neil Massie sold his first prize bull, Blelack Lord Heartford, for 15,000gns to Andrew Hodge, Rulemains Farm, Duns, and at 13,000gns the junior champion and reserve supreme, Logie Defiance, from AJR Farms at Ellon was bought by WD Allen, Humblehaugh, Alnwick.
The Borewell herd from Scremerston sold Borewell Black Magic, a son of Blelack Explosive, for 11,000gns to J&J Campbell, Wedderlie, Gordon, Berwickshire, and the reserve senior champion, Stouphill Mr Peroni, from William Allen, Stouphill, Alnwick was bought for 10,000gns by Robbie Galloway for his Cardona herd at Doune.
At 8,500gns, McCornick Evanader from Martin McCornick, Boreland, Newton Stewart, was bought by J&R Stanger, South Seatter, Sandwick, Orkney, and two more sires sold at 8,000gns.
The first, from the Frasers at Idvie, Forfar, was Idvies Private, a second prize winner, bought by W&E Brown, from Turnberry, Ayrshire, and the second was Hallington Jericho Eric from Alan Lawson & Son, from Newcastle, bought by Stobo Home Farms, Peebles.
Three sires sold at 6,500gns. Peter Chapman, South Redbog, Strichen, bought Stouphill Elmer at this price; R&A Stodart, Mill of Inverarity, Forfar bought Tree Bridge Emott; and P Dawes, Kipperknowle Farm, Hereford, bought Triple C Liam.
The supreme champion, Glassel Jeremy Eric, from Glassel Farms, Banchory, made 6,000gns and was bought by the show judge, Tom Arnott, Haymount, Kelso.
Ken and Margaret Howie's Aberdeen-Angus female champion, Cairnton Elizabeth, made 6,000gns.
Over in the Beef Shorthorn ring, the prices were more closely matched to show placings, with the top price of 15,000gns paid for the supreme and junior champion, Podehole Landmark, from the Horrells of Thorney, Peterborough.
He was bought by Gates Farming at Coldoverton.
At 13,000gns, the reserve senior champion from the Hon T Turton of Upsall, Thrisk, was bought by DM Dickie, Knockenjig, Sanquhar, and at 8,000gns he sold another to SS Horton and Sons, Poulton Fields, Cirencester.
At 9000gns, Major Gibb from Glenisla House, Blairgowrie, sold Glenisla Lochan Dubh, by Glenisla Jack Frost to C Lowther, Askhamhall, Penrith.
Maj Gibb also sold his female champion, Glenisla Foxglove Flake, for 4,000gns to Irish buyer, A Shaw from Dungannon, Co Tyrone.
Forfar farmers MG Bailey, Craigeassie House, paid 7,500gns for the senior champion, Podehouse Lincoln, from the Horrells, and RL Morris and Partners, Over Buttergask, Forfar, paid the same price for Dunsyre Lancelot from Carnwath breeder Carey Coombs, Weston Farm, Dunsyre.
Averages: Aberdeen-Angus – 88 bulls averaged £5,887, a rise of £141 from last year when 101 were sold. The clearance rate was 74%. Nineteen females averaged £2,147 and achieved a 100% clearance rate.
Beef Shorthorn – 41 bulls averaged £4,676, down by £1,127 on last year. The clearance rate was 58%. Fourteen heifers averaged £3,158, up £1131 on last year.
nnicolson@thecourier.co.uk