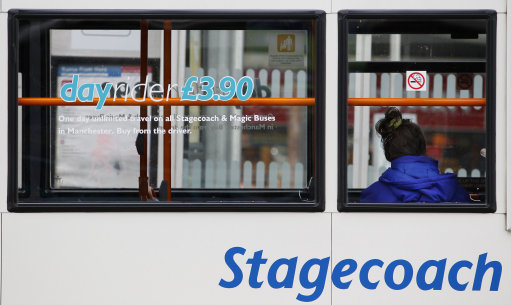 Scotland's transport minister welcomed the 10,000th passenger on board a Tayside bus on Friday.
Stagecoach East Scotland recently launched seven electric hybrid buses to travel the 20 and 21 routes between Dundee and Forfar and its rural areas.
The firm marked its first few weeks of service by providing the 10,000th customer on board with four weeks' free local bus travel.
Humza Yousaf, Minister for Transport and the Islands, attended to mark £300,000 of support provided by the Scottish Green Bus Fund.
The fund has bought 315 low-carbon emission buses across Scotland for a number of bus operators, including 18 electric-hybrid vehicles on the Tayway 73 route between Dundee and Arbroath.
Mr Yousaf said: "I am pleased to be here today to see a further seven green buses introduced into the transport network in Angus.
"Not only are these modern buses better for the environment but they provide a better experience for the passenger.
"This government is committed to reducing carbon emissions by 42% by 2020 and buses like these play an important part in that.
"We already have around 500 green buses in operation across Scotland."
Routes 20 and 21 run between Edzell, Brechin, Forfar, Kirriemuir and Dundee providing regular journeys for commuters, students and shoppers into the city, including links to Stracathro Hospital.
The buses are built with "e-leather" seating, free wifi access and USB charging points.
Jon Oakey of Stagecoach said: "We are committed to reducing our carbon footprint and the Scottish Green Bus Fund provides vital support with environmental projects to assist with these aims.
"It's great to meet some of our regular customers who have benefited from our vehicle investment and I'm pleased to present our 10,000th passenger with four weeks' free travel to use on the service.
"We have also recently issued free travel vouchers to residents across Forfar, Kirriemuir, Brechin and Edzell, offering people a chance to try out our new vehicles for free."
Stagecoach operations in Angus carry around five million passengers per year, employing 210 staff at a local depot in Arbroath and outstation in Forfar.