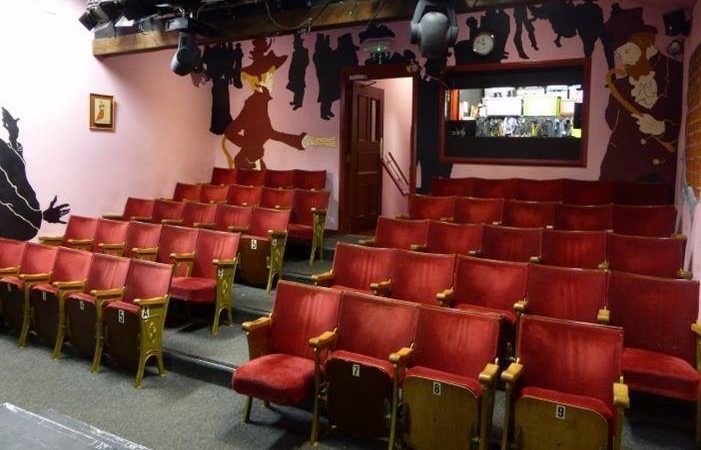 A Carnoustie theatre has been selling off the interior furnishings of a German cruise ship from 1913.
The historic seats sailed the high seas on SS Homeric during the golden age of liners and are being sold off to boost the coffers ahead of the Dibble Tree Theatre's upgrade.
So far they have been proving extremely popular with just a handful still remaining.
The theatre seats from the ship were previously at the Regal Cinema in Broughty Ferry before they were installed in Carnoustie in 1992 when the Regal closed to become a car salesroom.
The seating is now being replaced at the Dibble Tree to provide better legroom and seat width for taller and larger people.
Theatre manager Brian Gordon said: "The seats have been proving very popular and they're nearly gone.
"There's still a chance for people to buy them though and we'd encourage them to get in touch quickly."
He continued: "In 2013 we carried out a survey questionaire of all the users asking what was liked about Dibble Tree and what needed developing or improving.
"Analysis of this data clearly identified (that) while the 'Little Theatre atmosphere' was highly appreciated and loved, the heating, which is a cranky 'ad hoc' electric convector heater system, badly needs updating to make Dibble comfortable, cost effective and useable in the main winter months, especially for older users.
"In addition to the heating, the 100-year-old cinema auditorium seating would be replaced to provide better legroom and seat width for taller and larger people."
Phase one of the project is to install a gas fire central heating system throughout with appropriate modern insulation and space effective seating which would cost £35,000.
Mr Gordon said the club is selling off the seating "to help offset some of this cost".
SS Homeric, originally launched as Columbus, was built for Norddeutscher Lloyd and launched in 1913 at the F. Schichau yard in Danzig.
Rusting and neglected, the unfinished Columbus, like most of the German merchant fleet, was ceded to the British as reparation for the ships they had lost in the war.
She was sold to White Star Line in 1920, which named her Homeric, and she arrived in Southampton in 1922 after being handed over by a reluctant builder.
Homeric departed Southampton on her maiden voyage to New York and quickly settled into her Atlantic routine and proved to be a popular ship for White Star.
Homeric had a huge portion of her accommodations devoted to immigrants, and when the United States curtailed the flow of foreign settlers in the mid-1920s, the Homeric was particularly hard hit.
Her transatlantic crossings began to lose money as early as 1926, and the ship was sent on cruises around the Mediterranean and Caribbean.
Although the Homeric never succumbed to any great disaster, she was damaged while at anchor off Tenerife in 1932 after being rammed by the Isla de Tenerife which failed to steer while circling the Homeric.
In July 1935, the Homeric participated in King George V's Silver Jubilee fleet review but only two months later she was laid up and eventually scrapped.
Anyone interested in the seating should contact Brian on theatre.manager@dibbletree.com or 07761984819.