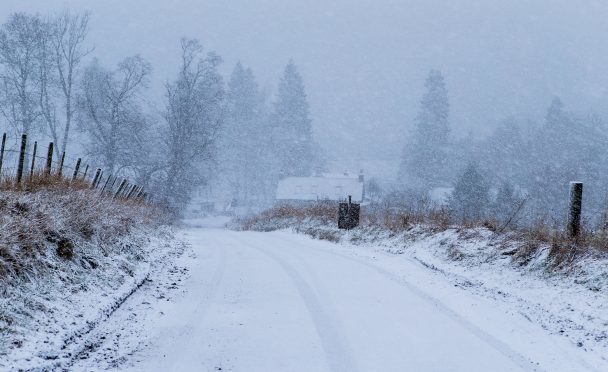 A severe winter weather warning for Tayside and Fife has been extended by forecasters.
The Met Office said snow and ice can be expected across much of Scotland until Friday evening.
A yellow warning for snow and ice is currently in place for Courier Country until 6pm on Wednesday.
However another one will come into effect on Thursday from 9am until midnight on Friday.
Another Met Office warning only of "persistent and perhaps heavy" snow covers Tayside and Fife from Wednesday at 6pm until Thursday at 9am. It is being caused by an area of "deepening" low pressure.
It comes after heavy snow moved into Scotland on Tuesday morning, with Perthshire and Fife both hit by the winter weather.
Schools in Perthshire closed and roads across the region have been affected by the freezing conditions.
Up to 8in of the white stuff could land on higher ground into Wednesday, with up to 3.1in possible at lower levels.
Lightning strikes are expected to accompany the snowfall in the west of Scotland throughout the week, with power cuts and travel disruption likely.
Commenting on the Met Office weather warning for Thursday into Friday, the organisation's chief forecaster said: "Snow showers will be heaviest and most frequent across western Scotland, where high ground is likely to see 10-20 cm (3.9in – 7.8in) building up above 200-300m (656ft – 984ft).
PICTURES: Scotland wakes up to white-out conditions as country is warned of 8in of snow and lightning
https://www.thecourier.co.uk/fp/news/local/perth-kinross/580222/snow-moves-courier-country-schools-closed-roads-affected-heavy-showers-dundee/
"There may also be more than 15 cm (5.9in) over the high ground of Northern Ireland and northern England. At low levels, parts of the warning area will see 3-10 cm (0.8in – 3.1in) of snow, with some places near the west coast seeing very little.
"Showers will be accompanied by hail and lightning at times, particularly across western Scotland. Here, in particular, there is potential for disruption to power supplies from lightning strikes. Strong winds bring the potential for temporary blizzard conditions and drifting of lying snow, mainly over high ground."