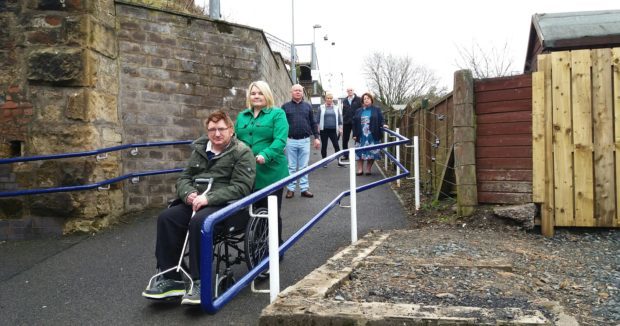 A Fife railway station platform has been branded inaccessible to anything other than a mountain goat.
The slope leading from platform two at Cardenden is so steep a wheelchair-bound man had to be reversed down with the help of strangers to stop him from rolling away.
Davie Anderson's wife Alana said her husband had been terrified and claimed using the station is no longer an option for the couple.
Cardenden councillors and the village's community council have called for action by Network Rail, claiming other people with mobility issues and parents of children in pushchairs are becoming increasingly concerned.
The rail company said it had no plans to make changes.
Alana said: "Having stayed in Cardenden nearly all my life, I have always made use of our train station, as did my husband, Davie.
"This is no longer an option for us due to the dangerous and life-threatening angle of the access/exit slope."
Davie has been unable to travel independently since having a stroke two years ago.
"Davie was absolutely terrified when we attempted to go down the slope and eventually I had to reverse him down towards the exit with the weight of him and his chair pushing against me," said Alana.
"We eventually made it to the bottom with the assistance of other passengers."
Local Labour councillor Linda Erskine said: "The station was built in the 1850s and, from my experience, there has been little investment since that point.
"It is impossible to say that the station at Cardenden is accessible to anything other than a mountain goat.
"At the very least they are failing in their duty of care and their responsibility to passengers who fall into the protected categories covered by the Equalities Act 2010."
SNP councillor Rosemary Liewald  added anyone whose wheelchair was not motorised would find it impossible to use the path.
"The hazard on descending this slope could result in a major accident," she said.
Cardenden Community Council chairman Dave Roy, said: "The Cardenden Community Council, along with our local ward councillors, are calling for Network Rail and ScotRail to look at practicable solutions to allow better access."
A spokesman for Network Rail said more than £50 million had been invested at 25 stations across Scotland over the last decade.
"We work closely with the Government to assess accessibility at stations and improve the facilities we offer to passengers, however we have no plans at this time for changes to Cardenden station," he said.