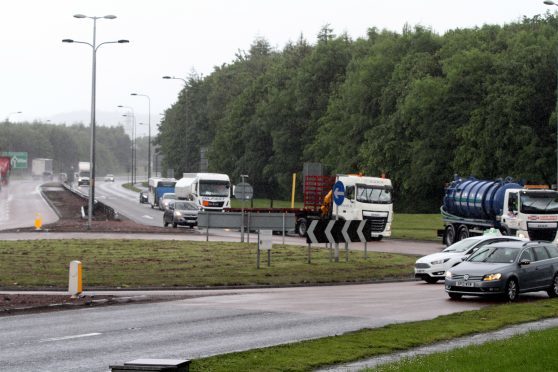 A councillor has claimed Invergowrie residents should have been consulted on plans for an overhaul of the A90 Swallow Roundabout, amid fears it could lead to drivers "rat-running" through the village.
The project is needed to improve access to hundreds of new homes being built on the western edge of Dundee.
Carse of Gowrie councillor Alisdair Bailey has pointed out although the planning application was submitted to Dundee City Council, at least a quarter of the roundabout site is on Perth and Kinross Council land and feels residents should have been consulted.
He said the measures, including new traffic lights, could have an impact on people living in the Invergowrie area.
The improvements were originally passed by officers in Dundee two years ago but have been revised and resubmitted.
He said: "Residents of Invergowrie could be profoundly impacted by any change due to drivers rat-running through the village to avoid the junction.
"Invergowrie Main Street is already busy in the morning and evening rushes as people try to shave a few minutes from their journey.
"Maybe this proposed improvement will help but we have no way of knowing because we weren't consulted."
The Labour councillor said: "People will ask why a Perth and Kinross councillor is jumping up and down about a Dundee matter.
"I'd encourage those people to look carefully at the map accompanying the planning application. This roundabout is a quarter in the Perth and Kinross local authority area and as such, the plans should have been submitted to Perth and Kinross Council. The record shows they were not."
He added: "I am shocked that this has been missed.
"I want to make it crystal clear that I have no objection whatsoever to the housing development now in progress at Dundee West.
"My concern here solely relates to the planned upgrade of the Swallow Roundabout, which is a vital link for residents in Carse of Gowrie which, if done badly, could make life difficult for those in Invergowrie due to rat-running."
Dundee City Council was asked to make an official comment on Mr Bailey's claims but a public relations officer refused to do so, despite being contacted several times.