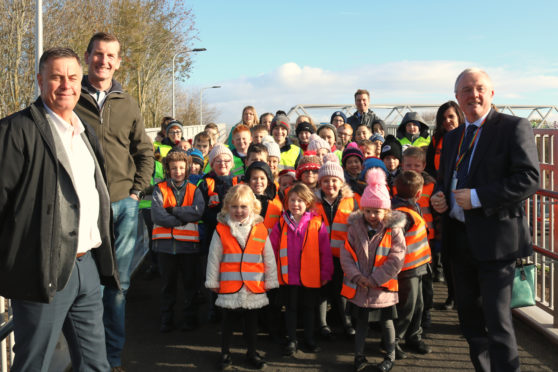 A new bridge over the A9 has been opened as part of a £35 million overhaul of Perth's road network.
The steel construction was opened by 13-year-old Nathan Roger, who named the bridge the Inveralmond Skywalk after winning a competition when he was a pupil at Ruthvenfield Primary School.
Nathan, who now attends Perth Grammar School, was joined in cutting the ribbon by Ruthvenfield pupils.
The bridge connects Inveralmond Industrial Estate with a massive development to the north, which includes the new Bertha Park village.
It is part of the Perth Transport Futures Project, which includes a multi-million pound relief road and slip roads providing easier access to the A85 from the A9, which opened earlier this year.
Councillor Peter Barrett, vice-convener of the strategic resources committee, said: "This is a tremendous bridge which provides a really good link for pedestrians and cyclists.
"It's great to see it open and I look forward to seeing it being used as an active travel link to promote health and wellbeing in Perth."
The bridge has also been hailed as an improvement to public safety, as people are often seen dodging traffic crossing the A9 to get to Inveralmond.
Perth City North councillor Dave Doogan said: "Both sides of the A9 are in my ward and there have been concerns about the safety of the pedestrians running across the road.
"This has been a long time coming and I'm very pleased that people can now safely access their work across the A9."
Balfour Beattie engineers worked through the night on three consecutive evenings last year, using cranes to swing the steel structure into place.
The company previously said it was committed to making a "substantial contribution" to the local economy and, to date, has worked with more than 50 local suppliers and subcontractors.
All of the steel used in the project has been sourced from British manufacturers, with the majority from Scotland.
When complete, Bertha Park will have 3,000 homes, retail, health services and a new secondary school.
There are also separate plans for 1,300 homes, a primary school and leisure facilities at Almond Valley, between Huntingtowerfield and Ruthvenfield.
The two developments combined are expected to provide a £500 million boost to the local economy.