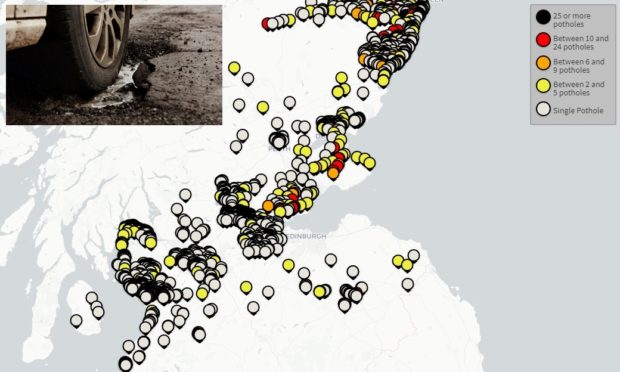 Dundee motorists faced one of the highest rates of pothole misery in Scotland last month.
Figures obtained from local authorities showed city roads averaged a pothole every two kilometres – the fourth worst result in the country.
Fife reported a pothole every 6.3km, while in in Angus the average distance was 11.8km.
Perth and Kinross, motorists were able to drive an average of 36.6km without encountering a pothole, meaning the county had some of the smoothest road surfaces in Scotland.
Dundee City Council bosses insisted the picture was improving.
A city development report said that by 2017, the number of potholes had reduced by 66% compared to four years previously.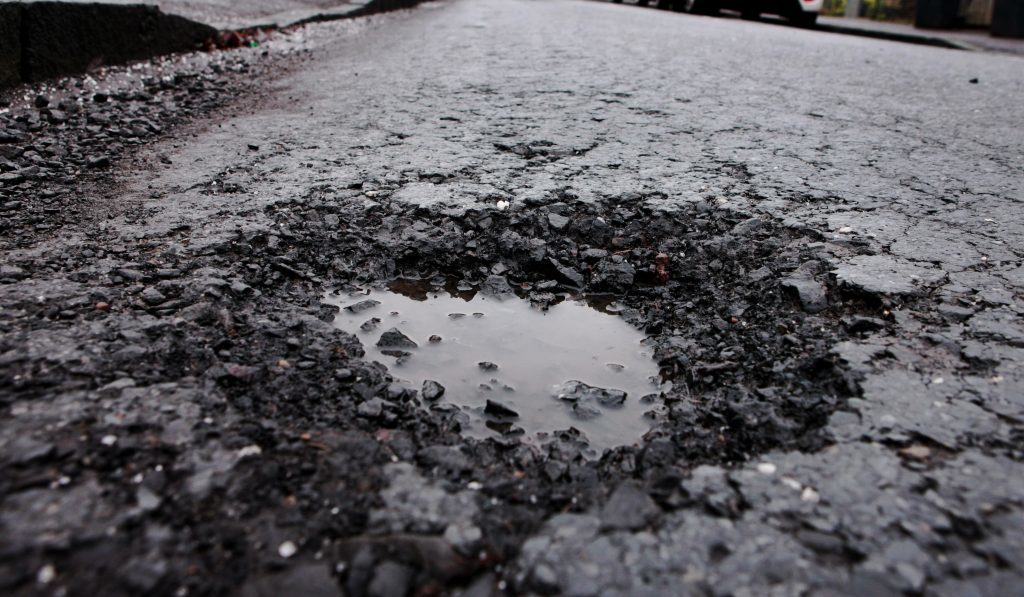 Mark Flynn, depute convener of city development, said: "Since this snapshot was taken we have repaired approximately 150 potholes.
"Pothole repairs continue to be an important focus for us both in terms of quality and speed.
"Figures show that the condition of our road network remains in the top half in Scotland and for the last four years there has been a 66% drop in the number of potholes in Dundee."
Mr Flynn said the improvements were down to a range of factors, including milder winters and increased investment.
"We are the only council area in the country which uses hot tar to repair potholes as it creates a more durable fix and means we don't have to keep coming back to the same ones time and again when the temporary repair settles," he added.
A spokesman for Fife Council said the local authority has provided "sustained capital investment" in road maintenance, with an extra £40m budget available for carriageway works over the last 10 years.
He added: "This has led to an improvement over the last five years  in road conditions in Fife.
"In addition, the number of potholes in Fife has dropped from around 32,000 a year to 23,000.
"In the face of budget restrictions, this is a success story."
Angus Council's policy is to inspect any reported damage to road surfaces within five working days.
The local authority did not comment on its figures, but provided a link to its repairs policy, which said: "Potholes are filled on a priority basis dependent on size, width and depth and, location.
"In the case of unadopted roads, residents can undertake repairs to potholes themselves, or employ a contractor.
"The council does not contribute towards the upkeep of private roads."
Perth and Kinross Council had not commented by the time of going to press.
---
Pothole-related claims spike in cold months, according to the AA
Jack Cousens, head of repairs policy at the AA, said autumn and winter are peak periods for vehicle damage claims linked to potholes.
He added: "Claims come in peaks and troughs, but generally there are fewer in spring and summer, as that is when most road repairs are done.
"At around September time the number of claims start to increase, and this is the case right through to around March.
"The increased rainfall during this time means that drivers often don't see a pothole – if there is a lot of surface water they may not be aware that there's a pothole underneath.
"Our advice is to drive to the conditions. Slow down if the road surface is bad or if there is a lot of water on the road, and if possible try to drive around potholes.
"Report potholes to the local authority at the earliest opportunity, because if the council is unaware of a pothole, no claim against them can proceed.
"Throughout the UK, main carriageways are resurfaced fairly regularly but local roads, where journeys tend to start and end, can be neglected.
"On average, a local road is resurfaced – as opposed to having patchwork repairs – once every 87 years.
"So, if you see your street getting resurfaced you should throw it a party."