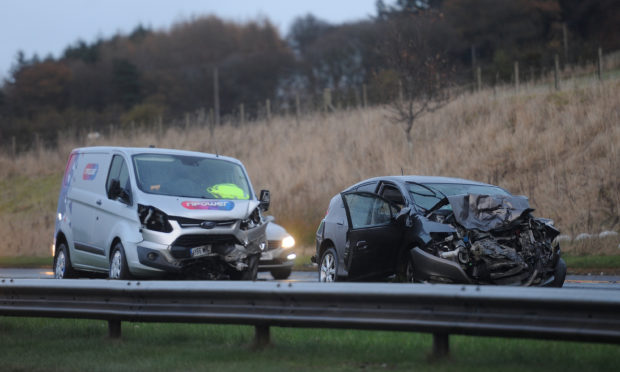 Road safety bosses in Angus have missed three out of four key casualty targets as the death and injury toll across the region continues to grow.
A total of 10 people died on the county's roads against a target of seven, while 43 people sustained serious injuries against a target of 36, according to the latest figures.
Nobody under 16 lost their life and three children were seriously hurt, against a target of two.
The road safety figures, contained in an update to Angus Council's communities committee, are above the Scottish average and worse than neighbouring Aberdeenshire and other regions in the North East.
The report's authors warned the "steady increase in fatal collisions since 2013 and in serious collisions since 2014" meant it was unlikely the council would hit 2020 safety targets.
The report also highlights near 40% cuts to road maintenance budgets were likely to lead to a further increase in collisions.
Officials have proposed setting up a working group to identify the actions required to bring the area into line with Scottish Government accident reduction targets to 2030.
Communities committee convener, Montrose Independent councillor Mark Salmond, highlighted "reduced public sector budgets" meant they had to find "innovative ways to improve safety on our roads."
Mr Salmond said: "I have sent an invitation to all 28 councillors to attend a briefing on this matter and two other important reports we will be looking at in the same sphere.
"We are keen to set up the group to develop this strategy and a lot of hard work has already been done.
"Sadly, the statistics show that there is still work to be done.
"It is unfortunately something which has a tragic human cost, which is why I feel every councillor should be as fully informed as possible.
"We must also continue try to educate drivers on the responsibility they face each time they get behind the wheel."
There are over 1,800km of roads across Angus with 1350km either 'C' class or unclassified.
During 2017 – the most recent year for which figures are available – someone was killed or seriously injured every 36km, or around once a week.
Councillor David Cheape, Independent, said the report showed a "direct functional relationship between the number of accidents – and in turn, injuries – on Angus roads and the decrease in maintenance and investment in roads and carriageways particularly since 2013."
He called for roads spending to be focused on "delivering projects that will deliver positive figures on road safety and a reduction in fatalities and injuries."