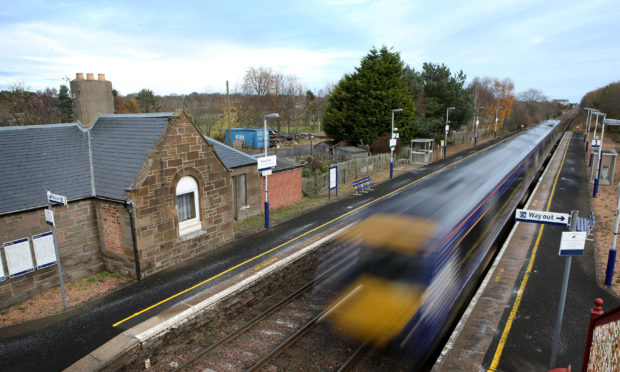 Pupils from a secondary school will no longer travel by train to college classes in Dundee due to fears over their safety.
Young people at Angus secondary schools travel to the city to study some subjects at Dundee and Angus College but there have been reports of violence and bullying between pupils attending different Angus secondary schools.
A 14-year-old girl has been charged with assault after an alleged incident at a station in Angus last month.
The pupils previously travelled by bus but the local authority introduced the train journey shortly before the summer holidays began in June.
It is understood teaching staff at Montrose Academy requested a bus be reinstated for its pupils after parents expressed their concerns.
The mother of one pupil, who travels weekly to the college, said: "Coming back, there are more than 200 pupils walking down to the train station at one time. There has been trouble. It's horrendous."
She said bus travel should be put in place for all pupils at Angus schools attending the college.
"(With) that number of pupils on the platform, even if it's just silly stuff it can escalate. The fact is, they are from all different schools and they don't mix."
An Angus Council spokesman said: "Montrose Academy pupils will now take their return journey by bus, which will help to reduce numbers at the rail stations."
"Ongoing legal proceedings prevent any comment on the alleged incident but I can confirm we have maintained contact with those involved throughout enquiries and addressed any concerns and questions as necessary."
He said council staff have worked closely with rail operators and have visited schools to advise young people on their safety and conduct.
"Our transport staff continue to liaise with transport operators, as well as British Transport Police, and the movement of all our young people is subject to regular oversight and review," he added.
A spokesperson for British Transport Police said: "A 14-year-old girl has been charged with common assault. She will be considered for a report to the children's reporter."
A spokeswoman from Dundee and Angus College said they had a partnership with Angus Council to support the career aspirations of young people in Angus schools.
She said: "Senior phase pupils have travelled, and continue to travel, to college each week by various modes of transport arranged by Angus Council.
"We have been made aware of the alleged incident and have advised all Angus senior phase pupils who attend Dundee and Angus College of the importance of respectful and responsible conduct in line with college and future employment expectations," she added.
A ScotRail spokesman said: "ScotRail works very closely with British Transport Police to ensure that Scotland's railway is a safe environment for our customers, and our own people.
"Anti-social behaviour, whether that's physical violence, verbal abuse or any other form, is completely unacceptable and we do everything we can to ensure that those responsible are brought to justice."