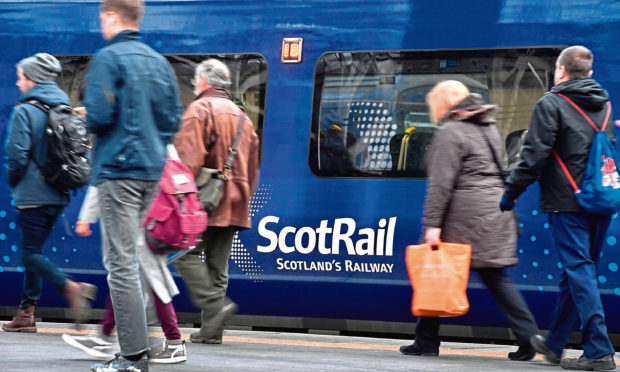 Tayside workers could strike amid reports jobs at train station ticket offices across Scotland are at risk.
The Transport Salaried Staffs Association (TSSA) and the National Union of Rail, Maritime and Transport Workers (RMT) say proposals have been tabled that threaten 15 jobs across a number of ScotRail "travel shops".
Posts at Dundee and Perth stations are said to be among those at risk.
The unions have issued a joint statement saying they are preparing ballot members to strike as a result of the plans.
They argue that cutting ticket office staff will affect the customer experience and that ScotRail should instead be investing in more workers at its travel shops.
The proposed changes are also said to affect staff at shops in Aberdeen, Edinburgh Haymarket, Glasgow Queen Street, Inverness, Stirling and Paisley.
TSSA general secretary Manuel Cortes said cutting travel shop jobs would be "disgusting".
He added: "We asked ScotRail to review staffing in the travel shops after our members came to us with issues around workload, work-life balance and being unable to take time off.
"But instead of listening to our concerns, they decided to reduce staff and close travel shop windows."
RMT Scottish organiser Mick Hogg said: "They are doing away with jobs to save money and passengers will suffer. I'm sending a report to the union's general secretary recommending a ballot for action."
However ScotRail claimed there will not be any job losses.
The firm said it carried out a review of its "walk up and buy" services at a number of station at the request of the trade unions.
It concluded that the customer experience has "significantly changed" with more people buying rail tickets online or using self-service machines; adding that the proposals put forward reflected this.
ScotRail's head of customer operations Phil Campbell said: "Our proposals are about meeting the changing needs of our customers and the way they choose to pay for their journey.
"ScotRail operates a very clear policy of no compulsory redundancies – everyone who currently has a job will still have one.
"We're disappointed that the trade unions have not engaged with the clear need to change but instead threaten industrial action.
"We have suggested to the trade unions that we hold further local meetings to allow meaningful discussions on this matter to take place. This is in line with the agreed procedures."