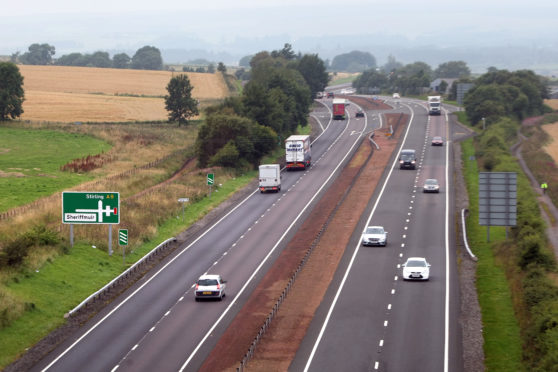 Transport chiefs are being urged to improve safety measures at "dangerous" junctions along the A9 between Dunblane and Perth.
Crawford Reid, Conservative councillor for Strathallan, wants reduced speed limits and improved street lighting at the Blackford, Auchterarder, Aberuthven and Dunning junctions.
A five-year report into the stretch between 2007 and 2011 showed that there had been 44 accidents resulting in seriously injuries on the stretch between Kier Roundabout and Broxden, including eight fatalities.
Transport Scotland said the number had declined following the introduction of average speed cameras in late 2014.
However, statistics produced by the A9 Safety Group show there is still a "high severity of accidents at junctions" between Kier and Broxden, where 53% of right turn accidents involve death or serious injury, compared to a north east average of 29%.
The safety group also says there is a higher number of accidents involving heavy goods vehicles above 7.5 tonnes, 17% of crashes, compared to a north east average of 9%.
It claims there is also a "high number of single vehicle accidents striking roadside objects".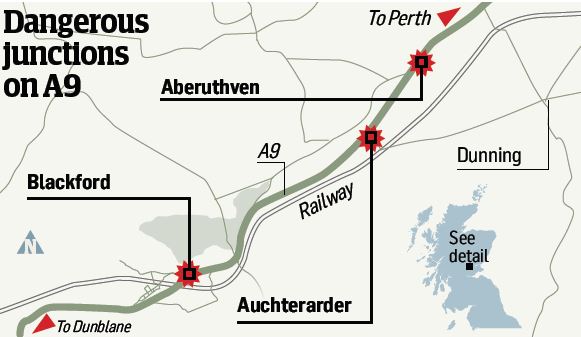 Mr Reid said some of the temporary safety measures introduced for the Solheim Cup at Gleneagles, which included a reduction in speed limits down to 50mph and 30mph at junctions, could be implemented permanently.
He said: "There are communities and professional users of this stretch of the road who live in a state of low grade anxiety every time they or their employees embark on a journey on the road.
"I do hope that some meaningful safety measures can be put in place throughout the length of the A9 between Keir and Broxden roundabouts to improve the sense of well being for the local communities, and to reduce road traffic collisions.
"The Solheim Cup traffic measures imply that reducing speed and preventing crossing central reservations are sensible safety manoeuvres."
Transport Scotland said it was in contact with local communities about problem junctions.
A spokesperson for the road networks body said: "Transport Scotland, through their operating company BEAR Scotland, continue engagement with the local community and are currently investigating a number of locations identified on the A9 between Perth and Dunblane including the Auchterarder, Dunning and Blackford junctions.
"We will continue to monitor safety on this route as part of our Annual Road Safety Review and prioritise resources to support effectively the delivery of this Government's 2020 casualty reduction targets."