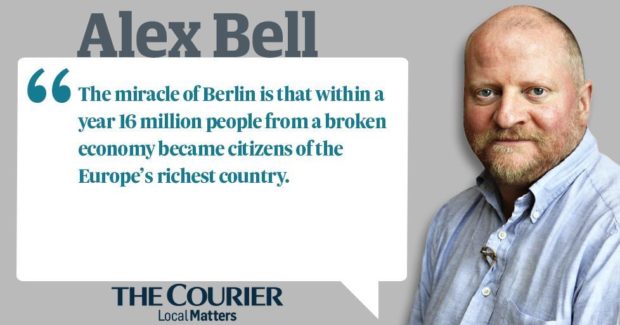 The Brandenburg Gate is a paradox. It is the world's most famous entrance way, thanks to being blocked off. When the Berlin Wall went up, it gained infamy as the gate that was not a gate. As such, it is a perfect monument to a divided country and continent.
No sooner did it open in 1989 than it stopped being a gate again, as East and West Germany united. Built to be a monumental entrance way 200 years ago, its significance in the modern world is because it leads to nowhere in particular, if that's not rude to the wealth of the Unter den Linden on one side and the park on the other.
This absence of border and the gate's changing role from nationalist symbol to tourist snap is celebrated this Saturday on German Unity Day.
Thirty years ago the GDR (East) and FDR (West) came together. Not as two nations, but as the regions of a much older country in the east choosing to join the regions of the west in a single parliament.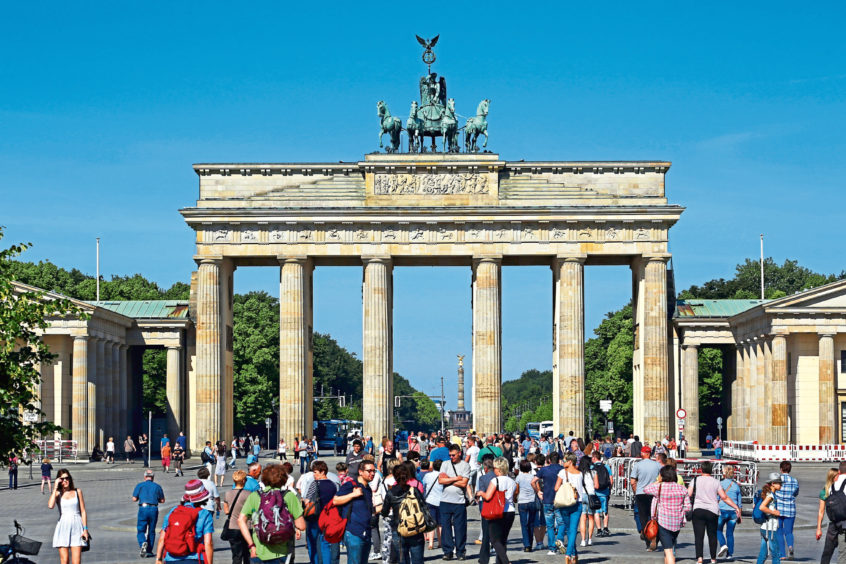 In a cafe near the gate I once ate pork knuckle, sausage and meatballs served with fried potatoes and coffee. The kind of breakfast that sends you back to bed. Bliss, as bed was at the famous Adlon Hotel. A perfect German experience. The pork plenty, the wealth of the neighbourhood, a hotel that had seen armies, Nazis and revolutions go past, now trading to satisfied international businesspeople.
Germany – plump, prosperous and sure there will be pig tomorrow.
Yet this disguises the astonishing modern history of the German people. Only now, looking back, can you begin to see that the 20th Century was as much the German century as it was the American one. It dominated the continent and global affairs by two world wars. That is a shameful achievement and one you'd think would render it pathetic for decades to come. But, astonishingly, the country then goes on to determine the fate of Europe.
The fall of the Berlin Wall is often seen as the turning point of recent history. Yet it is far easier to knock something down than create something new.
The German voice of calm
The miracle of Berlin is that within a year, 16 million people from a broken economy became citizens of Europe's richest country. It achieved this without dipping into a recession any greater than other economies of the early 1990s. And while there were and are grudges between the rich west and the still-recovering east, it's without major social division.
More important was what didn't happen. The nation that had started two world wars did not go chasing other lands but instead was the voice of calm in turbulent times. Of course, by then it was already a 30-year-plus veteran of co-operation with its near neighbours.
The European Economic Community was evolving into the European Union. Currency alignment had begun with a view to monetary union. The Single European Act was signed. This was simplistically portrayed as German victory over Europe.
More telling, it was Germany's victory over itself. A nation twice set on empire building had astonishingly built an empire of co-operation. So attractive was the Franco-German EU that the next 30 years would be defined by other countries wanting to join and Britain perversely trying get out.
In retrospect, it can be argued that 1990 was the annus mirabilis of the European Project. Intended to end war on the continent, it achieved that gloriously when, in a time of flux, Germany did the decent and huge thing of absorbing a poor nation into its embrace. For this alone, the EU should be celebrated as the greatest peace treaty in human history.
At the time, the British government was against reunification, fearing a bigger Germany would return to making tanks. Margaret Thatcher spoke of a new threat. She was wrong. Germans made cars and double glazing and until the rise of China, remained a top-three global economy.
Britain is the threat
We tend to view all this from the parochial angle of our domestic politics. German unity boosted British nationalism, though people didn't use that phrase to describe mainstream politics 30 years ago.
German underwriting of the euro fuelled that nationalism and mad schemes to compete against German economic might used nationalism to get us out of Europe.
In this we fail to see that it is Britain that is the threat, Britain the nationalistic maverick. Arguably the final nail in Britain's European affair was when Angela Merkel, who had been a special adviser to East Germany's last prime minister, repeated the trick of peaceful absorption by allowing a million Syrians to become German citizens in 2015. Another astonishing act of generosity and global statesmanship.
Britons could only see foreigners "flooding" white Europe. It hardened euroscepticism here, even though we took a fraction of the refugees accepted by Berlin. Now the German economy is strong and we struggle for workers.
Celebrate the German 20th Century and don't be surprised if it defines this one, too.