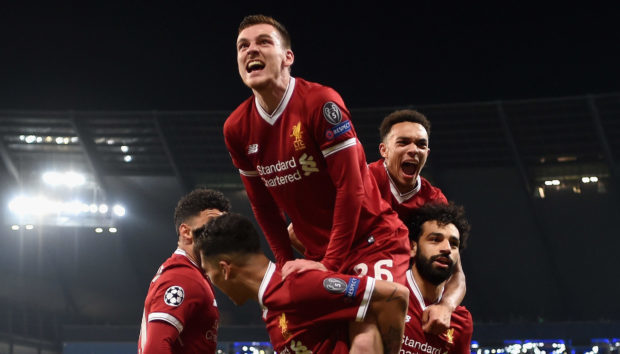 Tonight's Champions League final pits two of the greatest names in world football against each other.
Like many fans I'm aggrieved at the way the Champions league has become like a Monaco of football, catering for the whims of the richest and most privileged clubs.
But I'm also captivated by what tonight's final offers.
Real Madrid with 12 wins, and Liverpool with five wins, in European Cup finals and Champions League finals, are true giants of world football. Their meeting in Kiev is a football fan's fantasy match.
These are two clubs replete with a huge sense of history, romance, tradition and style, which few others can compete with.
At this level, football is the equivalent of Freddie Mercury and Queen, performing for Live Aid at Wembley.
It represents the towering heights of the greatest sport on the planet. Only a World Cup final can match it for prestige, glamour and excitement.
I've said it before. There are two kinds of football: the average, bog-standard club stuff, which is about community, a sense of belonging, family, and personal history; and momentous international occasions which capture and grip an audience of hundreds of millions.
The drama of Liverpool v Real Madrid is showmanship, circus and theatre on an epic scale.
It will transfix millions of viewers who have no direct interest in either team but are instinctively captivated by the sense of drama, which cannot be replicated in the weekly grind of domestic fare.
Tales have been passed down through the ages of the giants of the Bernabeau and Anfield.
Visions and myths are reborn, of Real v Eintracht Frankfurt in front of 127,000 at Hampden, and the majesty of Di Stefano and Puskas in an epic 7-3 win for the Spanish giants. In a game which some say is the finest-ever seen on Scottish soil, and one of the greatest in world football.
The legends of yesteryear are suddenly fresh and vibrant again: Bill Shankly's famous quote: "Some people think football is a matter of life and death. I can assure them it is much more serious than that'" seems newly-minted for such an epic match.
It's true that the Champions League has become big business, pandering shamelessly to the needs of the richest in the game but this is a night which promises to provide a spectacle of scintillating football and stunning theatre, which only the greatest names in the game can offer.
Tonight's worldwide audience will revel in Cristiano Ronaldo's regal athleticism and craft, and marvel at Marcelo's pace and power and Luka Modric's subtle promptings and passes.
They will also salivate over the magnificent Mohamed Salah, who in his first season for Liverpool has become just the third player to score more than 40 goals for them, and who plays with a childlike love of the game.
Neither Zinedine Zidane nor Jurgen Klopp has won their domestic titles this season, but the German manager has restored the magic at Anfield and returned Liverpool's élan and swagger.
I am taking the Reds to win what should be a showpiece final between two of the world's finest teams.