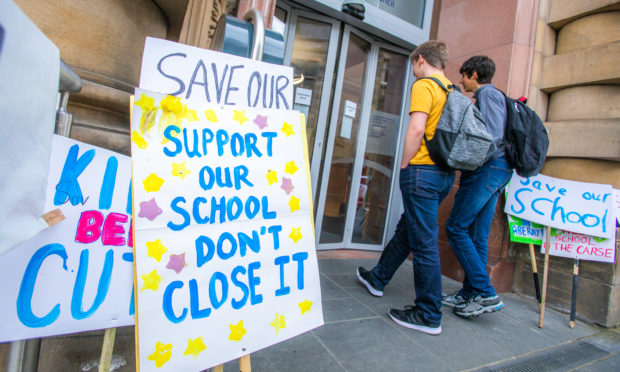 The news Scottish Ministers are to call in the decision to close Abernyte Primary School has not come as a surprise to everyone in the Carse of Gowrie.
Following a hard fought campaign to save the school by the parent council, a knife-edge vote saw a closure order imposed but earlier this week, Scottish Ministers decided to call in the decision and could reverse it within the next two months.
The two elected members for the area who sit on Perth and Kinross Council's lifelong learning committee voted in opposition to each other, with the third Carse representative speaking out in favour of saving the school.
Labour councillor Alasdair Bailey, who gave a deputation at the meeting at which the school was closed, believes the Scottish Government has made the right decision.
He said: " I have stood shoulder to shoulder with the community of Abernyte through the consultation process and spoke in favour of keeping the school open at the meeting where the closure was decided earlier this year.
"I worry that those on the committee who voted in favour of closure had already determined that they were going to close the school for political, rather than evidential reasons.
"It's unfortunate that we have reached this stage because this is more uncertainty for parents and children, plus the review of the closure will cost taxpayers money."
SNP elected member for the area Beth Pover added: "I am delighted with the decision to refer this damaging school closure to the School Closure Review Panel.
"From the outset I have fought to defend our fantastic School at Abernyte and wrote to MSPs, along with many other community members, in support of the School following the decision taken on May 22 by the administration members of the council's lifelong learning committee to push through this unwanted closure, regardless of local opinion."
However, the Carse of Gowrie's third councillor, Angus Forbes, declined to comment. The Conservative stated that with this now a legal process, he did not wish to risk making public judgement.
Elsewhere, independent councillor Xander McDade, who sits on the lifelong learning committee, has added his support to the Holyrood decision.
"I welcome the Scottish Government's announcement. Abernyte is the perfect example of a growing small school that is providing an excellent education to its pupils and is serving its rural community," he said.
"I hope that after reviewing the evidence, the School Closure Review Panel will refuse the closure of this great little school. It is time this Administration supported our fragile rural communities rather than voting to close them."