Spirits of Scone is a Halloween fright-fest in the grounds of Scone Palace. Gayle, aka Pennywise, got into the spirit of things ahead of the event, from October 25 to 31
Neck twisted at an unnerving angle, eyes wild and starey, I lurch through the forest laughing demonically.
Clutching a balloon in one hand, I slowly swivel round to face the camera…and smile my most ghastly smile.
It's Wednesday night and I'm doing my best impression of a creepy clown ahead of the Halloween fright-fest that is Spirits of Scone.
Actors Matt Duncan and Kirsty Watson from Perth-based Create Events are keeping me company, helping to ramp up the fear factor.
Matt, 23, is a demon while Kirsty, 20, is a witch. We're all dripping in "blood" and, thanks to clever prosthetics, half of Kirsty's face is hanging off.
Before we took off into the woods, the talented duo transformed me from office worker sporting blouse and trousers to grim-faced and menacing clown with beaming red nose.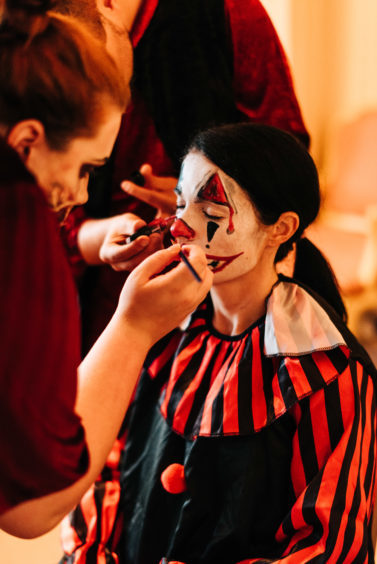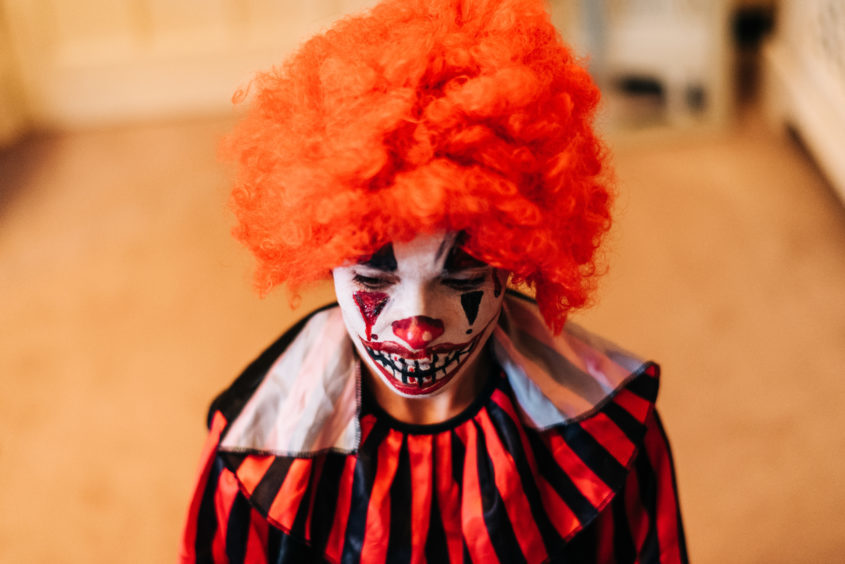 My costume consists of oversized red and black suspenders and matching top. Frills, stripes and buttons feature. Topped off with a garish red afro wig, I look the (ghastly) part.
Whether I resemble McDonald's mascot Ronald McDonald or Pennywise the Clown from Stephen King's It, is questionable. No matter – the overall effect is utterly loathsome.
This will be the third year Spirits of Scone has been hosted, and organisers promise it will be "bigger, darker and scarier" than ever before.
The grounds have been transformed into a truly terrifying playground with ghouls, zombies, asylum patients, possessed monks and nuns, werewolves, witches and other freakish creatures lurking.
Indeed, this is a place where all your worst nightmares could well come true.As darkness falls, objects that seemed harmless take on strange and threatening forms.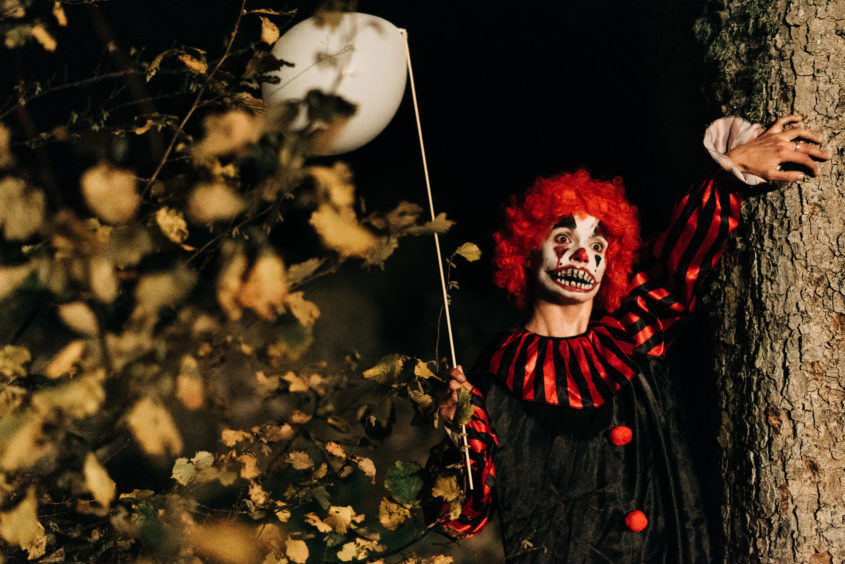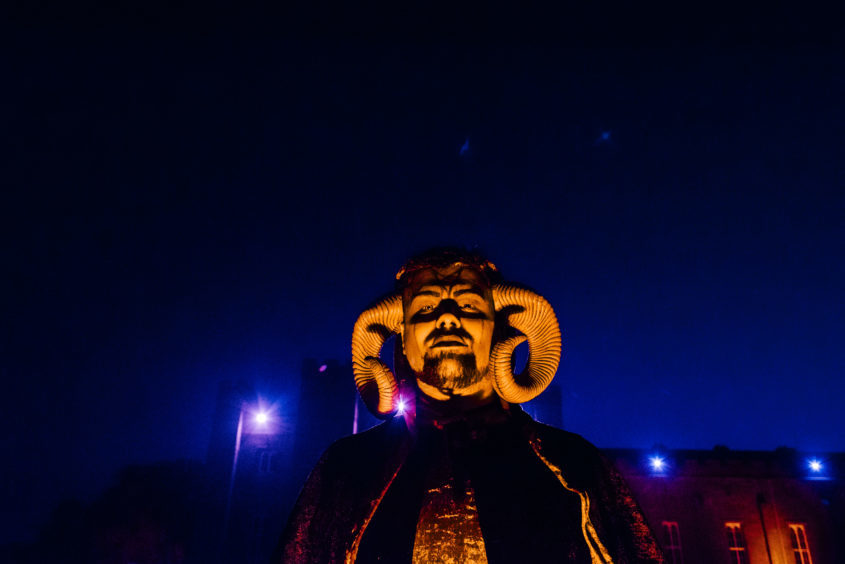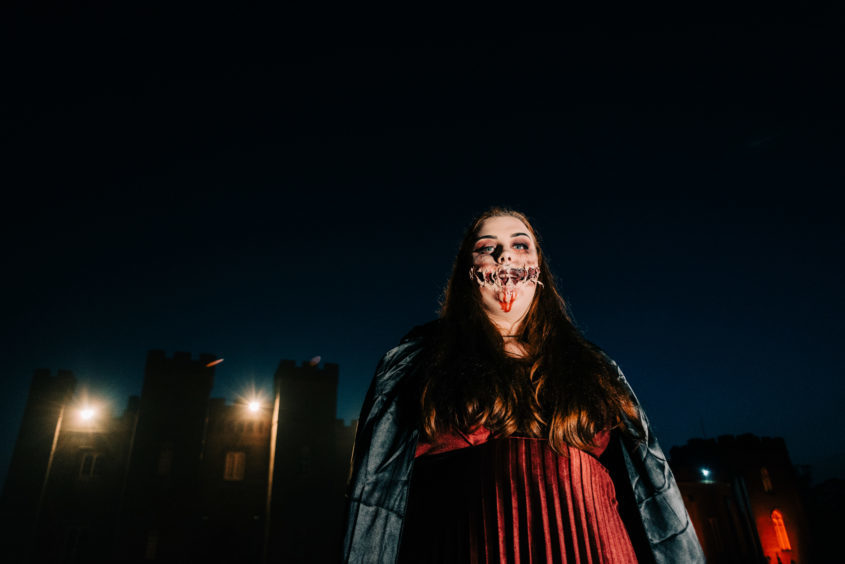 Trees which resembled things of beauty when the sun shone on their autumn-burned leaves appear menacing, as mists swirl round their giant trunks. Could there be something horrific hiding behind them?
Noises seem louder, too. What was that scuttling past? Was it a peacock or perhaps something more sinister?
Even though I'm dressed as one of the characters, my spine is tingling and my nerves are jangling. Heck, I'm freaked out by myself!
Matt tells me this year's event will be all about "jump-scares".
"People love to be scared so we're really ramping up the fright factor," he says. "There's no scripted stuff this year. We'll react to different people in different ways. It's much darker this year and we'll be hiding everywhere."
There will be 15 "jump-scare" actors and some volunteers from Perth College UHI's musical theatre course waiting to scare you witless.
While visitors will go on a journey through the grounds, passing through the graveyard, into a maze, through the woods and beyond, there will also be storytelling. One especially gruesome tale will be told by an old hag, who waxes lyrical about how to cook children!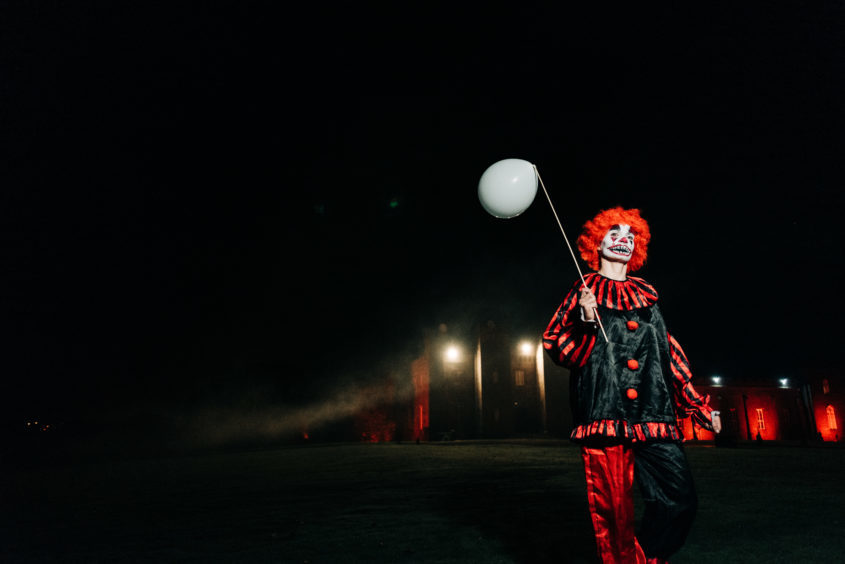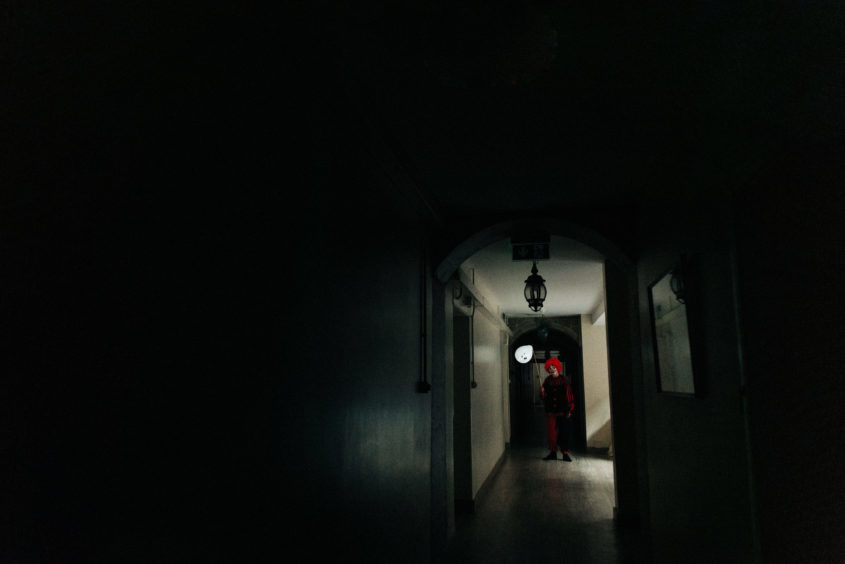 Vicky Glennie, Director of Create Events, says the experience is "more terrifying" this year and warns visitors to be prepared.
"I've heard there's a cannibal running wild in the woods so look out for him…that's if the zombies don't get you first!" she cackles.
Vicky makes many of the ghoulish props herself and reveals that her kitchen work surfaces are currently lined with custom-made zombie heads! Whatever floats your boat!
She reckons the gothic backdrop of Scone Palace is an ideal location for the event.
"When it's dark, it can be very scary in the woods," she says.
"The maze is brilliant and from the amount of screams I heard last year (it featured a blood-spattered cannibal butcher waiting to ambush victims with his hook), it's the perfect place to give yourself a good scare."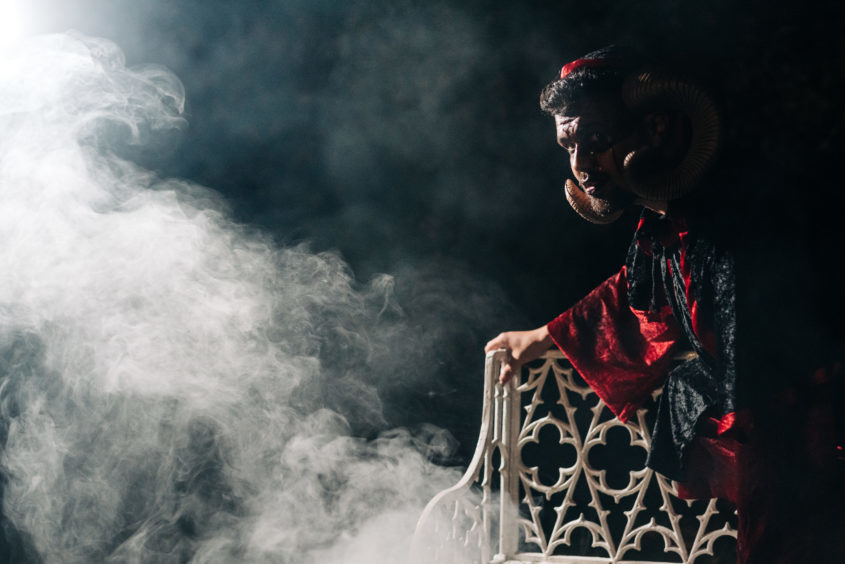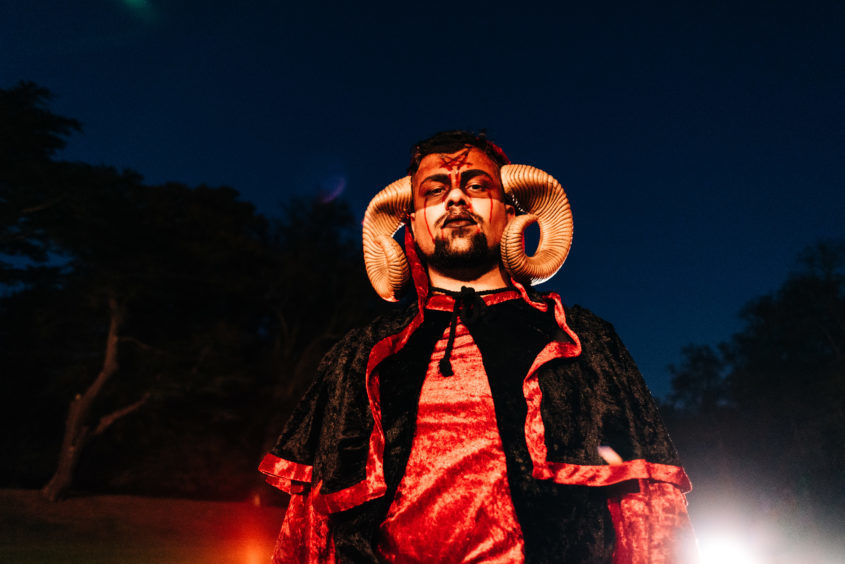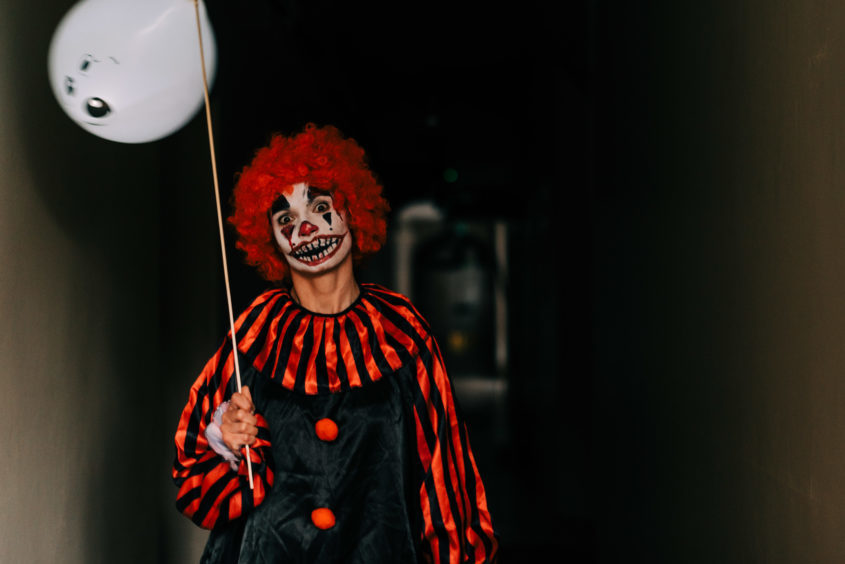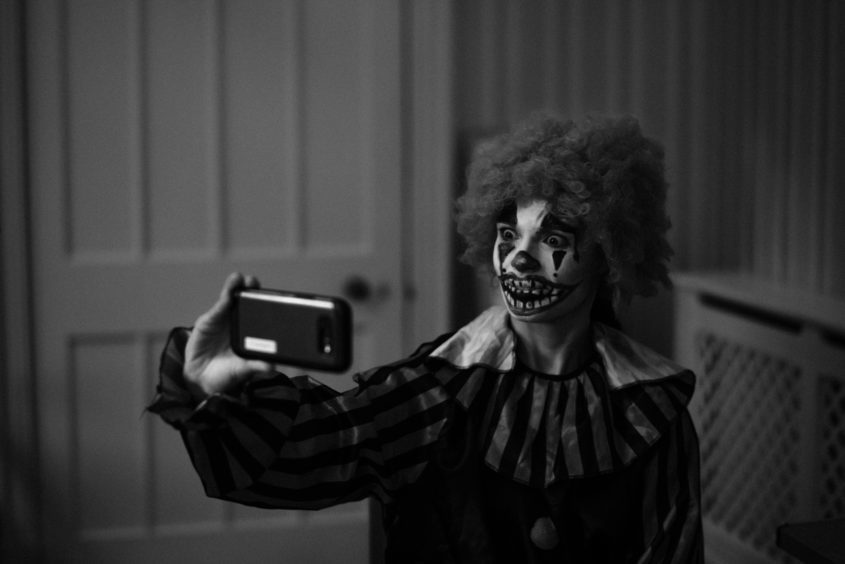 info
Spirits of Scone runs at Scone Palace from October 25 to 31. Buy your tickets soon as they may sell out! peak dates include October 28 and 31. Top up your spirit fuel at the Fright Night Cafe where you can eat juicy burgers and toast monster marshmallows over Hell's fire pit. There's also Hell's Halloween Shop and ghostly storytelling around the palace's Victorian range. Children under 15 must be accompanied by an adult. It's a spine-chilling event and some younger children may find the experience too scary. Please bear this in mind! Dogs aren't permitted. For more details and to book, see /
scone-palace.co.uk/whats-on/spirits-scone