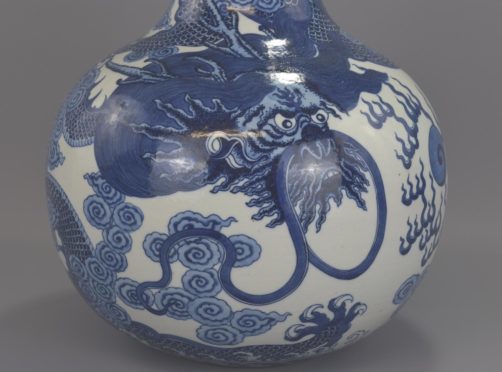 A suberb Chinese 18th Century blue and white Tianqiuping porcelain vase with Dundee connections made a small fortune when it appeared at the Ma San Auctions in Bath on June 6.
Ma San are specialists in Chinese works of art and have sold many of the prized items reclaimed by well-heeled native Chinese buyers in recent years.
The vase was decorated with the Imperial dragon chasing a pearl and carried the six-character mark of Qianlong, the emperor who ruled China between 1735 and 1796. It was just over 18 inches in height. The Tianqiuping shape is characterised by a small mouth, straight neck, globular body and slightly concave base.
The vase was once owned by Charles Coull of Dundee. Coull was a promising footballer with Lochee United and East Craigie, but decided to try his luck abroad.
In August 1939 he set sail from London bound for Yokohama. On the outbreak of war, he found himself in Hong Kong, where he joined the Hong Kong Police.
The vase was presented to Coull by a local shopkeeper for his bravery in preventing a theft from a shop. Coull gave the vase to the chief of police as he felt he could not accept such a gift for doing his duty.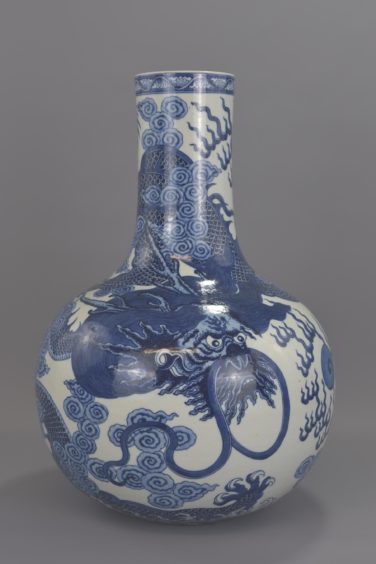 Hospitalised with TB in 1942, he survived the war and afterwards spent time recuperating in Australia. Prior to leaving Hong Kong, the police chief returned the vase. Apparently, Coull was so anxious about its safety he wrapped it in his clothes to protect it until he reached Australia.
He arrived back in the UK in 1946.  Sadly, he died from TB the following year.
A rare Imperial piece, the vase took £20,000.