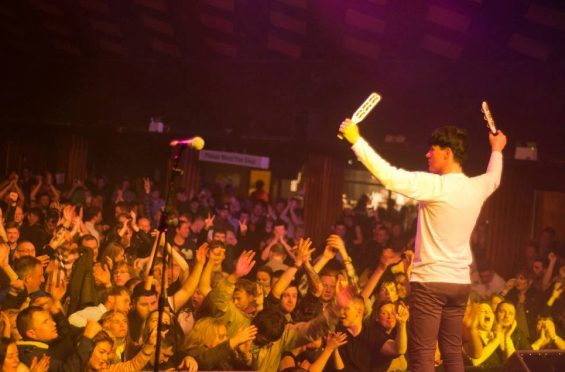 If imitation is the sincerest form of flattery, then what happens if you are a member of a tribute band which at times has been seen as doing a better job than the original?
Mikey Allison, the lead singer of the UK's most successful Stone Roses tribute band – The Complete Stone Roses – laughs when this is put to him.
But it's a fair question when even legendary Stone Roses bassist Mani has said of The Completes: "They do our songs real justice. At times, they play even better than we did!"
"Mani came on tour with the band a number of years ago before the Stone Roses got back together obviously," says Mikey, 40, who is originally from Glasgow and now lives outside Edinburgh.
"He used to do DJ sets before we actually played. He did say we were the next best thing to the real thing.
"But I do get told quite a lot that I'm more in tune than (Stone Roses front man) Ian Brown.
"The way I see it is it's easier to recreate than create.
"What I mean by that is it's much easier to recreate something that's already there than it is to create something that's come from nothing.
"All I need to do really is listen to Ian Brown, take on board his mannerisms, the way he is, the things that he says, and try to recreate that the best that I can."
Mikey played with various bands before joining the Completes – whose members are all from Scotland- two years ago.
He was 17, and taking driving lessons in his old light blue Ford Fiesta, when someone gave him a copy of 'Stone Roses live from Liverpool' on cassette.
"It was back in the days when you would listen to 45 minutes of the set, then you know how you had to turn the tape over?: I would then listen to I am the Resurrection. That's my earliest memories of the Stone Roses," he says.
The Complete Stone Roses have played all over the UK – including the real Stone Roses' home city of Manchester.
But Mikey says the best gigs are always in Scotland – particularly Dundee, Aberdeen and Glasgow – and he's looking forward to playing Beat Generator on Thursday where he expects a "banging gig".
"We played Buskers in Dundee last year – the place was packed: it was jumping!" he says.
"The Scottish crowds are just so much more loose – a lot more baggy, they get right into it. We feed off of that as well.
"When we play the opening track 'I Wanna Be Adored' the crowd is just right up for it and it fuels us. It just goes crazy!"
Mikey says the chemistry in The Complete Stone Roses is "second to none really".
But it takes effort to stay at the top and he puts their success down to "attention to detail".
He adds: "We are full time at it. We play all over the UK and Ireland as well. For a band of four guys and obviously a tour manager who drives us about as well, we cover a lot of ground.
"We don't have much time for anything else. To try and stay at the top we've  got to keep rehearsing.
"I think a lot of tribute bands rely on gigs all the time whereas we gig and rehearse so we can stay really sharp.
"I always kind of compare it to Messi and Ronaldo- it's no coincidence they can maintain that level of greatness.
"If there wasn't a need to train these guys wouldn't be doing it. That's why they stay at the top of their game. That's kind of what we are about.
"We play close attention to the detail. We play in front of crowds with guys and girls in the audience who can play musical instruments, and there are people who don't. But they know the Stone Roses songs inside out, so you've got to be right on the money.
"I've heard a few Stone Roses tributes and their attention to detail just lacks.
"I'm not saying they are not good at what they do. But our attention to detail is quite precise and it's something the band have carried."
*The Complete Stone Roses, Beat Generator Live!, Dundee, December 28 : www.beatgenerator.co.uk