How many times has it been said the on-field theatrics of footballers deserve an Oscar? With Academy Awards weekend upon us in Los Angeles, Michael Alexander hears why Dundee United is celebrating new information about a former captain who went on to win an Oscar for real!
It was the glittering 32nd Academy Awards ceremony which saw epic drama Ben Hur win what was then a record breaking 11 Oscars.
But as star-studded golden couple Janet Leigh and Tony Curtis sashayed on to the stage of the RKO Pantages Theatre in Hollywood on April 4, 1960, to announce the winner of the 'Best Adapted Screenplay' award, any hope that the Ben Hur team had of winning a 12th trophy was about to be shattered – by the work of a former Dundee United football captain.
Ripping open the coveted envelope after describing how there could be "no cake and no frost" in a movie if the screenwriter didn't "create a recipe" first, Tony Curtis announced that the winner was Neil Paterson's screenplay for the 1959 film Room at the Top.
In true awards-ceremony style, Neil, who captained Dundee United during the 1936/37 season, couldn't be present.
However, the prize was collected by the film's British director Jack Clayton, who said: "On behalf of Neil, I can only say to all of you, thank-you very much indeed!"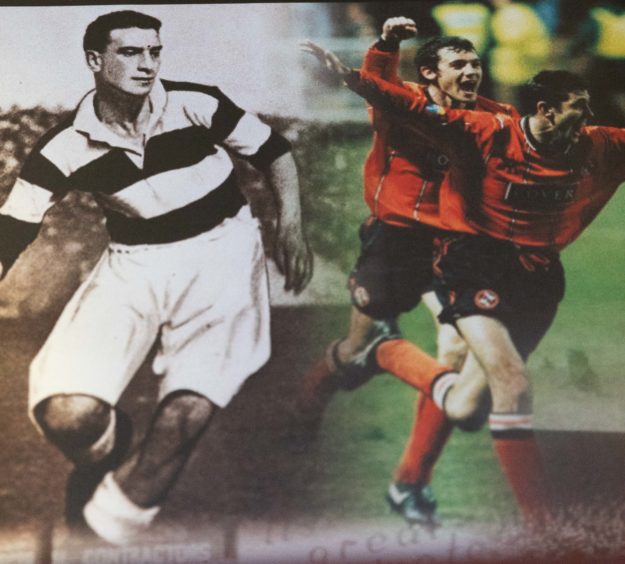 The story of Neil Paterson, who is believed by Dundee United to be the only footballer in the world to have won an Oscar, will be well known to anyone familiar with the Tannadice club's rich and varied history.
However, ahead of this weekend's 91st Academy Awards ceremony in Los Angeles, a treasure trove of fresh information has emerged after Neil's son and nephew, who live in England, donated a scrapbook of his footballing years to Dundee United which the club now plan to put on permanent display.
The fascinating collection of newspaper cuttings and anecdotes was lovingly collated by Neil's Buckie-based mother in 1935/36 when he played for Leith Athletic and also records the day in July 1936 when he signed on at Tannadice in the then Scottish Football League 2nd Division.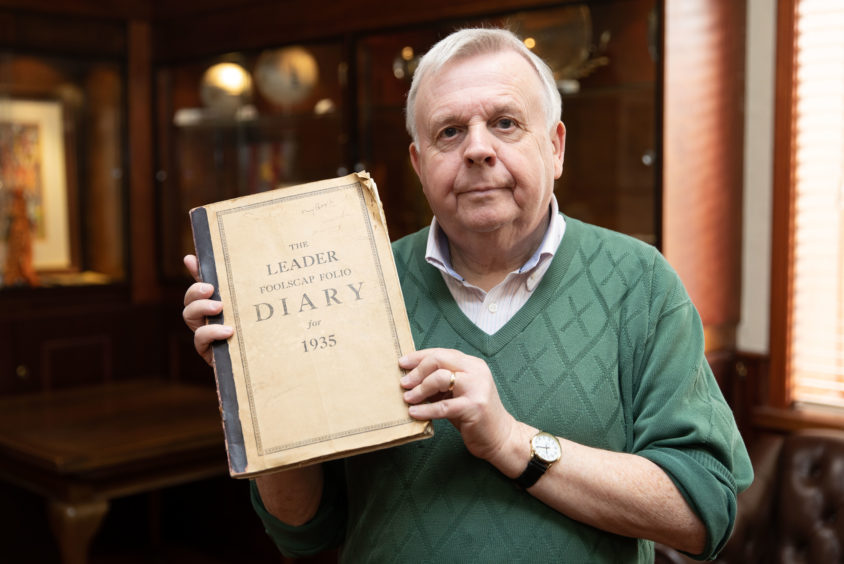 Choosing to remain an amateur player, Neil went on to score nine goals from 26 league appearances for Dundee United, including a hat-trick.
After his football career finished, he became a writer – initially a sports journalist with Courier publisher DC Thomson & Co Ltd in Dundee – and went on to pen a number of well received novels, short stories and screenplays. He also served as a governor for the British Film Institute, National Film School and was an executive for Grampian Television.
However, his family have revealed that in spite of everything, Neil always considered his "greatest achievement" as captaining Dundee United.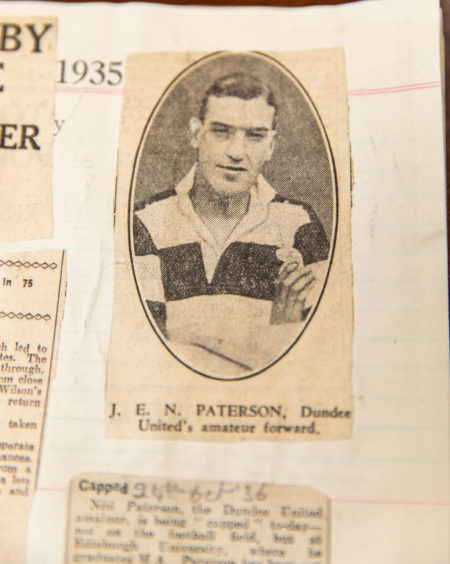 The Oscar he won, meanwhile, was later used as a doorstop. Neil, who lived in Crieff, died aged 79 in 1995.
In an exclusive interview, Tom Cairns, 69, the volunteer chairman with Dundee United Business Club, told The Courier how as a life-long Dundee United supporter, he had been delighted to receive a phone call from Neil Paterson's nephew Piers Bedford in November, asking if the club would be interested in receiving some "scraps" that were owned by Piers' Greenock-born late uncle.
Tom, who already told the "fantastic" Paterson story when he gives Tannadice memorabilia tours, said Piers, and Neil Paterson's son John, were "amazed" when they learned that the club remembered their relative.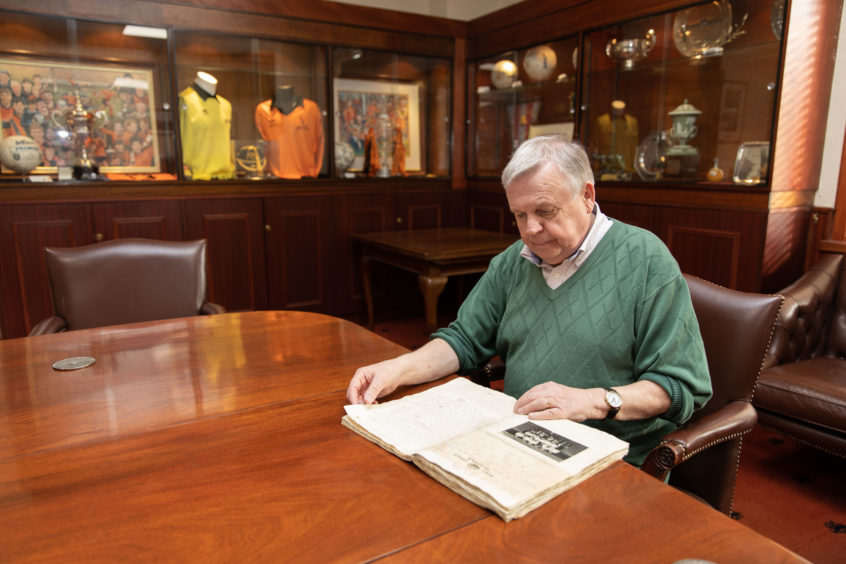 However, Tom said it was only when he received the scrapbook from Piers this week and was able to flick through the cuttings for himself that he could understand what a valuable insight into Neil's footballing life it gave.
"His history is that he was born in Greenock but moved to Buckie because his father was a solicitor," said Tom.
"He went to Edinburgh University and it was while studying there that he played for Leith Athletic in Edinburgh for a season and quite a bit of the actual diary is about that.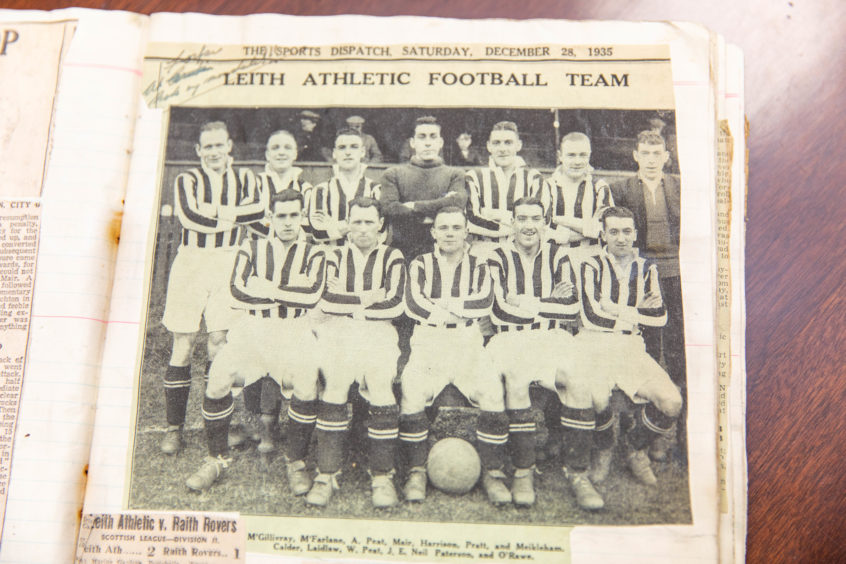 "United at that time had been relegated from the top division in 1932. They were still hoping to get back to the top league – and a bit like now, they needed a better team.
"The legendary Jimmy Brownlie – the ex-Scotland goalkeeping legend and Third Lanark player who was United's most successful inter-war manager – got his man after the two teams played each other and he was impressed.
"It didn't work out for United as they didn't get promoted until 1960. However, it's clear Paterson made his mark if the newspaper headlines are anything to go by. Headlines like 'Paterson Impresses' and a great write up when he was chosen as a reserve for the Scotland Amateur side against England and Wales.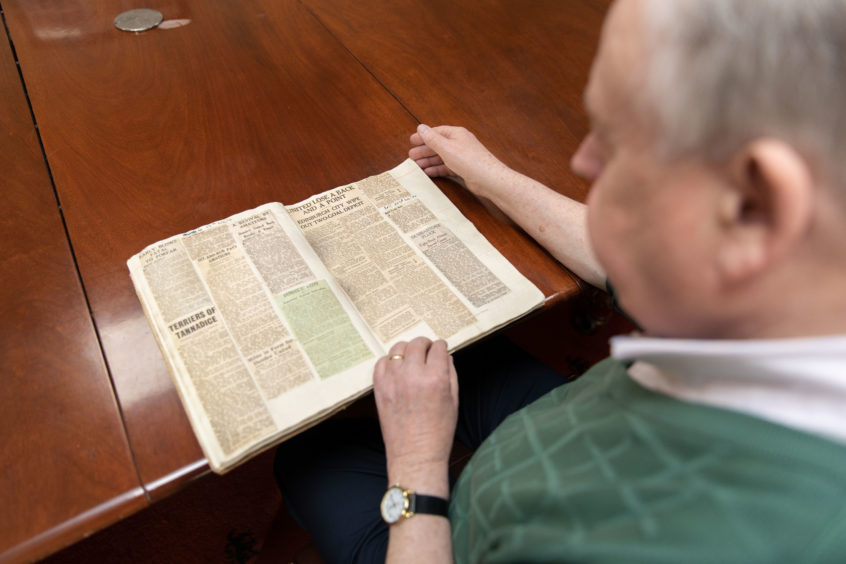 "It's very apt that when he won his Oscar in 1960, it was just 26 days before his old club Dundee United came back up to the top league. So it was a very good April for him! He certainly went on to great things!"
In addition to the photographs of Dundee United playing in their then black and white broad stripes, Tom said what struck him most about the scrapbook were the personal messages written by Neil and his mother.
At the start, she said: "I the mother of Neil Paterson pasted these scraps in for him. When he is an old man and taking a quick half hour, maybe he will have a quiet laugh at his mother for her conceit and love of him."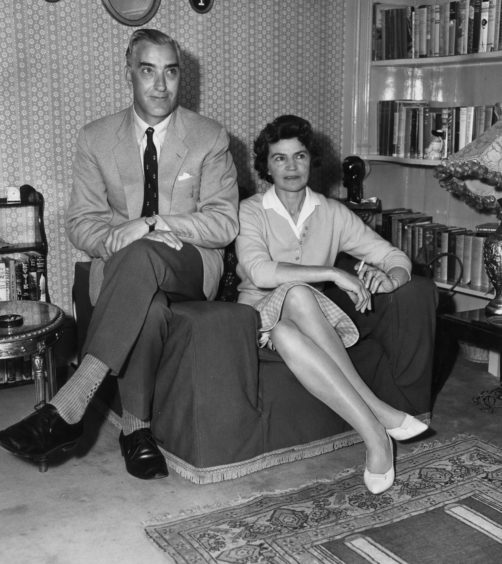 Neil later added of his footballing career: "Didn't expect this to last so long!" while on May 12 1936 he recorded his purchase of a new car – a Ford V8 – which he described as a "beauty with black clear wheels".
The scrapbook, which was also used as a diary, includes a telegram he proudly sent to his mum when he scored a hatrick for Leith Athletic, while on July 4, 1936, she pencilled in "Last of Leith Athletic. Neil signed on for Dundee United yesterday".
Tom, who is sharing the information with Leith Athletic, added: "It's just the most romantic of stories. The book is fantastic, beautifully presented, and I'm very, very, pleased to have received it."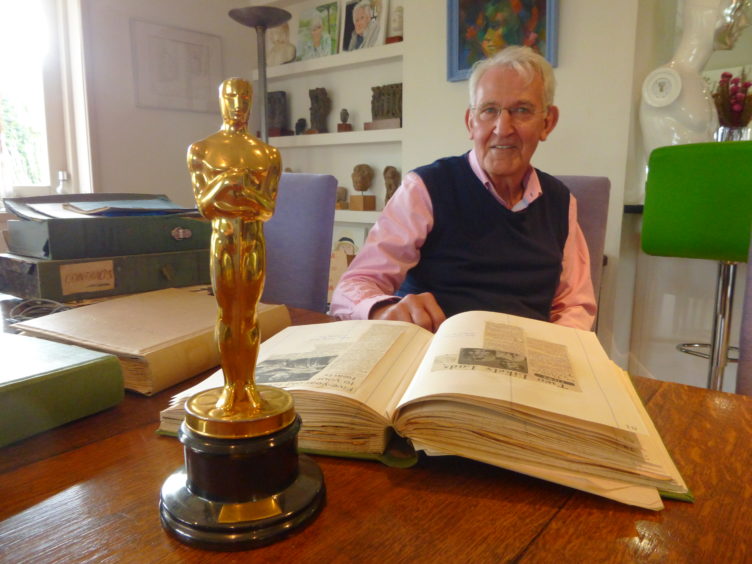 Neil Paterson's son told The Courier he is "delighted" that the scrapbook will be valued by Dundee United – a football club which he knows was dear to his father's heart.
Gloucestershire-based John Paterson, 71, who has worked in finance and hopes to visit Tannadice in the near future, said the family were "really pleased that this part of our family history will be viewed by those with a common interest".
He told The Courier: "My father didn't expect the Oscar as it was up against Ben Hur.
"However, despite the Oscar, his happiest and proudest memories were always his earliest – playing football.
"Dundee United was an important part of my father's early life and his achievement, as the only amateur captain of the professional club, was cherished by him as closely as his later success as an author and script writer. On his wider legacy, it is difficult to be brief.
"Despite the opportunity to live overseas he remained committed to Scotland.
"He was never happier than playing golf at Crieff or Gleneagles, or fishing on the Earn.
"He was a modest man who did not court publicity so I feel there is much of what he did which will never be recognised.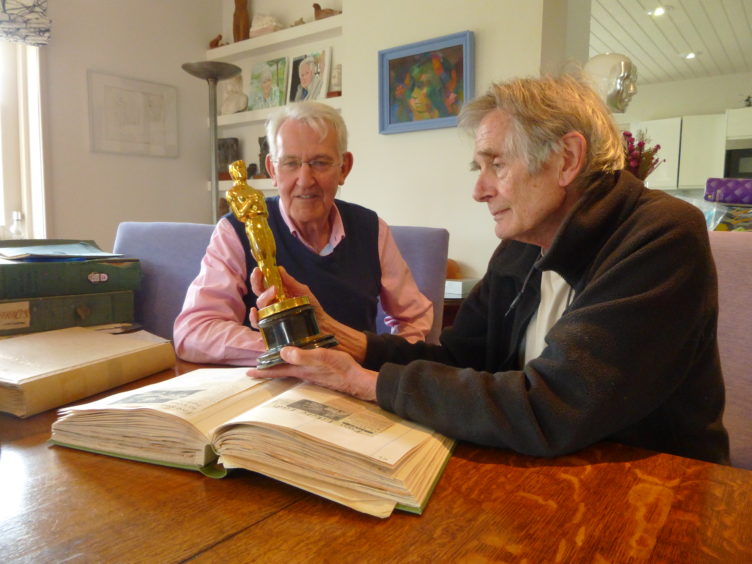 "However, the interest from Dundee United will ensure that he remains in the hearts and minds of a part of Scotland which was always close to his heart."
The sentiment was echoed by Neil's nephew Piers Bedford – himself a successful film, music and documentary director – who revealed that Neil bought him his first 8mm film camera and helped inspire his own career.
Piers, 71, who is helping John sift through Neil's "huge archive" of old papers, said the material covered his involvement in football, his war experiences in the navy, 100 short stories he wrote for DC Thomson & Co Ltd, his novels and a "whole mass" of film scripts he created.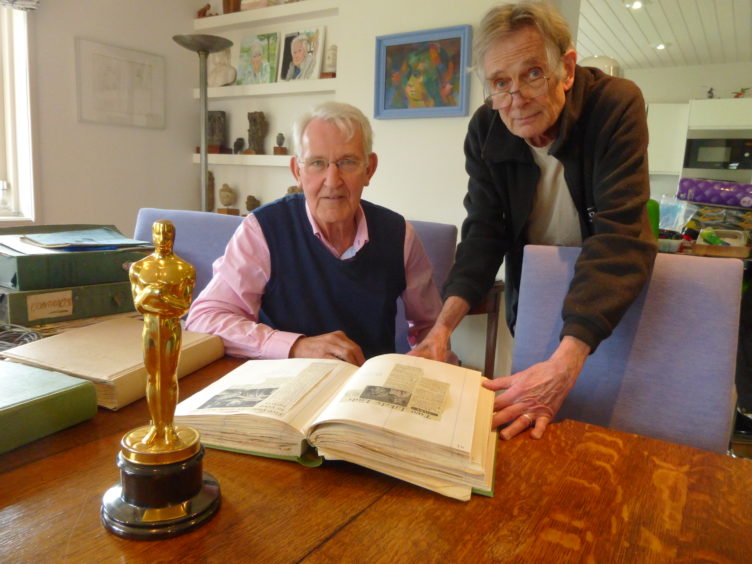 "Neil was very loyal to Scotland," said Piers, "always living in Crieff, despite forays to Hollywood and he is greatly under-recognised partly due to his modesty.
"Neil was on the board of the arts council, Films of Scotland, the BFI and Pitlochry Theatre and formed Grampian TV and the National Film School apart from being one of Scotland's best known novelists.
"Unlike a lot of dealings nowadays it is great to be met with such enthusiasm by kind people like Dundee United, the BFI and the Scottish film archive and others in having this legacy donated."