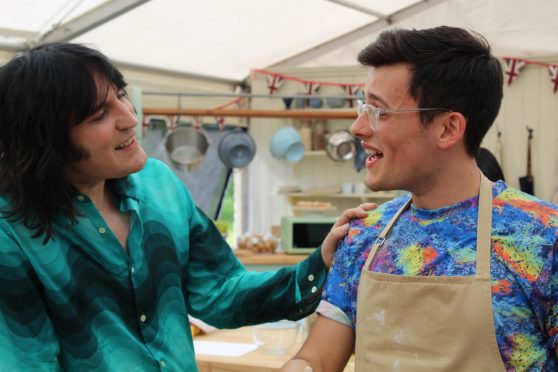 By now, most of the kooky contestants have crumbled, grappling for an extra slice of fame before the mould of old dough becomes overwhelming.
Great British Bake Off: Perthshire's Michael leaves after suffering 'dreaded soggy bottom'
For the remaining six normcore Normans, the hope of any future career must surely lie in trying to be less dreary than the others – a situation not helped by the strong whiff of vanilla that clouds everyone on set.
At least Prue looked deranged, sporting a set of 1970s Clackers around her neck as a distraction from the reluctant acceptance that she can never be Mary Berry. Prue is so posh that plums don't grow on her trees but instead appear directly in her mouth.
The first round was so esoteric it spawned creations sounding like Cocteau Twins' album tracks – Kardemummabular from Henry and Namelaka from Rosie. After extensive googling you just longed for someone to call their cake My Ding A Ling or, quite literally, Cake.
Noel and Rosie's banter got more surreal – there's a planet in their kitchen but it sure ain't planet Earth. Meanwhile Paul shook more hands than Tom Cruise, with lovely Steph exclaiming that she wouldn't wash afterwards, a declaration of some concern to environmental health.
The technical challenge of 12 Sicilian Cassatelle resulted in some burst creations resembling lava eruptions from Vesuvius. Sandi accused Henry of bossiness, announcing that she wouldn't want to be his girlfriend, an unlikely scenario causing much hilarity.
The showstopper proved why most of us have never encountered a Sarawak at the water cooler. Henry won star baker while our Michael Chakraverty from Scone was sent home amid tears worthy of an abrupt prorogation.