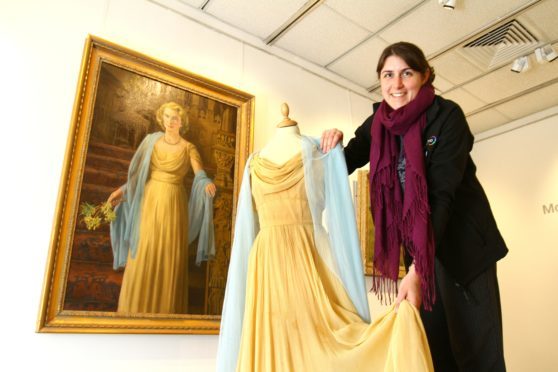 A forgotten portrait tucked away in Kinnordy House in Angus and completed by the original artist 40 years later has gone on public display.
The painting of Lady Sophie Lyell of Kinnordy was started by the lauded Dundee artist James McIntosh Patrick in 1946.
Following the death of her husband, Lady Lyell was unable to fit in further sittings and the unfinished picture was forgotten about until it was found in a store room.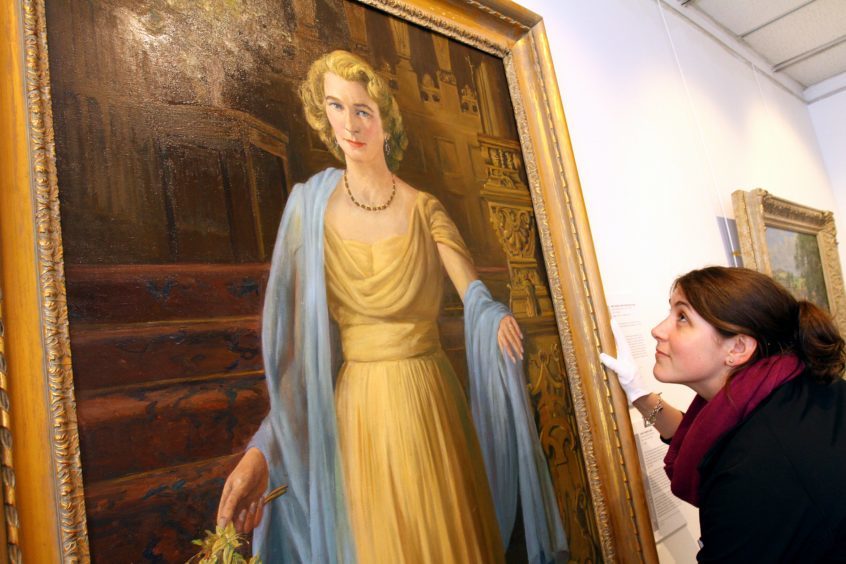 Her son insisted the portrait should be completed so it resumed with Lady Lyell donning the same dress and standing in the same position at the bottom of the carved staircase.
The oil painting was eventually finished in 1986 and forms part of a new exhibition at the Meffan Museum and Gallery in Forfar.
It sits alongside the long honey coloured Grecian style evening dress with aqua scarf worn by Lady Lyell in the portrait, which is on loan from a private collection.
The evening dress was handmade by Jacqmar of London and dates from the early 1940s.
Gill Ross, visual arts officer with Angus Alive, said the Seven Towns One County exhibition aimed to highlight one aspect of the fascinating heritage of each of the seven towns in Angus.
The Arbroath section features exhibits relating to the firm of Francis Webster and Sons Ltd who were involved in the production of textiles.
It also looks at the story of the art commissioned by the Webster family in memory of Second Lieutenant Joseph Frain Webster killed in the First World War in 1914.
The life of Sir Robert Watson Watt of Brechin, pioneer of radar; sketch books by Carnoustie painter Torrington Bell donated recently to the collection and on display for the first time; and a recently restored portrait of James Alfred Lowson of Forfar are also included, alongside exhibits relating to the Monifieth Foundry and an oil painting of Downie Mill by James McIntosh Patrick.
Another artwork, The Old Shore Montrose, 1830, is on display for the first time since is restoration, to highlight the story of 18th Century profitable trade across the world from Montrose Port.
The Meffan is open Tuesday to Saturday, from 10am-5pm, and the exhibition runs until September 8.