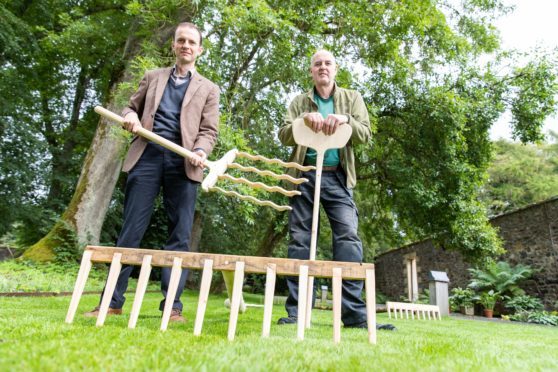 Backhouse Rossie Estate in Fife is hoping annual artist residencies will provide families with a tranquil alternative to the Edinburgh Festival Fringe.
The estate near Collessie is currently hosting Blairgowrie-born sculptor Allan Watson, who has been transforming items from the tool shed into original creations.
Caroline and Andrew Thomson from Backhouse Rossie Estate want to develop the event into an annual fixture which will attract more well-known artists.
Mrs Thomson said the exhibitions would provide a cultural experience locally, away from the hustle and bustle of the capital during August.
"Here at Backhouse Rossie, a walled garden with themes of art and science, we are offering an alternative to the frenetic Fringe through the integration of visual art and artists in and around the peaceful garden and grounds," she said.
"This month as a pilot, we welcomed Allan Watson as our artist in residence. Allan has produced a series of sculptures in response to the old tools he discovered in the potting shed."
Next year, the estate plans to offer an artist the opportunity to live and work on site for three months, culminating in an exhibition throughout August.
Helping to launch the event was North East Fife MP Stephen Gethins, who also opened the inaugural Scotland's Daffodil Festival at Backhouse Rossie Estate last year.
He said: "Backhouse Rossie is a real asset to North East Fife, providing a quiet, welcoming space for all kinds of visitors from those with experience in horticulture to those just looking for somewhere quiet to enjoy exploring the gardens and visiting the cafe.
"It is fantastic that Caroline and Andrew Thomson are always looking at ways of improving the visitor experience in various ways including this fringe event which is making art and the artist accessible."
Born in Perthshire, Mr Watson studied sculpture at Gray's School of Art in Aberdeen, graduating in 1986.
His work is influenced by his formative experiences of rural life.