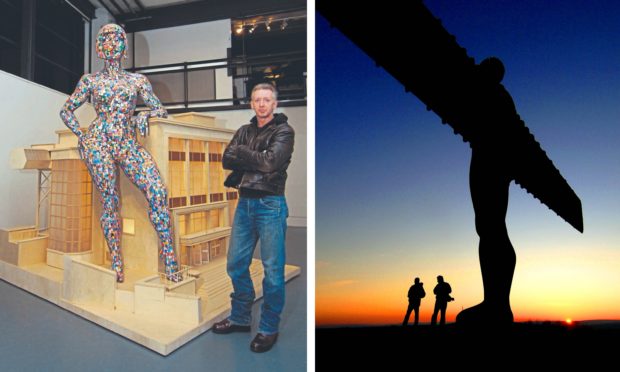 The Lemmings of Perth Road always provide a thrill.
I have seen them a thousand times over the years, but their captivating little faces never fail to make me smile.
The penguins at the City Churches provide a similar rush as do the vaulting deer at Dundee Technology Park, the monkeys and dragon of the Murraygate and the inscribed whales' teeth at Polepark Road.
The stainless steel flock of birds opposite Dundee Airport and the incredibly effective car under a tarpaulin sculpture at Greenmarket also always catch my eye.
This week an exhibition opens at Dundee University's Lamb Gallery entitled Art For All: The Pioneering Story of Public Art in Dundee.
The university's museum services division has attempted to catalogue the city's 500-plus-piece sprawling urban artworks collection.
I intend visiting, and so should you.
But, while Dundee has a strong street art story to tell, like fishing there are also those that got away.
In 2006, Fifer and celebrated Duncan of Jordanstone College of Art (DJCAD) graduate David Mach was behind an ambitious but now all-but-forgotten proposal for one of the largest pieces of street art the city had ever seen.
At around 30 metres tall, BioCollosus was billed as Dundee's answer to the Angel of the North.
The plan was for her to rise high above the lower of the two DJCAD buildings on Perth Road, her elbow nonchalantly resting on the rooftop.
She was to have a male companion, set back from the road on the opposite side of the lane that divides the lower Crawford building with the taller Matthew Building.
A nine-foot tall model of BioCollossus, made up of individual painted tiles, was displayed at DCA and plans unveiled for a scaled-up version of the sculpture.
DJCAD's then-deputy principal, Professor Geoff Ward, said it embodied the late Nobel Prize-winning poet Seamus Heaney's view that Dundee University had "its head in the clouds and its feet on the ground".
Alas, BioCollosus never came to pass.
She was an opportunity lost to significantly enhance the city's cultural base, as was the frankly baffling decision revealed earlier this month not to explore a proposal by Andy Scott – the man behind the transformative Kelpies sculptures at Falkirk – to create a Bowhead whale and calf sculpture at the city's waterfront.
Great art enhances lives and communities.
We should cherish it. And we need more of it.
Get in touch with your local office at Dundee or send a letter to The Courier at letters@thecourier.co.uk