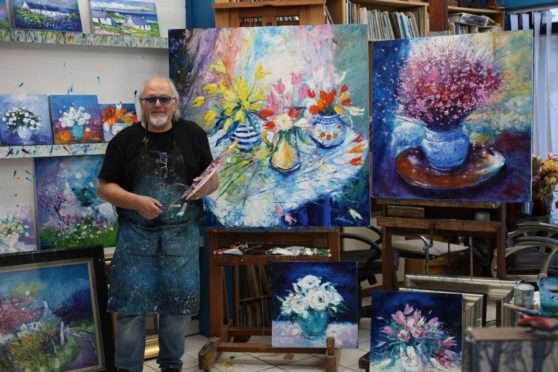 One of Scotland's best-known contemporary artists is to open his latest exhibition on Perthshire.
John Lowrie Morrison, who is better known as Jolomo, counts A-list celebrities such as Sting, Madonna, and Sophia Loren amongst his fans.
His solo exhibition Croftscapes and Flowers, will open at Strathearn Gallery in Crieff on Saturday.
The Glasgow-born painter was inspired by childhood visits to the family croft on the Isle of Harris.
He said: "Every time I see a croft, I've got to paint it, even if it's just a gable end. I think crofts are in my psyche."
He even has his own term for these houses: "I've painted them so often that I coined the word  "Croftscapes' a number of years ago, especially for groups of croft houses"
The so-called Croftscapes form part of the new body of 60 paintings for his forthcoming show.
While flowers, in particular wildflowers, are very much part of Morrison's landscape paintings, the "Flowers" part of his new exhibition will also feature more prominently his lesser seen still life works.
"I'm also a bit obsessed with flowers as I continue to paint Wild Angelica and other wild flowers that are growing in various Crofts," he said.
"I do love painting flowers in a vase though. That probably goes back to my 'Still Life' background in Hyndland Secondary and Glasgow School of Art."
Strathearn Gallery owner Susan Bennett said: "We're delighted to be welcoming back John to the gallery in what will be his largest solo show with us to date.
"This is always a very popular and busy exhibition so well worth coming to see.  We'll also be showing a large selection of new sculptural work from Scott Irvine and we're very much looking forward to the mix of landscapes and still life paintings from John."
Jolomo himself will open the exhibition at 11am on September 21.