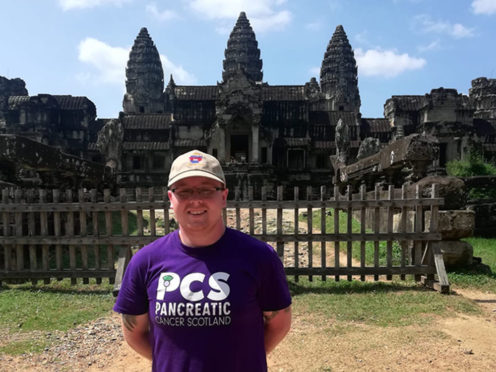 Today marks World Pancreatic Cancer Day. This global movement is driven by the need to raise awareness of the symptoms and risks of the world's toughest cancer, and the urgency for earlier diagnosis to improve patient outcomes.
Chris Douglas has left his own footprint of support to change the pancreatic cancer story, by trekking across the world.
The 21-year-old has just completed the Angkor Wat trek in Cambodia, adding to a previous walk of the Great Wall of China. He's driven by the memory of his dad, Chris Douglas Snr, who he lost nearly three years ago, just two months and six days after receiving a pancreatic cancer diagnosis.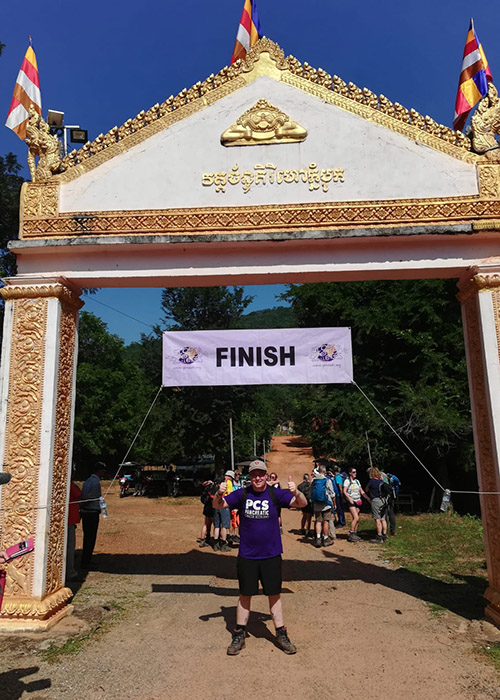 The full-time student, who is originally from Dundee and now living in St Andrews, said: "I hadn't heard of pancreatic cancer before dad was diagnosed on January 9, 2017. You want to do everything you can to save them. Then you find out there's only a low survival rate and realise there's nothing you can do."
In nearly every country, pancreatic cancer is the only major cancer with a single-digit, five-year survival rate (two to nine percent). These numbers have barely changed in the last five decades.
In Scotland, approximately 800 people are diagnosed with pancreatic cancer every year.
With a predicted increase of 49.9% by 2027, Pancreatic Cancer Scotland (PCS), a charity committed to raising awareness, improving education, healthcare, research and support for patients and families in Scotland, is determined to increase survival rates and stop pancreatic cancer becoming the second largest cause of cancer death.
Fiona Brown, development manager of PCS explains: "Pancreatic cancer doesn't present in an obvious way. It's not possible to feel a lump like other cancers and the symptoms can be vague, poorly understood and often dismissed as less serious health concerns."
There is currently no standard screening test or early detection method for pancreatic cancer, though research is being conducted in these areas.
Knowing the symptoms and risks remains key to an early diagnosis to give patients the best chance of survival. Research shows that patients diagnosed in time for surgery are more likely to live five years and beyond. Yet, new statistics from a survey by Pancreatic Cancer Action (PCA) reveal that 73% of Scottish residents cannot name one symptom of pancreatic cancer.
Symptoms can include jaundice, weight loss, abdominal pain, backache, loss of appetite, new onset diabetes, changes to bowel habits, deep vein thrombosis, low mood or depression.
If people have concerns and persistently experience one or more of the symptoms which are not normal for them they should make an appointment with their GP.
Chris Snr was in his late 50s and worked as a part-time coach driver up until three months before he passed away.
Chris said: "For about 10 months he was losing weight but when he became unable to eat and had bad heartburn, he started to worry. The tips of his fingers were also turning yellow, and he went to his doctor to raise his concerns. He got a scan that Christmas Eve and then early January the following year he found out.
"It was a shock – we had an idea it could be cancer, but we didn't know it could be pancreatic cancer."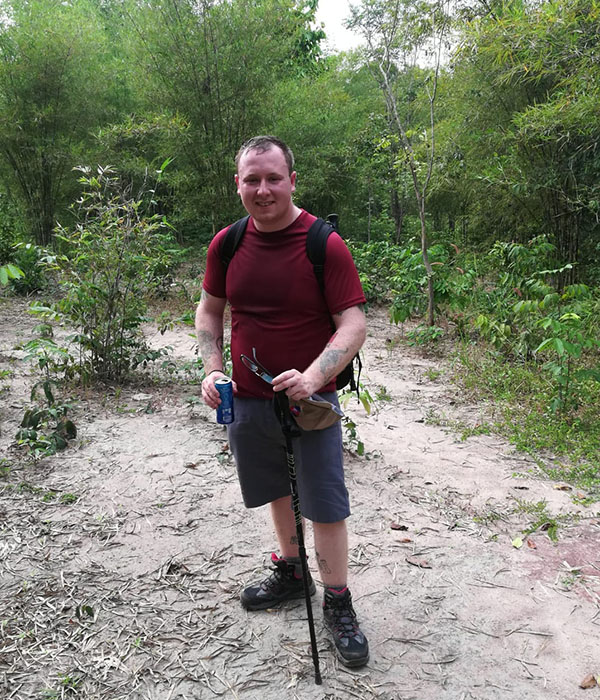 After his dad passed away in March 2017, Chris started fundraising.
So far, he's raised around £3,000 in memory of his dad. His latest fundraising challenge to Cambodia has been to raise funds for PCS.
With little improvement in pancreatic cancer survival rates in the last 50 years, PCS has a vision to make the 2020s the decade of change. It has launched the "Pan Can Clan" to bring together a growing and inspiring community of people, committed to the cause.
Fiona added: "Supporters like Chris play a key role. Their voice, energy, determination and commitment will help change the pancreatic cancer story across the world. Their inspiring dedication helps raise funds and awareness and fully embraces our belief that together we can make a difference."
Chris's mum, Brenda, is also proud of the impact her son is making.
Chris said: "My mum and dad were together for more than 30 years. Losing my dad has been tough on my mum, but our relationship is even closer. She likes getting involved with everything I'm doing. She can't go to places like China or Cambodia, but she loves hearing all about it."
When Chris walked the Great Wall of China, his sister Louise, 27, went with him. This time his friend Emma accompanied him on the five-day 80km Angkor Wat trek.
Chris said: "It was really emotional. I cried at the sight of the finish line because I was in pain but also for my mum, family and my dad. It's an amazing experience and through all the pain and exhaustion, I would do it again."
When he's not trekking the world, Chris has been following his dad's footsteps in a different mode of transport. As well as studying business management at Perth College UHI, he's also working as a part-time coach driver.
Chris added: "We were very close. When I was little, he used to take me to his work on the buses. It was good fun and quite cool for your pals to see you going about in a big bus. We'd do the coach tours and once we got back, we'd clean up. I would have to help him to get any of his tips, and now I'm driving buses just like him."
*To join the Pan Can Clan and raise awareness and funds for pancreatic cancer, visit Pancreatic Cancer Scotland's website by clicking here.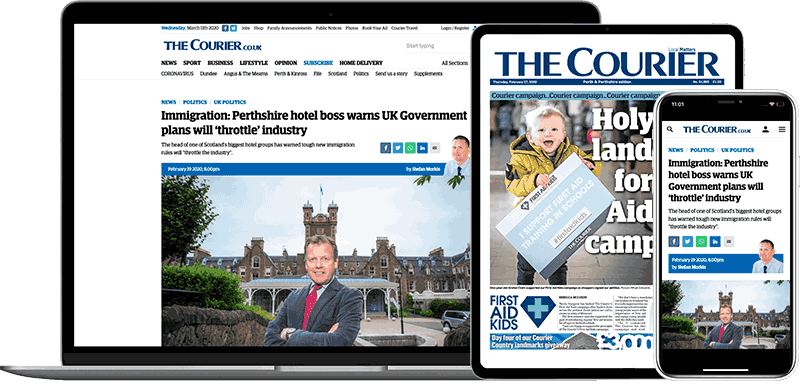 Help support quality local journalism … become a digital subscriber to The Courier
For as little as £5.99 a month you can access all of our content, including Premium articles.
Subscribe