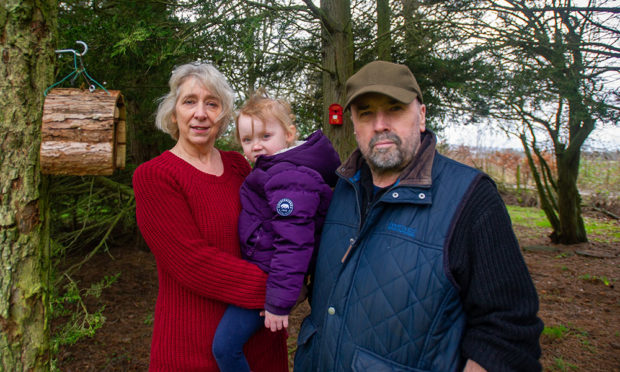 When you become a foster carer, it can be life-changing for everyone involved – just ask Alison and Graham Wands, who gave a loving home to four siblings all under the age of eight… while already having six children of their own.
It is 16 years since the Wands, from Blairgowrie, first became foster parents and they have never looked back having raised a number of children on a temporary basis.
Then in 2006, their family size increased to double figures when they became permanent foster carers to two brothers and two sisters.
Before they met, both Alison and Graham had considered adopting or fostering, so it was no surprise that when they married, the couple went on to look after a number of children of all ages in their home.
Alison, 58, explains: "Shortly after we were married we discussed it, then as time went on we had our own children, before considering fostering. It was always something we had thought about doing.
"So in 2003 I went along to an Angus Council Fostering Open Day with my brother. It was just a case of finding out more.
"We spoke to social workers there and expressed an interest, before they followed it up with a phone call and came for a home visit. As the months progressed we went to training and, a few months later, a wee baby arrived straight from hospital.
"About one week later, we looked after two little boys aged two-and-half and 14 months old. That's the way it works.
At that point, we had four children of our own at home, my son was 16, the twins were 12, and we had a six-year-old daughter, so it was a full house. It meant we had seven children in our care between the ages of one week old and 16 years-old!"
The youngest children, which the family called 'the three little people', eventually moved on to a permanent home within two years. Understandably, this was difficult for all members of the family.
Alison revealed: "The baby that we took was amazing, she had a lovely sense of humour and everybody loved her.
"You always know that they are going, but you don't really think about it, and then they receive a photograph of their new permanent family who are going to adopt them.
"When she did go it was really quite hard. One of our twins couldn't be there when she left and stayed with a friend. The baby is nearly 16 now and she has kept in touch with us ever since, but that doesn't always happen.
"But knowing that these 'little people' were being adopted was satisfying. We are doing what we can for them before they move on to their permanent home."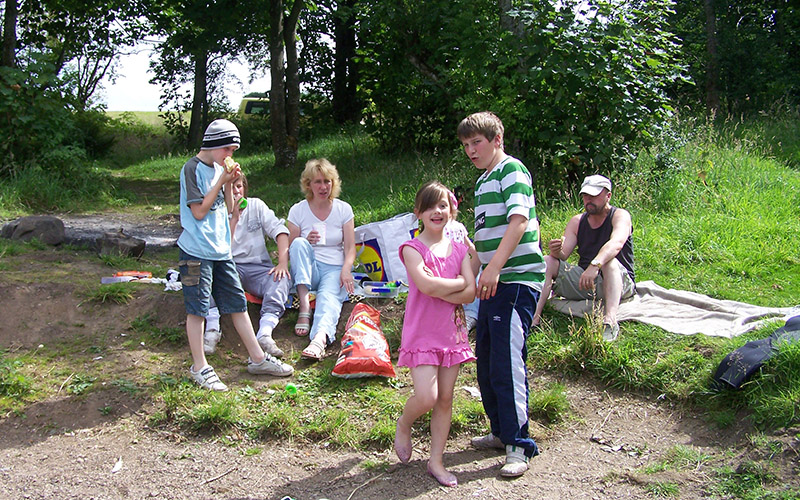 In 2006, Alison and Graham took in four siblings (two brothers and two sisters aged between two and eight years old), eventually becoming their permanent foster carers.
Alison explained: "We took the two girls first but we knew they had two brothers with other foster carers.
"At that time my husband Graham was self-employed and we decided if he cut down on his work, we could take the two boys too so we could have the four of them together. This was temporary at that time as they were going to go back to mum.
"We had all four children for a couple of years, but then we were asked if we wanted to change from temporary to permanent carers, so we did, and they stayed. The three younger ones wanted to call us 'Mum' and 'Dad' while their birth parents were also 'Mum' and 'Dad'. Since then they have been part of the family and things have gone quite smoothly.
"Of course, at the beginning it is always hard. All children that come in have gone through trauma, the older one would shout, pick something up and throw it; that only lasted a wee while."
At that time, seven children were living under one roof in the Wands family home in Blairgowrie (the couple's oldest three children had already moved out) which was "a fun time", according to Alison.
"Our own children would take time out with the foster children and do a lot of the occupying, playing and attention-giving, so having my own [children] at home actually helped, there were extra pairs of hands."
Today, all six of Alison and Graham's own children (the oldest is now 41, then 34 and 32, then 27-year-old twins and the youngest is 21) have moved out as well as three of their four permanent foster children. It's just the youngest sibling, now 16, who is at home.
After fostering for almost 20 years, the Wands admit that since they gave a loving home to their very first child, it has been life-changing and challenging in equal measures, but they show no signs of stopping.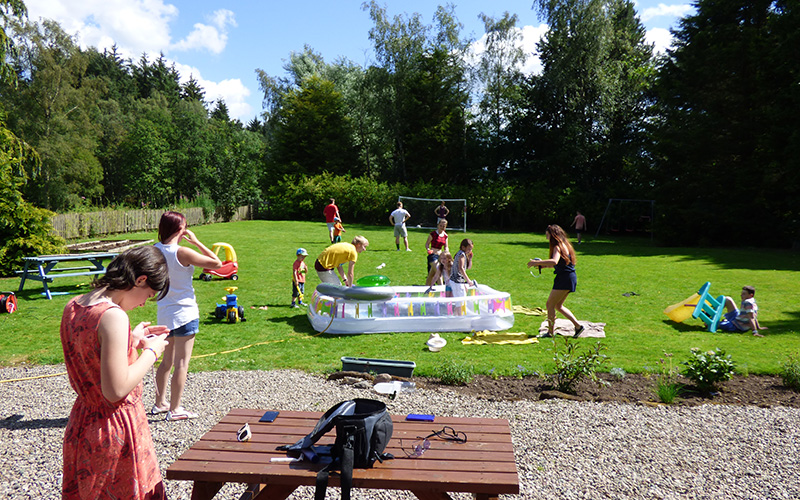 To this day, the family continue to offer permanent and temporary foster care.
Alison said: "Fostering isn't just a job, it's a lifestyle. These children come into your home, and your home is your comfort zone. Your home is no longer your comfort zone and there's no shutting the door, but that's why you need the support of your partner and your wider family.
"It impacts everything, especially if you have older children of your own or take in really difficult children, but Angus Council Fostering and Adoption has always been there at the end of the phone."
Given her years of fostering experience, Alison knows only too well how important the guidance, advice and practical help from Angus Council is, and that is why she is supporting its campaign to encourage more Angus families to come forward and provide a loving home to children awaiting adoption or fostering.
She added: "When it was particularly hard work and challenging, they'd come to your home and bring in professionals to give advice and a helping hand.
"You will always have the support of the council, as well as your own support group around you.
Fostering is very rewarding, but you have to want to do it. When we speak to people some say, 'Oh, I could never do that', but if you decide you want to, you could.
"It shouldn't matter how much you get paid, because if you didn't want to do it, it won't work, because it will become your life.
"I am so proud of all my children who have all grown up into lovely young adults, and you like to think you have contributed in some way to that. They are all so loyal, and we would like to see local carers for Angus children."
*If you are considering fostering or adopting, go along to the Open Day on Wednesday, January 22, from 11am to 8pm at the Family Centre, East Mary Street, Arbroath, DD11 1PR. You can also visit Angus Council website here or call 01241 464646.
CALVIN'S STORY
Along with his brother and two sisters, Calvin was fostered by Alison and Graham. Today, the 21-year-old has his own flat in Dundee, has qualified as an Early Years Practitioner and works in an Angus nursery with babies and children. Here he talks about his experience as a foster child in Angus and how living with the Wands family changed his future.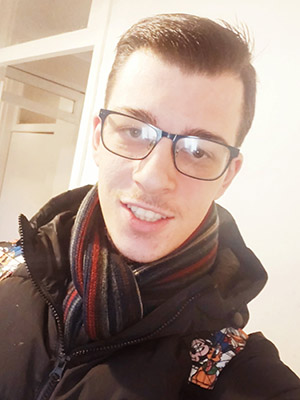 "My upbringing was quite difficult when I was younger but Alison and Graham were absolutely amazing. I can imagine I was a nightmare child, but they stuck with it. I got so used to them that I started to call them 'Mum' and 'Dad'. And, if anyone asked, I told them I had two families; my foster family and my birth family.
"As a child you don't realise what's going on, you're too young to understand it all, but as you grow up you understand the reasons for things. I love my birth Mum and Dad to pieces and I do now realise that putting us into care was the best option for us at that time as they had taken on too much and it caused them a lot of stress.
"I don't think I would have become the person I am today without Alison and Graham. They didn't just bring me up, they had a big impact on me too. Being brought up by Alison and Graham has made a huge difference to the person I am, because we were given so many different opportunities. I wouldn't have been around kids as much, so I probably wouldn't have become a nursery teacher. My whole life would have been completely different.
"Being fostered has resulted in us all becoming successful children. Now I work in a nursery and see other children growing up and developing. I love it – I have found my calling.
"To all the foster carers out there – to take on someone's children is a very difficult thing to do but what you are doing is a brilliant job."
COULD YOU FOSTER?
Angus Council is looking for people from all walks of life to provide temporary or permanent, loving homes for local children, many of whom have faced significant adversity.
If you think you have what it takes to become a foster carer and change the lives of children in Angus then why not go along to the next Fostering Open Day on January 22 (details below) which is run by Angus Fostering and Adoption. The open event gives you the opportunity to find out more and speak to social workers and foster carers.
FOSTERING OPEN DAY
Date: Wednesday, January 22
Time: 11am-8pm
Venue: Family Centre, East Mary Street, Arbroath, DD11 1PR
*If you are thinking about fostering or adoption then visit the Angus Fostering and Adoption Facebook page or call 01241 464646.