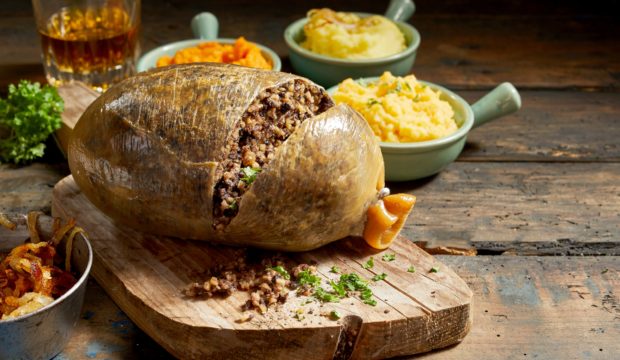 Burns Night is synonymous with Scottish Culture, says chef Graeme Pallister of Perth's 63 Tay Street. And there's no need to get too fancy, just stick to your traditional haggis.
Fair fa' your honest, sonsie face,
Great chieftain o the puddin'-race!
Two braw wee lines of text that only a Scot would understand; in fact so ingrained are they in our national identity and culture, that we have created an entire day around them.
Burns Night, on January 25, is so synonymous with Scottish culture that it is celebrated in around the globe, in any country where you find a history of Scottish immigrants.
But why has this annual celebration of Scotland's national poet stood the test of time?
Shakespeare, undoubtedly as prolific a writer also has a Day but I'm willing to bet very few people would have heard of it (April 23 in case you're wondering – I Googled it!) let alone celebrated it.
My theory around Burns Night is that it's the haggis that has kept the whole thing going.
Think of any ceremony that you regularly celebrate and you will find food at its heart; Christmas, Easter, Valentines – they're all wrapped up in foodie traditions that unite the revellers and bring common ground to all ages and stages of life.
And I have to stay, if your legend stays strong after 200 years thanks to an ode to chopped up offal served in a sheep's stomach, you really have made your mark.
As is the way with most foodie traditions, chefs like to get involved and become… well, chef-y!
They want to modernise for the sake of change instead of enjoying the pure, honest simplicity of haggis, neeps and tatties. If you want to be fancy, add a whisky sauce; no deep frying, no confit, no layers of nonsense in between.
What you need is a good butcher's mutton haggis – or the veggie alternative!
For me, haggis and kebabs remain the two best ways to eat mutton! Wrap it tightly in foil and place in a large saucepan of cold water. Bring to the boil, and then simmer very gently – you don't want a burst haggis! – for roughly an hour per 500gms.
Next up, a neep. Boiled, mashed and smothered in butter – I like LOTS of butter on my neep, almost pound for pound!
I peel it with a knife and have often come dangerously close to cutting my fingers off but this humble hardy veg might honestly be on my last meal list and so it's always worth the risk! Now the tatties. Get a good dry potato like Maris Pipers, and bake them. Scoop out the insides and mash well; we don't want lumpy tatties now do we?
Finally, boil up some cream and add a decent slug of peaty whisky: maybe a Laphroig or a Balvennie. And that, my friends, is how you do Burns Night!
But, if ye wish her gratefu prayer,
Gie her a Haggis