VIDEO: Increasing numbers of women take up boxing in Dundee
By
Gayle Ritchie
March 12 2020, 8.27am
Updated: March 13 2020, 8.59am
Increasing numbers of women are taking up boxing, as Gayle discovers when she joins a training session in Dundee
Boxing – an aggressive, male-dominated, bloodthirsty and dangerous sport?
That's how it's often perceived (images in the media of hard men with broken noses covered in blood don't help) so when I was invited to take part in a training session, I was slightly troubled.
I was expecting the reek of testosterone to hit me as I skulked into Dundee's Skyaxe Combat and Fitness Centre so I was pleasantly surprised to be greeted by a group of friendly women.
Video of Gayle boxing in the class is above this article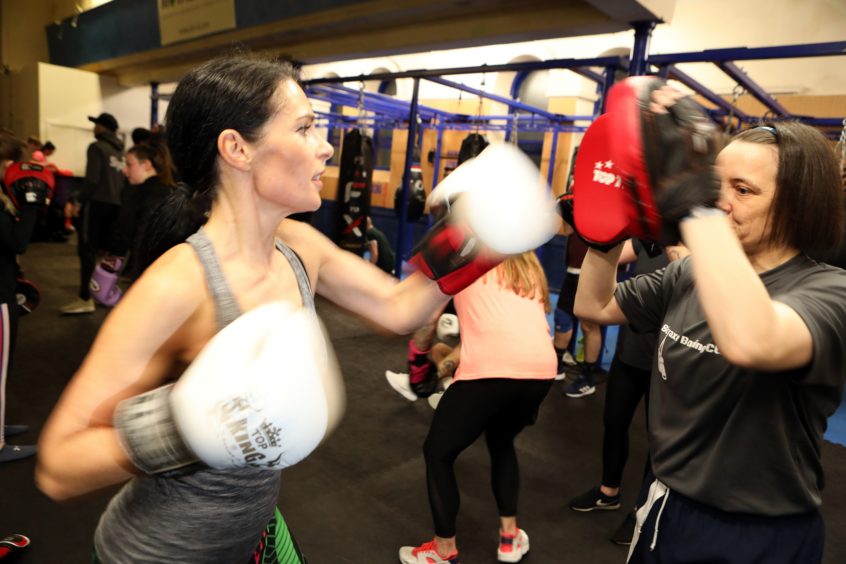 "You can train with us," invited Niki Bain, handing me a pair of fancy boxing gloves and reassuring me I had nothing to worry about.
"I've got no upper body strength and very little co-ordination," I whined, anticipating I'd be rubbish.
It was encouraging to discover a few of the folk there were newbies, just like me.
And the fact there were boys, men, girls and women of all shapes, sizes and ages made it much less daunting.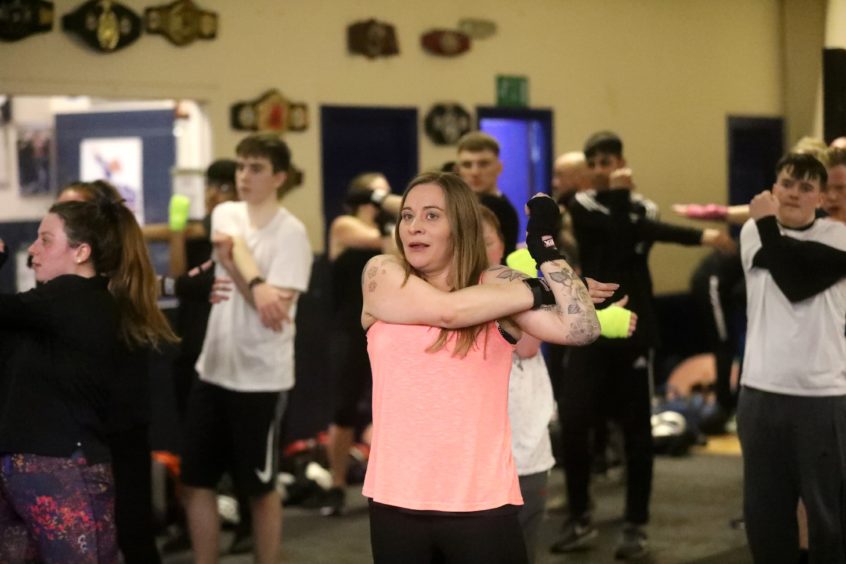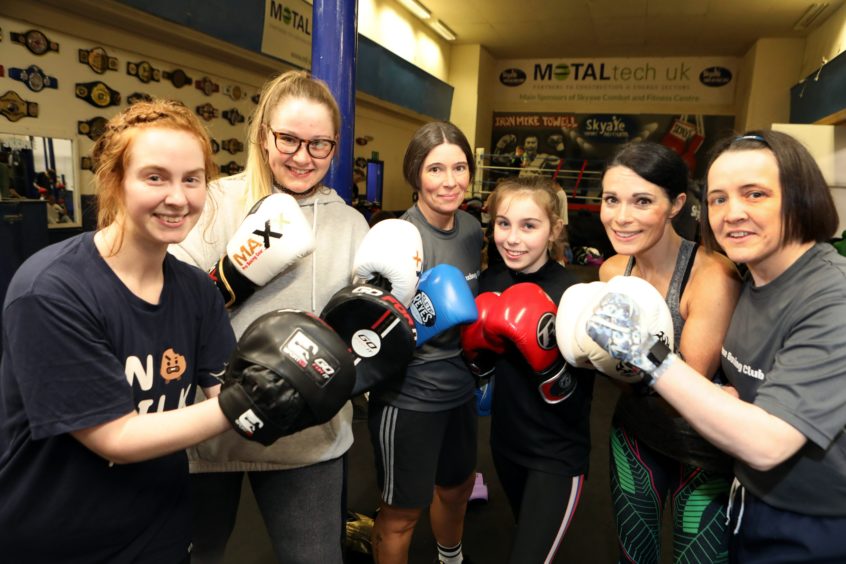 Professional boxer and international kickboxing coach Paul Kean set up Skyaxe more than 30 years ago. It's currently Dundee's only professional boxing gym.
"The club is open to everyone, from kids with autism to pro boxers," he told me.
"What's brilliant is that beginners get the opportunity to train alongside world champions."
As chief coach, it's Paul's job to run everyone through the warm-up session.
It was gruelling to say the least, incorporating lunges, squats, press-ups, jogging on the spot and jumping jacks.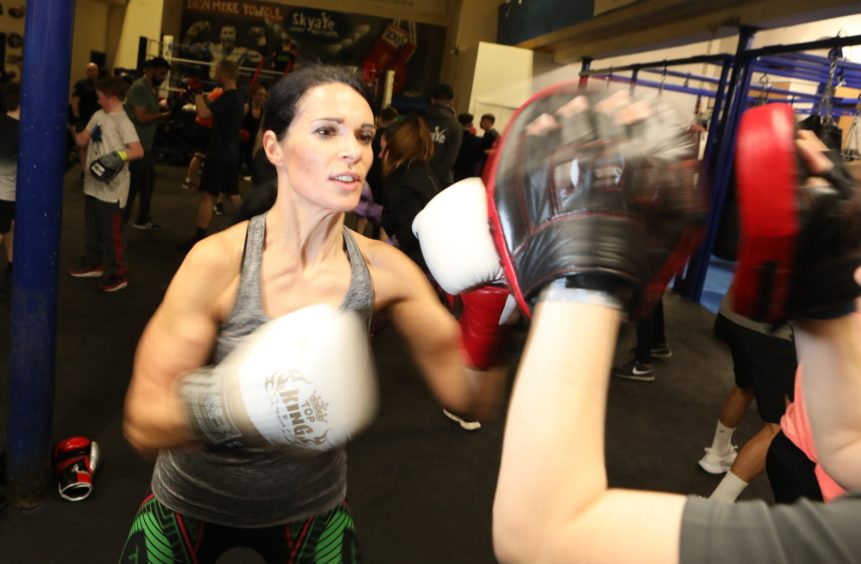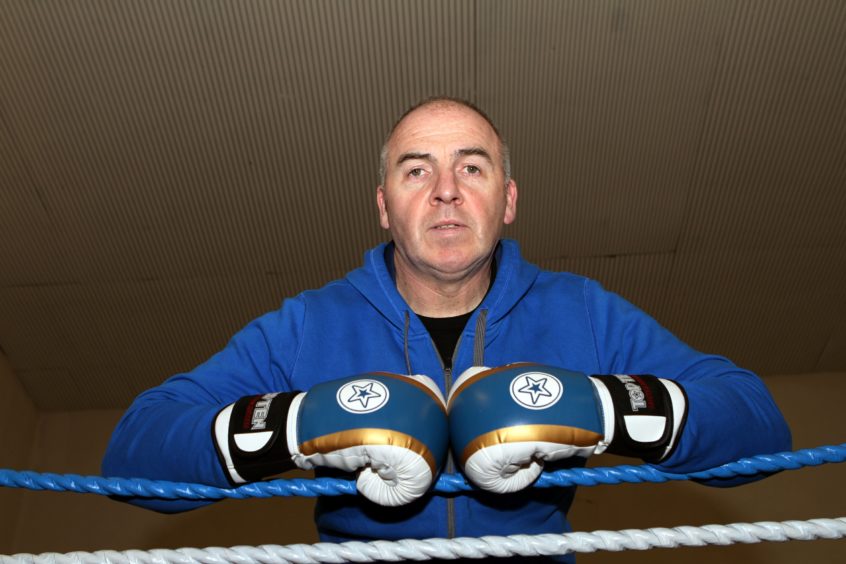 Then we split into wee groups. I was lucky enough to be teamed with coaches (and pro boxers) Niki, 43, and Anne Reilly, 38.
These women, both accountants by day, are fast, fierce and furious. Put it this way, you wouldn't want to mess with them!
"Boxing fitness sessions teach you the basic skills and classes change each week," said Niki.
"Sometimes we punch bags, sometimes we work on cardio with sprints, but tonight we'll teach you some basic boxing techniques."
Over the course of the next 45 minutes, I was put through my paces.
I learned four basic styles of punch – the jab, the cross, the uppercut and the hook. Oh, there was also the jab cross combo.
It helps if you're not tense. If you are, your punches will lack power and you'll need to put more effort into completing the movement, meaning you tire quickly.
Keeping your muscles relaxed when throwing the punch gives you more speed and power.
A massively important tip is to keep your hands up in the "guard" position.
"I press my gloves against my chin," said Niki, encouraging me to do the same.
This technique saves you from getting hit in the face, and if you keep your elbows tucked close to your body, protects your midsection. Nobody wants cracked ribs, right?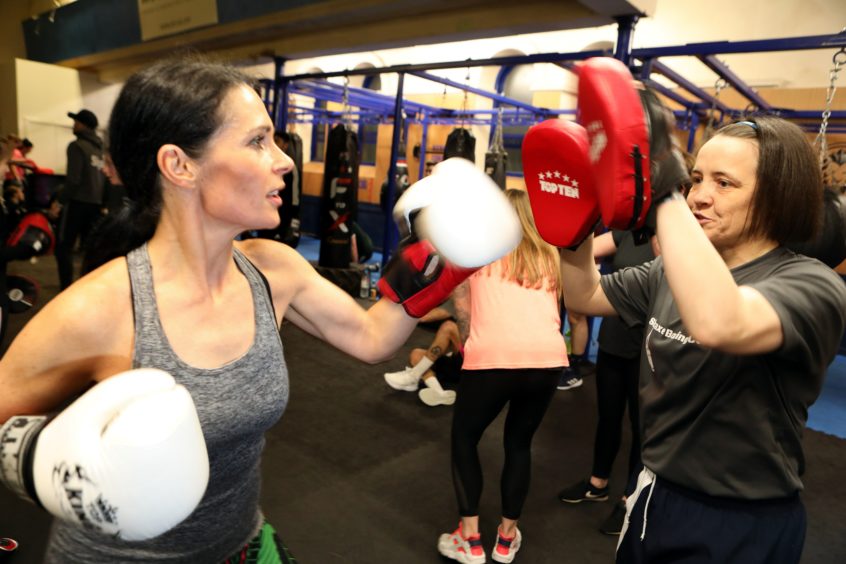 Between sets of punches, we all had to perform a series of sweat-inducing exercises including explosive squats, lunges, planks and burpees. Ouch.
I started off the session fairly meekly I felt a wee bit silly, but soon enough, I was punching with ferocity and confidence – as if I really meant business.
But what a buzz! My heart was pumping, blood was coursing through my veins and I felt really, really good!
All thoughts of fear, embarrassment and weakness vanished as I realised that actually, I was loving this; I had become a boxing convert!
"Training sessions allow you to learn the fundamentals of boxing in a safe environment without taking the hits," said Niki.
"Our job, as coaches, is to protect you. It doesn't matter if you're a world champion kickboxer, pro boxer, or amateur. We all train the same way.
"The main thing is you learn to defend yourself properly."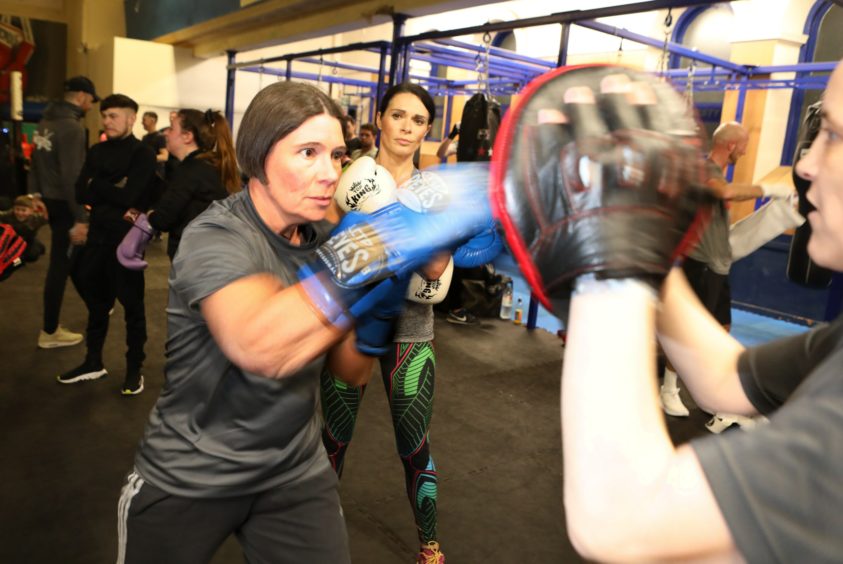 While many practise martial arts, very few step inside the ring.
But Skyaxe trains everyone to fight as if they were preparing for a sparring match.
"If you dream of fighting in the ring, we'll work towards helping you achieve that," said Niki.
"But the ultimate goal for most of us is to hit and not get hit."
Skyaxe boxers and kickboxers train and compete all over the world, and Anne (a world champion kickboxer, 3rd Dan Blackbelt in taekwando and shotokan karate) is gearing up for a major kickboxing tournament in Benidorm in May.
Meanwhile Paul's 27-year-old son, also Paul, is the current Scottish and Celtic Pro-Boxing champion in the super welterweight division.
He's also been the world champion full-contact kickboxing champion four times.
And Callum Valentine, 16, has been world champion in his age category eight times while his 12-year-old sister Lily has clinched seven top titles.
The club is open to everyone and is as an inclusive, encouraging, friendly, unintimidating environment – not what I expected at all.
"We're like a big family," said Niki.
"There are loads of world champions among us but beginners galore, too.
"Skyaxe is a great place for kids to come to and it's open all the time.
"It's very family-orientated and there's loads of support.
"We believe the sport should be open to everyone. We want more girls and women to turn up and try boxing and martial arts.
"It's definitely not off-limits. It teaches everyone confidence and self-defence and is fantastic fun."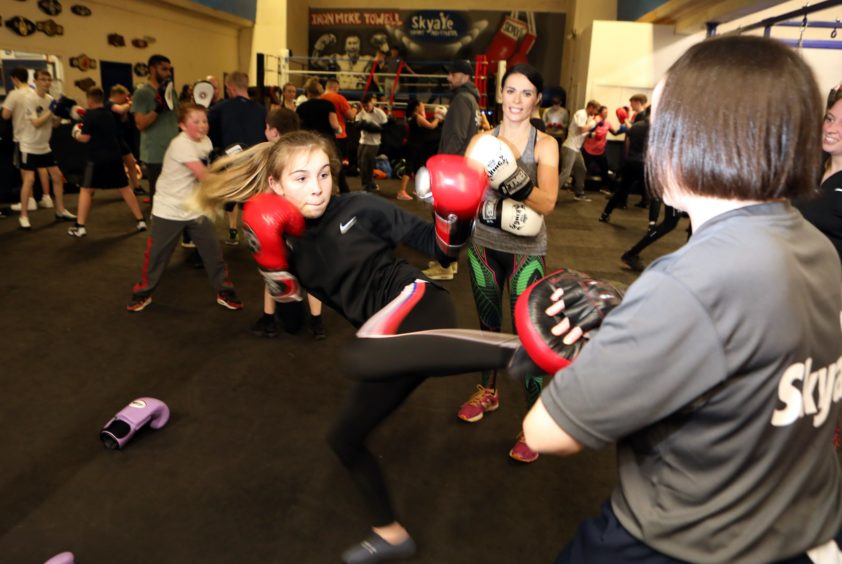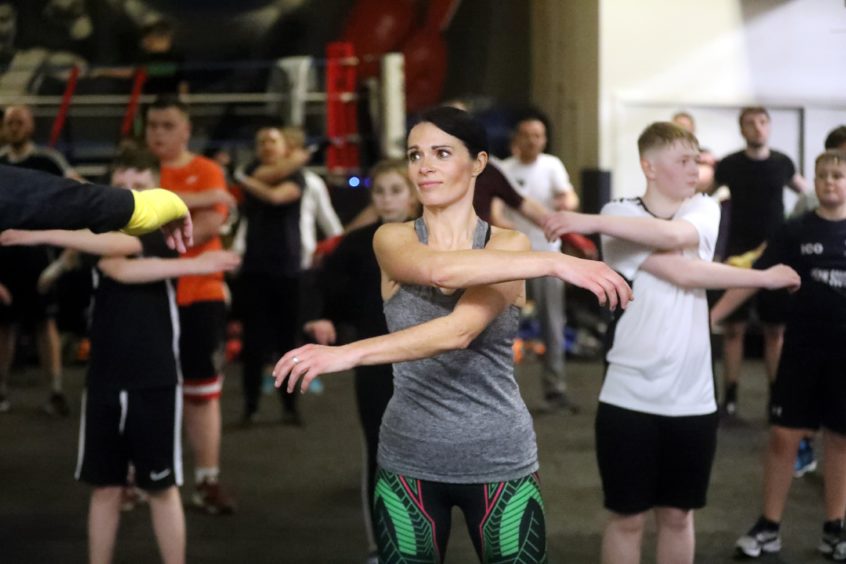 info
Boxing is one of the oldest and most celebrated martial arts of all time. It's a fantastic form of exercise, burning up to 600 calories an hour.
Skyaxe is open seven days a week, including in the evenings. See Skyaxe Boxing Club's Facebook page for more details.