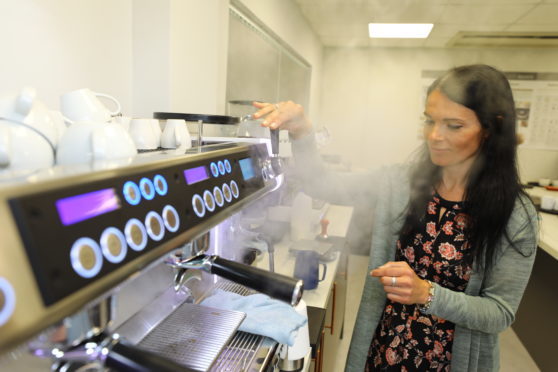 A staggering 95 million cups of coffee are drunk in the UK daily. Caffeine addict Gayle undertakes barista training in Dundee
Ah, the power of coffee. It's the only thing that gets me moving in the morning and it's my excuse to sit down in cafes with accompanying slices of cake.
It boosts metabolic rate, improves energy levels and, allegedly, burns fat and can make you smarter.
That aside, it tastes great. Actually, let's rephrase that – it CAN taste great, but it can also taste absolutely disgusting.
In a bid to save the world from bad coffee, Dundee-based coffee merchant James Aimer has just launched the city's very first Coffee Training Academy in new premises at Dryburgh Industrial Estate.
Managing director Eric Duncan reckons if people are paying £2.50 and more, they deserve a great cup of coffee.
Alas, he's had numerous experiences when laziness or ignorance on the barista's behalf have resulted in sub-standard brews.
So when Eric invited me to do one of the Academy's introductory courses, I didn't hesitate.
Inside, there's a practical area, espresso station, brew bar and tasting area. The smell of coffee (no surprise there) is making my tastebuds tingle.
Sean Elder, head of blend development, tasting and training, is the man in charge.
First up, he takes me through the history of coffee and explains the process of "seed to cup".
"It takes nine months to process coffee but just nine seconds to ruin it in the wrong hands," he says.
He also explains how quickly ground coffee can go stale, a fact which surprises me.
"Buy the smallest bag possible because once it's open and exposed to the air, it has about 30 minutes of peak freshness," he warns. I won't be buying those bumper packs again!
We discuss different types of beans, from coffea Arabica which has a delicate fragrance and is grown high up mountains (and therefore known as mountain coffee), to robusta, which has an earthy, more bitter flavour as it's more hardy, grown at lower altitudes.
Then it's time for me to have a crack at making an espresso and a cappucino.
The vocabulary alone is magical – steam wands, tamping, blessing, cakes, and lugs are involved!
Kicking off with the espresso, I ensure the water is at the right temperature – around 96C – and dose 17g of ground coffee into the "grouphead", tamp it down and engage the pump, pulling the water through.
Apparently it's a sin to add water on top of an espresso, so if you see anyone do that, give them a ticking off.
The cappuccino is more complex. Using 30ml of espresso as the base, I steam and texturise milk using the steam wand (full fat makes a creamier top) and pour it onto the base to create a signature cappuccino "ring" round the edge of the cup.
Sean is blown away by my creation. "It's thick and creamy, full of body; you could eat that," he exclaims.
"Your milk is amazing! Just look at that silky, glossy sheen!"
Getting the milk bit right can be tricky and Sean has a warning: "If you go into a coffee shop and hear a steam wand screaming a 'chirp, chirp' noise, get out! It means there's too much air getting into the milk."
Another thing Sean is against is "latte art" – creating designs on the surface of the foam – but he creates a pattern to show me how it's done.
"Latte art can be detrimental to the drink, creating too much turbulence and destroying the temperature," he says.
The proof is in the pudding and when I drink my cappuccino, it tastes epic. When I thank Sean and refer to him as a "coffee expert," he visibly blanches.
"There's no such thing as a coffee expert," he says.
"Coffee is such a huge subject and we've not even touched the surface of what coffee is and can be."
The perfect coffee, in Sean's opinion? "It should have a balance of sweetness, bitterness, acidity and hold milk well."
info
James Aimer imports coffee beans from around 30 countries and blends, roasts, grinds and packages them for the "out-of-home" market – own-label branded coffees for the wholesale trade.
The firm is offering Specialty Coffee Association (SCA) accredited courses in Barista Skills and Brewing modules from basic introductory courses to advanced certification with the SCA.
Courses start at £150 and take place at Aimer's new state-of-the-art facility at 7 Faraday Street, which houses the only SCA authorised training centre north of the Forth and Clyde. For details, email sean.elder@jamesaimer.co.uk or see www.jamesaimer.co.uk