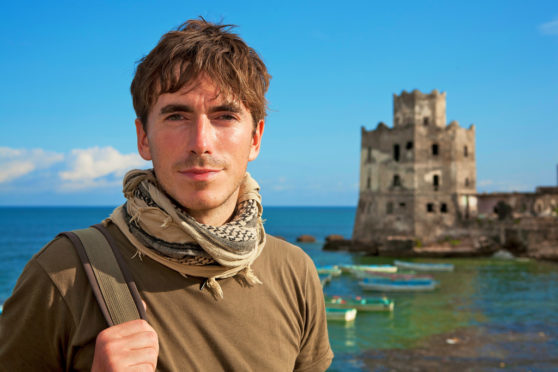 Ahead of his first ever theatre tour, which includes dates in Courier Country next week, intrepid TV adventurer Simon Reeve shares some of his exhilarating experiences with Caroline Lindsay
You might imagine that as one of the UK's most adventurous travellers, Simon Reeve might have had an action-packed daredevil childhood. But he admits: "I never stowed away on a plane or anything like that – my adventures were restricted to riding my BMX and my grandmother's magical mystery tours.
"She would take my brother and me in her car when we were very little to explore exotic, unknown places like Hounslow. Sometimes we even got as far as Chiswick! She had an adapted car and we'd shout: 'Go left, Grandma!'. It was exhilarating for a six or seven-year-old to be in charge of a vehicle with a willing chauffeur," Simon, who grew up in Acton in West London, recalls.
But after 15 years spent making more than 70 programmes he's more than made up for his slow start in the world of adventure. He's dodged bullets on frontlines, hunted with the Bushmen of the Kalahari, dived with manta rays, seals and sharks, survived malaria, walked through minefields, tracked lions on foot, been taught to fish by the President of Moldova, adopted by former head-hunters, and detained for spying by the KGB.
Next week will see the intrepid adventurer visiting Courier Country as part of his first ever theatre tour, An Audience with Simon Reeve.
"I'll be recounting stories and anecdotes from some of my most exhilarating adventures from around the world – my best and worst moments," he promises.
"I've had some magnificent adventures and met some of the most inspiring people on the planet. So obviously I've got lots of tales from my travels, and this show is a tremendous opportunity to share them with audiences across the UK. There's a lot that I see and film that never makes it into the programmes, so there's also behind-the-scenes stories to tell and footage to show," he continues.
Simon hopes his show might help push people into unfamiliar territory.
"The world can seem a scary place, but it really isn't," he says.
"This is the golden age for travel. These days, ordinary people can have adventures that in the past only kings and queens could have dreamt of. It's a myth that the world is getting smaller – we can all get dulled into thinking social media is where we get our main meaning but I've never heard anyone say they'd rather be on Facebook than see the coral on the Great Barrier Reef."
Simon is proof you don't need a string of qualifications to achieve your dreams, revealing: "I didn't get on with school. I flunked an exam, walked out and never went back. I left school with basically no qualifications."
He was on the dole for a while and then had a few different jobs.
"I ran some charity shops, then I worked in a jewellery shop for a day and at the Ministry of Defence for half a day," he says. "After I walked out, Special Branch came looking for me because I had worked in a secret department. I got turned down for a job as a white van driver, even though no one else applied for it. I was lost.
It was when he got a job as a post boy on the Sunday Times that his world began to open up.
"I owe my career to Andrew Neil – I'm sure you've rarely heard that sentence before!" he laughs.
"I was very lucky. His idea was to give the post boys an opportunity to have a crack at working on the paper.
"I was this pathetic kid suddenly thrown into an environment where people were doing very exciting things and working on serious investigations," he reflects. "I carved out my own niche – and that was the making of me. First I became an expert in fixing these vital big photocopying machines they had, so they couldn't sack me.
"Then I fell into investigating terrorism, as you do. I started researching the first attack on the World Trade Center in 1993, and eventually wrote the first book on al Qaeda, which came out in 1998. Nobody read it. Then I wrote some other books and worked on hardcore investigations where I spent time undercover."
It was the tragic events of 9/11 that resulted in Simon being "suddenly chucked" into the world of TV.
"I'd written the only book in the world about the biggest story of the time. I also knew people who died as the Towers came down – I'd met them when I was researching my first book," he says.
"The BBC wanted me to make a series for them. The first ideas were a bit daft. They included wanting me to infiltrate Al Qaeda. I didn't think that was a very good idea.
"In the end we settled on the idea of going on adventures in parts of the world that weren't often on the TV, and into which we would try and work light and shade, both adventure and issues."
The first BBC series was in 2003 and was called Holidays in the Danger Zone: Meet the Stans – his journeys in the Stan countries to the north of Afghanistan.
"I loved it from the first day of filming," Simon smiles. "It was very well received and since then I've made more than 100 programmes around the world."
His travels around the globe have seen him eat everything from penis soup in Madagascar to barbecued rat in Laos.
"That was so bad that even the scrawny dogs in the local market wouldn't touch it," he shudders.
"I've even had a roasted sheep's eyeball, which was actually rather delicious. Food is obviously a real window into a culture. If you want to rack up some memories, I'm always pushing people to eat the craziest food. Food is often where the most interesting experiences lie."
No stranger to danger, Simon recalls one particularly intense experience. "In the city of San Pedro Sula in Honduras – the deadliest place in the world outside an active war zone – two colleagues and I went into a prison controlled by the inmates. It had thousands of men – some of the most dangerous on earth – crammed into a very tiny space.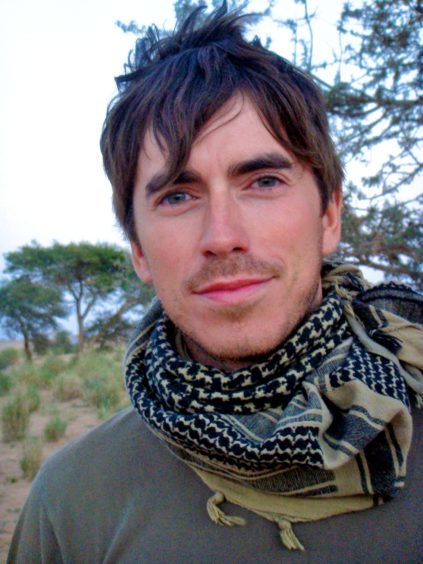 "We went in with the very best bodyguard anyone could have in that situation: the Bishop of San Pedro Sula, wearing a very large crucifix. He could look after us and stop the ludicrously dangerous gangs from holding us hostage or chopping off our heads.
"We met men with tattooed tears running down their cheeks, each one indicating a person they had killed. We met the leader of one of the most fearsome gangs in Central America, and all he wanted to talk about was this Nativity scene made out of recycled rubbish that he had been building in the prison yard. It was bizarre beyond belief. That is how surreal life on this planet can get."
While Simon is keen to encourage people to do more and go further and push themselves, that doesn't entirely apply to his seven-year-old son, Jake.
"I intend to tether him to my ankle till he's in his 30s!" he laughs. "I love him too much to let him go. Having said that, we're fairly relaxed about most dangers. We live in a wild and remote spot, and every day Jake runs through the forest with our big dog. He's got an enormous playground to enjoy right there."
Simon loves Scotland and is looking forward to coming to Dundee and Dunfermline next week with his tour.
"One of the greatest moments of transformation in my life was when I was in Glencoe at a difficult moment in my life," he confides. "I've travelled to the farthest reaches of the globe but I'm hoping the BBC will agree to a series in Britain so I can explore Scotland more deeply.
"Travel teaches us that we should embrace life and not live it on our knees. It's a wonderful and immediate way of pushing our buttons and exciting our senses.
"Life is short and we should be constantly pushing the boundaries of what we can and should do."
An Audience with Simon Reeve
Whitehall Theatre, Dundee, October 10
Alhambra Theatre, Dunfermline, October 12