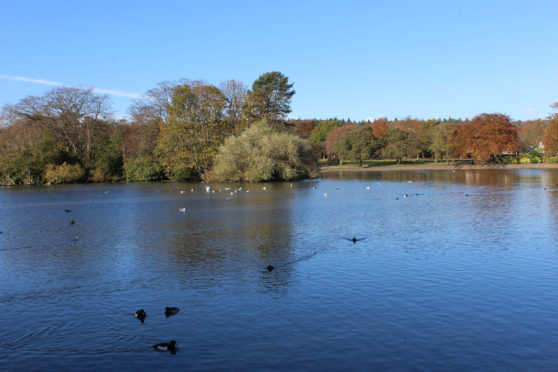 Urban walks are not always about pounding pavements, as this hike through the leafy western fringes of Kirkcaldy very ably demonstrates.
Setting out from the playing fields of Beveridge Park – gifted to the people of the Lang Toun by Provost Michael Beveridge in 1892 – peaceful passages of woodland create corridors through the built-up landscape.
And while the sounds of municipal life – the rumble of traffic or the buzz of a lawnmower – can often be heard along the way it is easy enough to lose yourself in pockets of nature.
With its boating pond, ornate gardens and sports pitches, Beveridge Park remains as popular today as it was in the Victorian era (when sheep were employed to cut the grass) and the path network, combined with woodland trails, offers plenty of scope for short leg-stretchers.
Planning to go a little further, I wandered past the skate park, kids play area and gate lodge, with its lion statues, to the park's Abbotshall entrance, across the road from which lay my first strip of woodland.
Entering from Raith Drive, around the edge of a patch of fenced-off waste ground, a good path leads through the sheltered strip of mature deciduous trees, rampant ivy roaming across the ground.
The way emerges on to Oriel Road and, heading left along the pavement, I kept my eyes peeled for a metal gate on the other side of the carriageway leading into Long Braes Plantation, mixed woodland sandwiched between Oriel Road and houses above.
The woods were originally part of the landscaped policies of Raith House, laid out in the late 18th and early 19th Centuries, and, hidden away amongst the larches, pines, beeches and sycamores, there are some towered great firs.
While chunks of the estate's lands were subsequently sold off and built on, slivers like this and my next destination, the plantations of Craigarter and Sunnybrae, remain.
A wooden gate by the pedestrian crossing on Wester Bogie Road accesses Craigarter Plantation, the path climbing over a mound before dipping into a gully where the onward route is less clear.
However, staying close to the field edge on the right, climb up the bank and an obvious path proceeds, forking right in due course to meet a surfaced track beyond a couple of waymarker posts.
Pheasants picking over stubble in the neighbouring field, I tramped up through an avenue of trees towards Raith House before deviating left down through Sunnybrae where grey squirrels scampered back and forth across my path.
Nearing the foot of the slope, the main track swings left at a junction but continue straight ahead, down through the trees, and the path emerges on to Boglily Road, a walkway leading on towards a pond.
Branch right ahead of the pool and a woodland trail curves left round the murky eastern end of Raith Lake. Cross an old stone bridge spanning a lade and bear right at the snail sculpture above and, beyond a carved wooden bat, more appealing glimpses of the angling lake are revealed.
Crossing Boglily Road, the path (now well waymarked) arches south through a leafy den where, by the stone ruins of an old mill dam, I branched left, a long incline ascending to a wooden statue of a wizard gazing over Beveridge Park, a magical spot to reflect upon my short spell of urban exploration.

ROUTE
1. Entering park, go right to Abbotshall entrance.
2. Exit park, bear left across Boglily Road then go right on Raith Drive. Approaching fork, go right, along edge of waste ground, to enter woodland and follow path north to Oriel Road.
3. Turn left along pavement and, approaching Dronachy Road, cross Oriel Road to metal gate beyond which path rises through Long Braes Plantation to Bennochy Road.
4. Turn left along pavement, cross Bennochy Road after bus stop, then cross Wester Bogie Road at lights. Go right, pass through wooden gate and follow woodland path south to meet track.
5. Go right, following track south to junction.
6. Turn left (following red arrows) and descend track to junction. Go straight on, down path to Dronachy Road.
7. Continue ahead on surfaced path, go right at bench and follow woodland path to Boglily Road.
8. Cross and follow waymarked path, bearing left at next junction.
9. Continue ahead at waymarked junction then, above pool, fork left up path to wizard statue. Continue south along ridge, descending into Beveridge Park.
INFORMATION
Distance: 8km/5 miles
Ascent: 200m/660ft
Time: 2-3 hours
Grading: Easy, low-level route following good tracks and paths through parkland and woodland. Stout footwear recommended as some sections can be muddy underfoot
Start/finish: Beveridge Park car park, Abbotshall Road, Kirkcaldy (Grid ref: NT 272908)
Map: Ordnance Survey 1:50,000 Landranger sheet 59; Ordnance Survey 1:25,000 Explorer sheet 367
Tourist Information: St Andrews iCentre, 70 Market Street, St Andrews KY16 9NU (Tel 01334 472021)
Public transport: Beveridge Park is a 10-minute walk from Kirkcaldy railway station and a 20-minute walk from the town's bus station