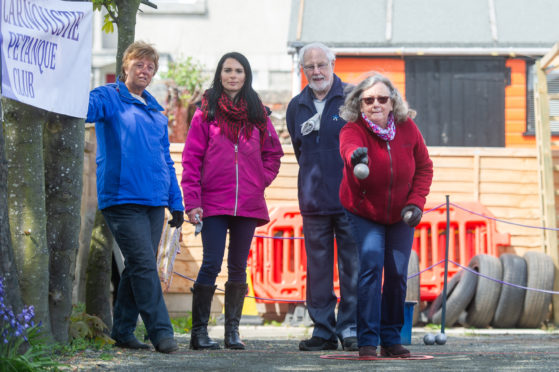 It's not just a sport for retired folk, as Gayle discovers when she joins a group of petanque players for a game in Carnoustie…
When I arrive in Carnoustie for an afternoon of petanque, I'm met with a sea of smiling, happy faces.
"We like to have fun – we don't take ourselves too seriously here!" beams Harry Ritchie.
"There is, however, a friendly competitive spirit among players!"
Harry, 83, is the founder member and present chairman of Carnoustie Petanque Club, a group set up in 2017.
For those not in the know (as I was most certainly not), petanque is known worldwide as French boules (boule is ball in French, just as bocce is in Italian), and the French version is traditionally played with steel or bronze balls on a flat surface.
Players divide into two teams composed of one, two, or three players.
The game starts with a player throwing the jack – the target ball – from within a plastic ring.
The rest of the game is spent trying to throw your boules closer to the jack than the other team does.
After all the boules are thrown, the team with the closest boule receives a point for each boule closer to the jack than their opponents. The first team to earn 13 points wins the game.
Rules aside (it's all starting to sound rather complex), in essence, if you can throw a ball, you can play petanque.
That's what Harry tells me when he hands over three shiny balls and invites me to get stuck in.
Holding two boules in my left hand, I'm to play with my right hand, as I'm right-handed.
"Put your right leg slightly forward and lift your right arm up straight," he instructs, as I clutch the boule in my sweaty paw.
"Look right at the jack and let your boule go when your arm is raised."
My first few attempts are pitiful, the boule either rolling off to the left and into another "piste" (an area of the court), or landing up completely off-piste or hardly any distance at all.
I find myself bouncing up and down on my knees, although I'm not sure why.
This seems to help, however, as my next bunch of throws end up with the boule incredibly close to the jack. Bingo!
Soon enough, Harry suggests I join a team and play an actual match. I feel the need to apologise in advance to my teammate Margaret McRae but she smiles and laughs.
After a shaky start, I elicit whoops of joy when I not only hit the jack with a boule but bounce off an opponent's. Apparently, this is a good thing.
Most players seem to believe the rules of the game are easy to learn. The challenge, however, comes in trying to master your throwing skills.
"There are different ways of throwing," says Harry. "Some like to throw quite high but that's not everyone's cup of tea."
Ultimately, the sport offers gentle exercise in the fresh air (players aren't put off by bad weather!) and is a great way to meet people and make friends.
"It's open to everyone of all ages and even those with some disabilities," says Harry.
"For those unable to bend down to pick up boules, there are magnets available to do so with very little effort."
Harry reckons the future of petanque, which he describes as a "growing sport" in Scotland, is looking bright.
Margaret agrees: "You either have a knack for it or it can take you a wee while to get into it," she says.
"I first played on holiday in Madeira a few years ago and I loved it."
The Carnoustie club is affiliated to the Scottish Petanque Association (SPA) which has 16 clubs stretching from Fochabers to Annan.
The SPA asked Carnoustie to host the final of the Scottish Clubs competition and the club was commended on its organisation and handling of the day, says Harry.
"As a result, the SPA informed us that they're looking for a home for a National Training Centre and as our geographical location is ideal, would we have a site capable of handling such an enterprise.
"This, we are looking into. It would heavily promote the sport and raise the standard for Scottish players."
info
Carnoustie Petanque Club was set up in 2017 and has 27 members. It plans to double that number this year and open a junior section. The game can be played as singles, doubles or triples and with mixed sexes. Members play in the grounds of the town's Aboukir Hotel on Tuesday and Thursday 2pm to 4pm and Wednesday from 6.30pm to 8.30pm. The club is hosting an open competition, The Carnoustie Gala Trophy, for triples on July 3.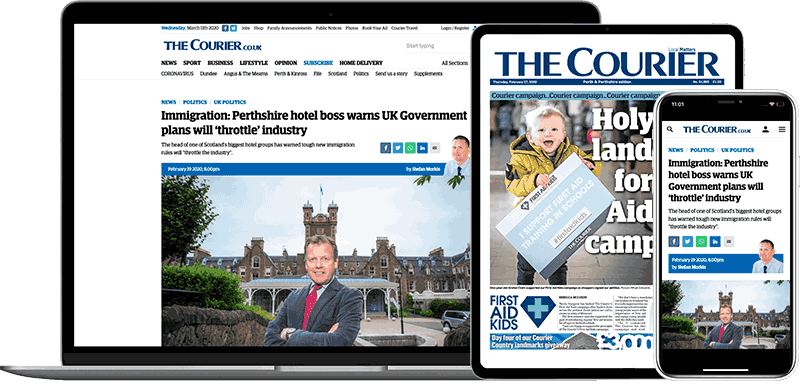 Help support quality local journalism … become a digital subscriber to The Courier
For as little as £5.99 a month you can access all of our content, including Premium articles.
Subscribe