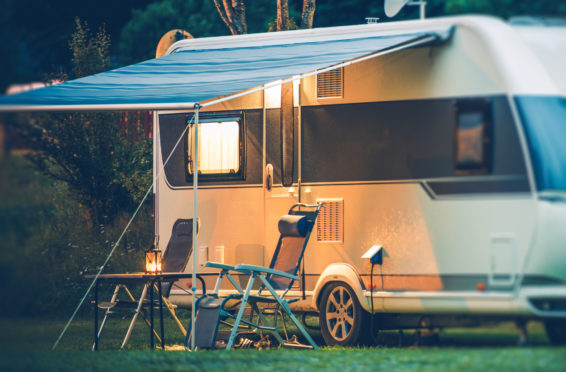 Oh, the joy of life in a caravan! I don't know if I could do it for ever, but for a wee break it's brilliant, half-way between camping and self-catering. Well, quarter-way.
Mine was on Skye, where I'd hied myself at short notice, and this holiday residence was right beside one of my favourite shoreline walks. The view of mountains and sea was awesome.
The interior was grand too: amazing what you can pack into these beasties. This one had a living room and kitchen area, two bedrooms, a shower room with toilet, and another toilet. There's everything you'd need really, apart from a washing machine.
As with other holiday places, I think half the joy is to be somewhere that doesn't have all your junk or possessions around you. It's a holiday in itself just getting away from these. Nearly all of mine are in storage anyway, and a part of me wouldn't care if I didn't see them again, though I'd like my Tolkien book collections, and some special films, and my other guitars.
On holiday, it's just you and your suitcase, and a bag of toiletries, and a bag of exercise stuff, and a separate bag of walking boots and other footwear, and two bags of groceries, and just one guitar. I mentioned recently how, far from needing two large vans as now, I used to move house by bus. These days, I don't know how I'd manage going on holiday by public transport. My wee, cuddly hatchback is stuffed to the gunnels.
It's fair to say that a caravan can rattle about in the breeze a bit, and there are plentiful odd noises about which it is pointless to speculate. Often, you'll find a decent garden round about, as this one had. Indeed, it was on a croft, so you might also find a chicken or two peckin' aboot the demesne.
It felt nice and holiday-like. I hadn't been in a caravan for years. The first time was when I was young and my family went all the way to Fife for a holiday. At least the second time was abroad. To England. Whitley Bay, to be precise.
There are pictures of me in an assortment of football strips, on the beach kicking a ba' aboot, which accounted for 95 per cent of my childhood. One pities my parents as I asked for money for yet another strip, though it's fair to say these were just the price of T-shirts back then.
No kicking a ball about here on the shore in Skye, as it's a bit bumpy for that. But it's always lovely to get out and breathe by the sea. And lovely too to come "home" afterwards to one's firmly rooted but flimsy walled caravan, from which to watch the sunset with a wee dram to replace the declining warmth.
If life were one big holiday, I'm sure there be fewer wars and less strife. I had to work of course but a change is as good as a rest, and a new vista furth of the usual four walls is a great salve to the soul.
I'll certainly look out for another caravan when next I get away, for a mobile home that doesn't go anywhere and is only a home for the holidays.